Cleaver and Cork Benefits TCC
Proceeds from culinary happening go to support athletics programs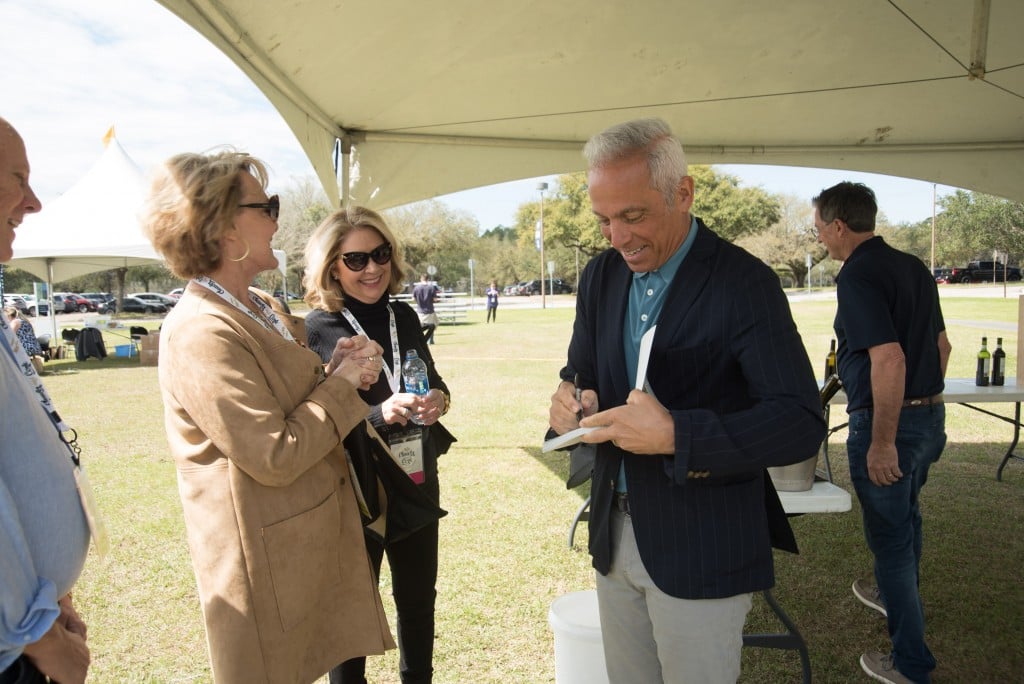 When I FaceTime Chef Geoffrey Zakarian, he's seated at Turner Auditorium at Tallahassee Community College (TCC).
Zakarian, a globally familiar restaurateur, chef and Food Network personality — you may know him from his multi-season stint with Chopped, his ongoing role as co-host of The Kitchen, and appearances on Top Chef, Hell's Kitchen and Iron Chef America — would soon take the stage to regale both live and virtual audiences with tips and tricks of his trade and a cooking demonstration.
"I'll be making a salmon sashimi, carbonara and a diver scallop," Zakarian said. "And, of course, we're kicking it off with a cocktail."
During the pandemic, the New York-based chef has been in Tampa, where he films and uploads his #AtHomeWithGZ cooking show and cocktail hour via Facebook. Tonight, he is about to demonstrate the Blood Orange Cobbler, a dry sherry muddled with blood orange juice and simple syrup.
Participating as the celebrity chef for the sixth annual Cleaver and Cork event, the TCC Foundation's fundraising culinary celebration, Zakarian visited Tallahassee for the first time.
"I was so excited to visit and be a part of this event because I love teaching," Zakarian said. "I'm a graduate of a community college myself and can relate to people wanting a great education and vocation without taking out $100,000 in loans. And, TCC is one of the top 10 community colleges in the country, which is a huge deal. Anything I can do to support what they're doing is good for everybody."
Heather Mitchell, vice president of institutional advancement for TCC, said Cleaver and Cork stemmed from the college's desire to create a signature event.
"When Cleaver and Cork launched in 2016, it consisted only of the signature dinner," Mitchell said. "But, the concept was the same, and that was to bring in a celebrity chef for a four-course, seated dinner with beautifully paired wines."
Cleaver and Cork has since expanded, incorporating events such as the cooking demonstration, a cocktail party and the Uncorked on Campus Food and Wine Festival. Featured celebrity chefs are typically announced months ahead of the spring event, and tickets quickly sell out.
Despite the pandemic, this year was no exception.
Mitchell said the TCC Foundation was careful to adopt safe practices by making some event components virtual, limiting attendance and enforcing social distancing protocols.
"All funds directly contribute to the TCC Foundation," she said. "We're a 40 year-old organization devoted to supporting the mission of TCC by raising resources, be it funds, products or volunteers to help fill the gap."
This year's Cleaver and Cork, which kicked off on Feb. 28 and culminated on March 6, benefitted TCC's athletic programs, including student athlete scholarships and capital improvements to athletic facilities.
"We're still tabulating how much we've raised but, so far, we're very, very happy with it," Mitchell said.
The local culinary scene had a hand in this year's success.
At Sunday's Progressive Cocktail Party, five community chefs were tasked with putting their own spin on a dish from Zakarian's cookbooks. A hundred people, divided into groups of five, then engaged in what Mitchell called a "round robin-style private tasting" as they sipped paired spirits.
For the event's signature dinner, Zakarian curated a four-course meal for 350 people, calling upon the Panacea Oyster Co-Op to supply ingredients, and tapped a local sommelier from ABC Fine Wine & Spirits to determine wine pairings.
At the Uncorked on Campus Food and Wine Festival, 20 tasting tents dotted the TCC campus. Mitchell said local vendors supplied beer and wine, food and cigars.
At the festival, people had a chance to meet Chef Zakarian at a meet-and-greet and cookbook signing.
"We also had nine master classes, which included a Zoom call with an Italian winery," Mitchell noted. "People were able to virtually tour their vineyard, and even taste their wine."
Others participated in a charcuterie board class, learned about Tallahassee-based Ology Brewing Co.'s rum and vodka distillation process and witnessed cooking demonstrations from three local chefs.
"The food and wine festival is something we definitely anticipate growing in the years to come," Mitchell said. "People told us how much Tallahassee needed something like this, as the closest wine festival to us is in Destin. We are already planning for next year, and hope we go from 200 attendees to 2,000."
Miss out on the fun? Try these recipes from Zakarian's cooking demonstration below:
Blood Orange Cobbler (Makes one cocktail)
1 blood orange wheel, plus one for serving
½ ounce blood orange juice
½ ounce simple syrup
4 ounces dry sherry, amontillado
1 sprig mint
Muddle the orange wheel with the blood orange juice and simple syrup in a glass shaker.
Add the sherry and shake. Strain into a highball glass filled with ice. Garnish with mint and the wheel of blood orange.
Diver Scallops Piccatta
10 each, diver scallops, dry packed
1 tablespoon, kosher salt
1 teaspoon, canola oil
1 shallot, finely minced
1 clove, garlic, thinly sliced
½ cup, white wine, dry
2 tablespoons, capers, drained
½ cup, chicken stock
Juice of 2 lemons
½ cup, parsley, finely minced
2 tablespoons, dairy-free butter
Season the scallops with kosher salt.
Heat a 10-inch sauté pan over a high flame. Add the canola oil.
Sear the scallops on each side for about 2 minutes, or until golden brown. Remove from the pan.
Add the shallots and garlic and reduce the flame to medium. Cook until softened and translucent, about 4 minutes. Add the white wine and reduce until almost fully evaporated. Add the capers and chicken stock, and reduce by ¾.
Add the lemon juice and parsley and return to a simmer. Whisk in the dairy-free butter and return the scallops to the pan to warm in the sauce