Profiles in Progress
Book documents milestones achieved by Black residents of Tallahassee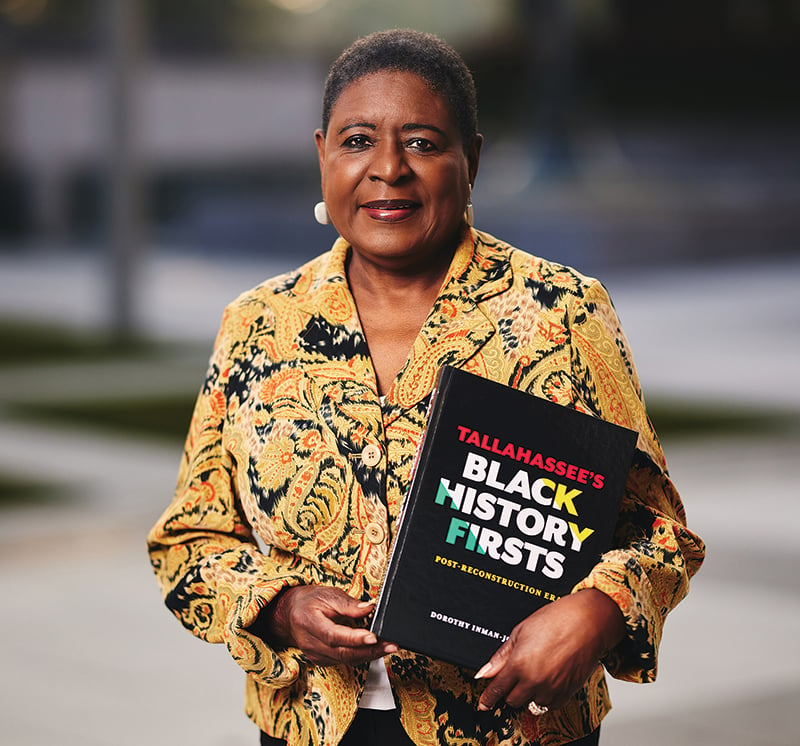 Dorothy Inman-Johnson is a preservationist, not of the world as it is, but of the world as it has been.
Encouraged by Dr. Clinita Ford, a one-time teacher of the year at Florida A&M University and a member of the National Black College Hall of Fame, Inman-Johnson undertook the writing of Tallahassee's Black History Firsts, Post-Reconstruction Era, her fourth book. In it, she documents the contributions made by 60 pioneering Black residents of Florida's capital city.
Ford kept after Inman-Johnson about writing the book after attending a Tallahassee's Black History Firsts dinner. The event, hosted by the Loved by Jesus Family Church, benefits a nonprofit created to assist low-income children living in the Orange Avenue area.
Inman-Johnson and her husband, Rev. Lee Johnson, established the event and founded the church and nonprofit.
For Inman-Johnson, it is important to document the milestones for posterity, including recent ones achieved by Blacks in the cultural arenas and fields of arts and media, business, civil rights, religion, education, government, law, medicine and sports.
"I feel we're at a point in this country and state where we're simply afraid to talk about the lives of Black people and their history," Inman-Johnson said. "And that's a problem."
Her subjects include headline makers and people far less familiar.
So it is that the profiles include longtime elected official Al Lawson, Tallahassee's first Black legislator and congressman, and Benjamin Crump, whom Inman-Johnson credits with being the first nationally and internationally known Black lawyer from Tallahassee. But they also include Yvonne and Curtis Tucker, the creators of Afro-Raku ceramic techniques; James Nelson Tookes, the first Black owner of a Tallahassee real estate agency; and Jack Gant, the first Black dean at Florida State University's College of Education.
"Young people today don't understand how things have changed over decades," Inman-Johnson said. "They don't know what it took for Black people to get to where they are today — it's these individuals whose shoulders young people are standing on today, and I think newer generations should know who's holding them up."
Inman-Johnson has set important precedents of her own as the first Black woman elected to the City Commission and Tallahassee's first Black female mayor. She moved to Tallahassee in December 1971.
"Some of these people I've known for decades," she said. "But then I started digging into their lives and discovered I really didn't know all they had accomplished — I was blown away by what these individuals have done."
Most were born in the 1930s and '40s, making them witnesses to the events of the civil rights era, and grew up in segregated rural areas.
The profiles are written in the manner of encyclopedia entries, beginning with birthdates and family histories, followed by a recitation of career steps and highlights. To appreciate how far the subjects have come, one must know, of course, from whence they came. The distances traveled are remarkable and represent hard-earned triumphs over high hurdles.
"What these individuals went through so that future Black generations could live with fewer obstacles are valuable lessons that should be taught in schools," Inman-Johnson said.
The reader learns, for example, about Gayle Andrews, the first Black television news anchor in Tallahassee, that she was born to a Black father and a Native American mother and attended an Indian college in Muskogee, Oklahoma, before moving on to FAMU.
"She became the first FAMU news reporter with major market TV stations at the Capitol, launching her career as an anchor and political reporter in Tampa, Orlando and Tallahassee CBS NewsNet," Inman-Johnson writes. "She became an anchor at Tallahassee's WCTV, the local CBS affiliate, in 1978. She was a member of the prestigious Capitol Press Corps for 14 years, and for 11 of those years, she was the only person of color covering state politics."
When she completed a profile, Inman-Johnson sent a draft to the subject or a family member to review. Impressively, she completed her book in less than two years.
"Working on a project like this is one instance where COVID helped," she said with a laugh. "Being isolated gave me the time to focus on gathering information and putting the book together."
---