Castles in the Sand
Successful sculptors start by building a solid foundation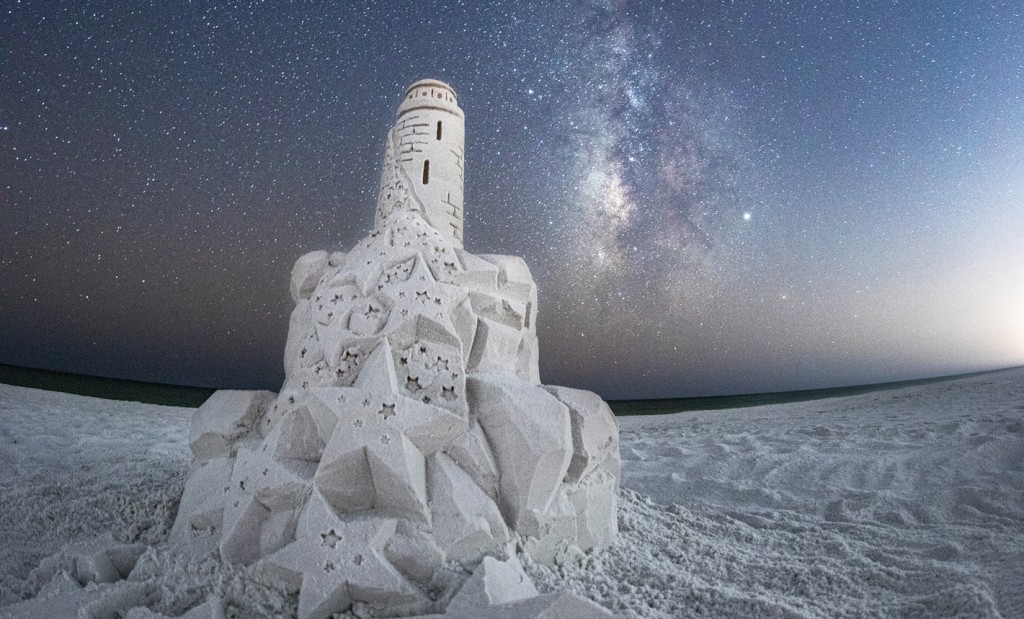 Rick Mungeam of Beach Sand Sculptures provides sand-sculpting lessons and castle-building experiences to families along the Gulf shore at Santa Rosa Beach. Here, he offers tips and tricks you can use in creating your own sandy work of art.
Choose the best building material
Where does the best sand come from?
"It's better up by the dunes," Mungeam said, "but most people work down by the water. The wind dries the sand out, and all the small pieces move up by the dunes," he said. "The small pieces are better to build with because that sand holds more water. The sand down by the water is like a handful of marbles, and when you put water on that, it just runs right through it."
Build a solid foundation
As with any sculpture, you work from the ground up.
"We go through what we call Pound Up," Mungeam said. "It's a four-step process for filling the forms: sand, water, stir and tap."
And how does that work?
"We put six inches of sand in the bucket with two gallons of water, we stir to make sure it's completely wet, then we tap on the outside of the form so it gets really, really firm and dense," Mungeam explained.
Mungeam's classes include demonstrations on how to use sand-carving tools, and his students eventually produce a sandcastle that's over 3 feet tall.
He also offers instruction on how to do stairways, arches and bridges.
The time required "depends on how big you're building and what kind of detail you're putting in," Mungeam said. "I've literally spent 12 hours on the beach here creating sculptures just for fun."
Have the proper tools
Mungeam suggests assembling the right equipment before you start to build your sand sculpture. That includes:
A 5-gallon water bucket.

Sandcastle forms or molds.

A small rake and a small shovel.

Sculpting tools such as a spatula and a paintbrush.

A melon baller, perhaps, and a spray bottle of fresh water.