Capital Area Justice Ministry Rallies
Faith leaders urge officials to tackle gun, housing, justice issues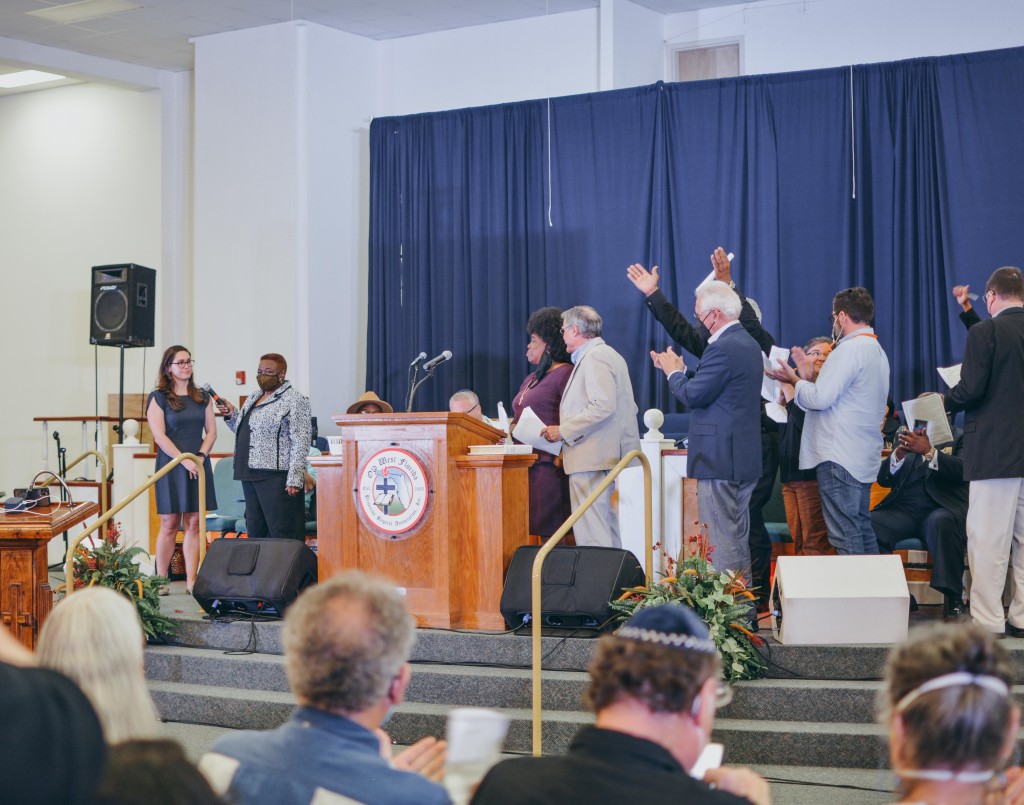 Members of the Capital Area Justice Ministry challenged Leon County and Tallahassee public officials at a rally held April 5 to do more to combat poverty, expand the supply of affordable housing and provide justice for all.
The multi-denominational Capital Area Justice Ministry, comprising leaders of 20 congregations throughout Tallahassee, came together last year. Its rally, held at the Old West Florida Enrichment Center, attracted more than 600 people, about equally divided between whites and Blacks.
Within the Capital Area Justice Ministry, members of many faiths are finding common ground. They are united in the belief that in addition to serving their churches as spiritual leaders, they have an obligation to engage in community activism. In recent months, the organization's leaders identified priority issues and compiled research related to them. 
At the rally, following the presentation of data and personal testimony, Capital Area Justice Ministry members brought forth three specific proposals.
They called upon Tallahassee Mayor John Dailey and other city officials to commit to Dailey's proposed five-year plan to invest $1 million annually in evidence-based programs to reduce gun violence.

They asked that State Attorney Jack Campbell develop a new screening process to ensure that when juveniles are arrested they are issued a civil citation whenever that is an option.

And they petitioned city officials to establish an affordable housing trust fund with $12 million from the 2022 American Rescue Plan.
Dailey and Campbell attended the rally along with Mayor Pro-Tem Curtis Richardson, city commissioners Jeremy Matlow, Jack Porter and Dianne Williams-Cox and Leon County Sheriff Walt McNeil. As appropriate, they were called to the stage to respond to the Capital Area Justice Ministry proposals.  
Officials registered unanimous support for the proposed investment in programs to combat gun violence, while the other two proposals did not receive the unqualified endorsements that the Capital Area Justice Ministry had hoped for.      
Campbell said he does not have the authority to undo and redo arrests but said that he would "robustly" encourage law enforcement agencies, going forward, to use civil citations.
"I am not going to tell them how to do their job," Campbell said. "I'll do mine the best I can."
McNeil was not called to comment on the citations issue because he and the Capital Area Justice Ministry had not met prior to the rally.
Unlike formal arrests, civil citations for petty offenses do not appear on a criminal record. Offenders who receive citations may be required to perform community service work or attend anger management classes. 
The Rev. Al Mealor of Fellowship Presbyterian Church told the rally that the Leon County Sheriff's office issued civil citations to just 54% of eligible children last year. In the case of the Tallahassee Police Department, that figure was 34 percent.
"These numbers are abysmal," Mealor said. "What's worse, TPD gave fewer civil citations to black children than to white children. Civil citation is a program that works. Last year, only 6% of kids who went through the program re-offended. We have a goal that at least 80% of the children who are eligible for civil citations receive them by this time next year."
Regarding the need for an affordable housing trust fund, the Capital Area Justice Ministry identified 15,000 families in the capital area making less than $38,000 annually who are forced to devote more than half of their monthly income to paying rent. Claire Dodd of St. John's Episcopal Church said 5,000 such families are on a waiting list for public housing assistance.  
"The city's housing division indicates that projects that have been completed since 2017 and those in the pipeline now are only producing about eight to nine rental units per year," said Bob Deyle of the Unitarian Universalist Church of Tallahassee. "At that rate, it will take more than 1,500 years to resolve this crisis."
Commissioners Matlow and Porter received standing ovations upon supporting the trust fund proposal.
Dailey explained that the city already has committed American Rescue Plan funds to various activities.
"What you are asking us to do is to reconsider, to break legal agreements that we have made for homelessness, rental assistance, down payment assistance, food deserts and a series of other categories," the mayor said. "I am not in a position to make that promise to you this evening."
Williams-Cox contended that the city's current efforts to combat the affordable housing crisis are benefitting low-income families. She cited housing data from the same source quoted by the Capital Area Justice Ministry.
"We cannot see justice come to pass if we do not discontinue looking at each other as different," said Pastor Darrick McGhee Sr. of Bible Based Church. "A gun that is shot is not shot just at black people. There are a lot of whites who are also looking for affordable housing."