Canvassing the Fish World
Destin artist's paintings are to scale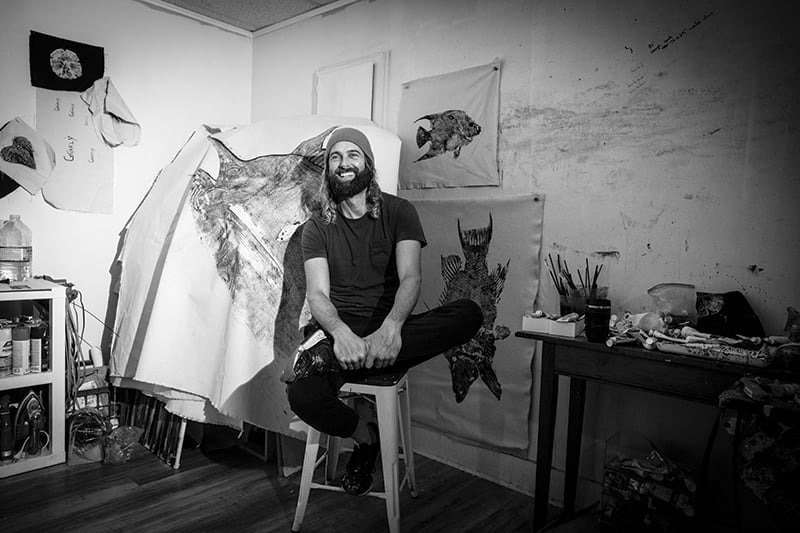 Along the waterfront in Destin and in nearby communities, Van Hyning is known as that tall dude who practices the Japanese art of gyotaku — an aesthetic means by which fish catches can be documented.
When the fishing is good, Van Hyning is effectively on call. Captains dial him up — his ring tone is a screaming cat that interrupts the deepest of thoughts — on their way to the docks when they have a fish that is printworthy.
There was that time, for example, when Jordan Whiteman, the mate aboard restaurateur and chef Emeril Lagasse's sportfishing yacht, Alente, notified Van Hyning that they were headed in with a big tuna onboard.
Van Hyning, with canvas and paint, sped to the Sandestin marina to meet the boat. He knows that he has little time to make a good impression.
"Most people are late these days, but you can't be late," Van Hyning said. "Guys don't like to wait around. I don't want to inconvenience the client or the deckhand who has been fishing and working his tail off for 12 or 24 hours. Plus, the acrylics I use dry quickly; I've gotta work super fast."
Van Hyning won't disclose specifics but said his process basically involves prepping a fish, slathering it with paint, covering it with a sheet of canvas and rubbing the material into the fish's every nook and cranny. When the canvas is removed, Van Hyning has a print of the fish that he may choose to leave in raw form or enhance with detailing work.
There are times when Van Hyning's gyotaku becomes performance art. He tends to draw onlookers — the bigger the fish, the bigger the crowd.
Lagasse closely watched as Van Hyning made a print of both the hefty yellowfin and a mahi-mahi. The day was hot, and the chef offered the artist a Yuengling. He was impressed by the impressions.
Van Hyning would sell the rights to the tuna to Lagasse, who used the image on T-shirts sold at Emeril's Coastal seafood restaurant at Grand Boulevard. And, since 2019, Van Hyning has been the event artist at an annual sailfish tournament hosted by Lagasse in Fort Lauderdale.
The artist is a member of a small, international gyotaku community. Via Instagram, he stays in touch with artists in Hawaii, California, the Eastern U.S., Italy, South Africa and Australia.
Van Hyning first became aware of what he calls the "first form of fish mounting" in middle school and high school art classes. His mother, Anna Salter, is an artist — a realist — who studied art at the Royal Academy in London and made a point of taking her son to art shows and galleries when he was young.
"She encouraged my interest in painting, and I thought about going to the Savannah School of Art and Design," Van Hyning said. "But a guidance counselor (at Fort Walton Beach High School) told me that artists don't make any money."
Van Hyning instead went to the University of West Florida, where he earned a degree in marketing and public relations, thinking that the field would afford him creative outlets. He got into podcasting and thought about creating a lifestyle brand.
In 2015, he started experimenting with gyotaku. That exploration turned into an obsession.
"The first fish I painted were fish that I caught," Van Hyning recalled. "I told my mom that I was going to paint fish and transfer them to shirts. She told me in her British accent to 'Screw the bloody T-shirt' and to do more of what I was doing."
In 2016, Van Hyning, at the encouragement of a friend, participated in a space reserved for local artists at the Destin Seafood Festival and sold his first painting.
"One of my best friends, Justin Lyons, is an artist, and I used to go to his shows and hang out at his little studio and watch him paint," Van Hyning said. "A few hours before I was supposed to have my work set up at the Seafood Festival, he showed me how to stain wood and make frames. But I never once thought about becoming an artist, myself.
"I didn't pursue art. It happened to me."
Commissions account for the lionfish's share of the work Van Hyning does, and he has entertained some odd requests. One client wanted a psychedelic triggerfish. He did a Grateful Dead snapper. He's not a taxidermist; he's an impressionist. He can choose to make a redfish blue.
"Almost everything I have been doing has been about somebody's fish story, and it's great to be preserving memories for people and to give them something they can reminisce on," Van Hyning said.
But he has stories of his own he wants to tell. He grew up fishing inshore waters for trout and redfish. Without much prompting, he will tell you about catching his biggest flounder ever on a 6-pound test line and a bucktail jig he made himself. He's a surfer. A short stack of books in his studio includes William Finnegan's Barbarian Days: A Surfing Life. He made a surfing trip to the Maldives and painted a few fish there.
"I am a lover of the oceans, and I want to create work in which the oceans tell their story," Van Hyning said.
He painted a warsaw grouper at the Destin Fishing Rodeo, the first that had been seen there in 10 years. He hears captains talk about diminished cobia numbers and other disturbing trends.
"A couple of buddies of mine from Utah and I went fishing and kept a 40-pound amberjack," Van Hyning said. "We had plenty of fish for three big guys and three women. I see people at the dock with four or five 70- to 80-pound amberjacks, not to mention all the other bottom fish. Do people really need that much? Are people even thinking about sustainability?"
Van Hyning is working toward exhibitions that he may call "Ocean Speaks." He plans to add new elements to his paintings, to somehow infuse paint with vibrations that reflect a fish's story. One such show might focus on the Indian Ocean, another on the Pacific.
They are sure to be the product of Van Hyning's passions.
"My mother says I have two mistresses," he said. "When the surf's up, I don't paint. When the surf's not good, I paint."
---