Adventures Below
Shops, trainers make breathtaking underwater experiences fathomable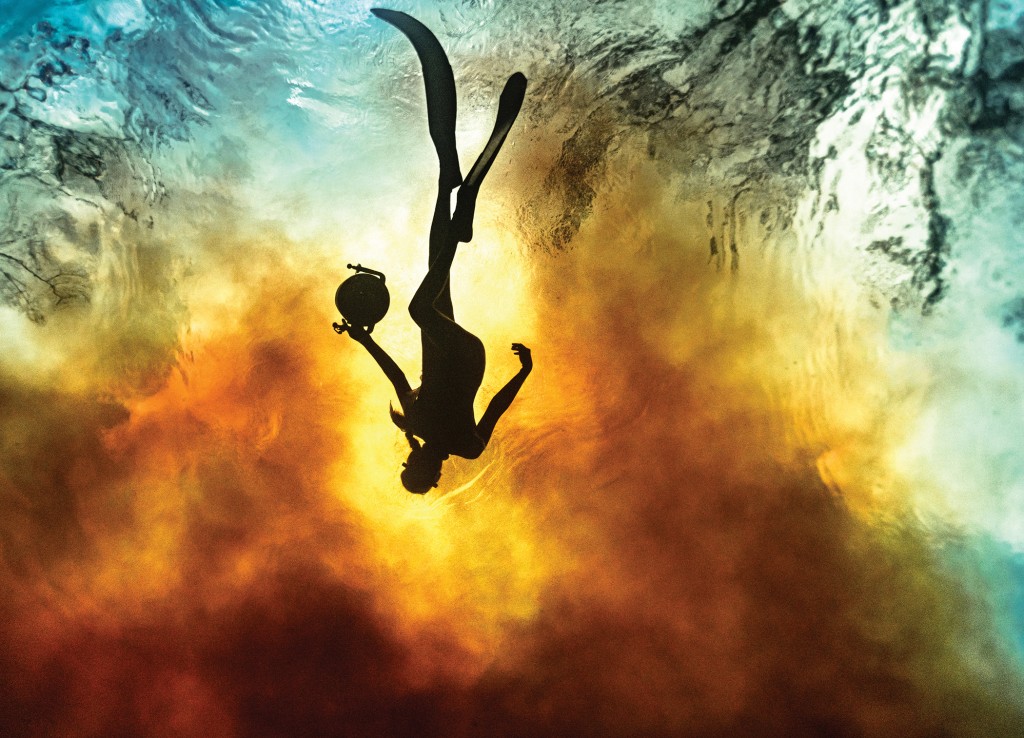 Dive sites in less than 100 feet of water tend to be heavy-traffic areas. Fish, after repeated exposures to bubble-blowing humans, learn to associate scuba divers with danger. So it is that the tank-toting spearfisherman might have to visit depths of 140 feet in order to find an unwary big snapper or grouper.
But because they are quieter, stealthier and less familiar, freedivers operating on a breath of air don't scatter fish the way the scuba crowd does. They routinely bag bragging-size fish in 60 feet of water, said Mike Pooler, the owner of Benthic Ocean Sports in Destin.
Pooler grew up breath-hold diving and spearfishing in the Keys, spent time in the military and then moved to Northwest Florida after securing employment with a military contractor. He opened his business seven years ago.
"A lot of people are picking up freediving, some who are new to diving altogether and many who are crossing over from scuba spearfishing," Pooler said.
Anyone who is comfortable in the water and does not have any disqualifying physical conditions is a candidate to become a freediver.
"One of my best, closest dive buddies is in his 70s, and he can outdive us many times," Pooler said, adding that freediving can be helpful to all persons with an interest in becoming a better waterman or waterwoman.
The basic freediving setup includes a soft, silicon J-snorkel; a low internal air volume freediving mask; a two-piece, open-cell wetsuit; a rubber weight belt; and long-blade freediving fins.
That basic kit runs $600 and up, Pooler said.
"Freediving is a human performance activity where technique, training and practice really matter," Pooler stressed. "It is important to dial your gear in specifically to you and your body. Scuba has more to do with technical proficiency. You are more worried about regulators and valves and computers."
For all who are ready to dive in, Benthic Outdoor Sports offers instruction as a Freediving Instructors International (FII) facility.
Scuba diving for military vets
For 3 ½ years, Anna Schmitz checked boxes.
First, she took the steps necessary to get her business's scuba instructor training program licensed by the state Department of Education. She then pursued additional certifications from a second state agency and the federal Department of Veterans Affairs.
Finally, in February, she reached her goal. Military veterans with an interest in new careers as dive instructors can now use Post 911/GI Bill benefits to pay for training supplied by Emerald Coast Scuba.
As of April, Schmitz said, 14 active-duty service members and military retirees were completing their book learning via an eLearning platform and looking forward to the relaxation of pandemic-related safeguards so that they could get in the water.
"At least our instructor students can have scuba in their thoughts and in their dreams right now," Schmitz said.
Schmitz and her brother, Tom, own Emerald Coasts Scuba and have been in business in Destin since 1992.
They cater to a broad spectrum of customers, offering instruction ranging from swim lessons to lifeguard training and scuba instruction. Divemasters conduct trips, including shallow-water snorkeling adventures, a jetties dive appropriate to beginning divers and spearfishing trips recommended for experienced folks with 100 or more dives under their weighted belts.
The Emerald Coasts dive shop is stocked with the latest in scuba and snorkeling gear.
Spearfishers may load a pole with lionfish or opt for bigger game, including grouper and amberjack — a fish that has earned its nickname, reef donkey.
Anna and Tom have long led military veterans, including wounded veterans, on scuba adventures. They placed a Memorial Rock in 90 feet of water 4½ miles offshore honoring all branches of the U.S. military and every year escort veterans to the site on Memorial Day.
Some of the students training to become instructors have an interest in working with wounded veterans in particular. Schmitz said that experience is liberating for the veterans and inspirational for the divemasters and instructors who work with them. She described working with a veteran who lost both of his legs and an arm in combat.
"We specialize in teaching adaptive techniques to our wounded veterans," Schmitz said.
She said the VA authorization regarding use of GI benefits "is literally a game changer for us."
And, for the students involved.
"We're hearing from veterans who are so happy to be learning about something fun right now while sitting at home," Schmitz said.
---
Area Dive Shops
Panama City Beach
Panama City Diving
106 Thomas Drive
(850) 588-8077
panamacitydiving.com
Red Alert Diving
1619 Moylan Road
(850) 238-8760
redalertdiving.com
Dive Locker
1010 Thomas Drive
(850) 230-8006
divelocker.net
Diver's Den
3120 Thomas Drive
(850) 234-8717
diversdenpcb.com
Try Scuba Diving
557 Richard Jackson Blvd.
(850) 238-2375
tryscubadiving.com/panama-city-beach
Destin
Benthic Ocean Sports (freediving)
501 Harbor Blvd.
(850) 837-3315
benthicoceansports.com
Emerald Coasts Scuba
503B Harbor Drive
(850) 837-0955
divedestin.net
ScubaTech of Northwest Florida
301 Harbor Blvd.
(850) 837-2822
scubatechnwfl.com
Santa Rosa Beach
30A Dive
38 Clayton Lane
(850) 420-7118
30adivers.com
Mary Esther
Fort Walton Beach Scuba
425 Page Bacon Road
(850) 716-0867
fortwaltonbeachscuba.com

Gulf Breeze
Shark Quest Dive Shop
5614 Gulf Breeze Parkway
(850) 516-6800
scuba-dive-pensacola.com
Bay Breeze Dive Center
49 Gulf Breeze Parkway
(850) 934-8363
baybreezescuba.com
Valparaiso
Discovery Dive World
92 S. John Sims Parkway
(850) 678-5001
discoverydiveworld.com
Pensacola
Dive Pros
7203 U.S. 98
(850) 456-8845
florida-divepros.com
Port St. Joe
Daly's Watersports
317 Monument Ave.
(850) 229-6330
dalysdock.com