A Nice Sweet Spot
Running enables Paul Guyas to let go and focus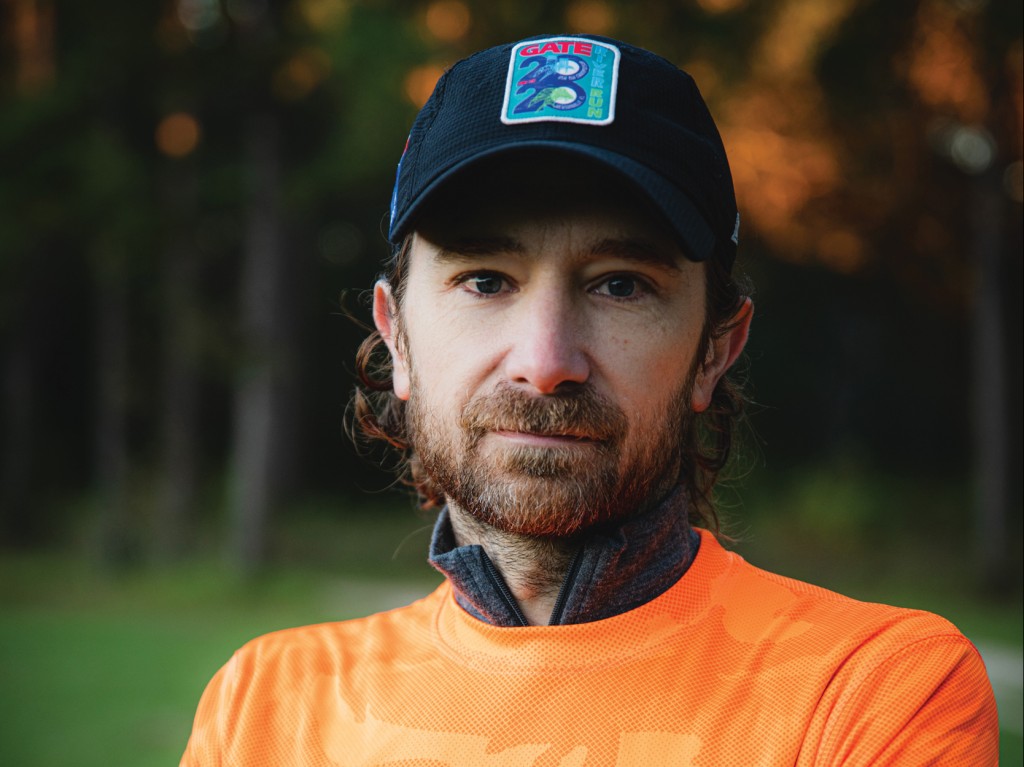 Paul Guyas is a physical therapist, a rehabber who works to get his clients' bodies running well.
And, of course, he's got his own wheels to take care of. Interviewed in November, the president of the Gulf Winds Track Club — 1,500 members strong, 3,100 followers of its Facebook page — was slowly nursing himself back into race-day shape after sustaining a bone spur and shredded tendon that initially left him barely able to walk.
"With the pandemic, there have been no races, so I have been able to shut down for a while and really get some good healing and come back into it the smart way versus the stubborn way," Guyas said.
Ordinarily, he would struggle to be so patient. He's addicted to speed, you see, or at least as fast as his two legs will carry him.
Guyas, 43, a Tallahassee resident since 2008, got into running eight years ago after passionately devoting 10 years to ultimate Frisbee, a some-contact sport that combines elements of soccer, basketball and football. He has run races from 100 meters to 50 kilometers in length but gravitates mostly to the most popular distances: the mile, 5Ks, 10Ks and marathons. His personal best 5K: a swift 17 minutes and 53 seconds, run at the Parents Weekend 5K on the Florida State University campus in 2014.
"The shorter races are over quickly and you don't find yourself running in pain," Guyas said. "And, it's convenient and fun to train for the more commonly available races."
Running attracts people of all sizes, ranging from wisps to "Clydesdales," the term applied to runners of 200 pounds or more. But there are common denominators among them.
"Whether people run in the front, middle or back of the pack, I think they can agree that running is both therapeutic and addictive," Guyas said.
"I saw a meme today — 'When you start getting results, you start getting addicted.' When you are a new runner, the results come quickly. I started running when I was already an athlete. I didn't start from scratch. But I didn't know how to pace myself, and I didn't know how to train. I had a lot to learn, and the first six times I ran a 10K, I set a personal best every time. When you're new, you can really see results stack up very quickly."
Gulf Winds has members who are relatively new to running and, said Guyas, "runners who are elite among the elite. We have members who were Olympians or close to being Olympians whose personal bests are 20, 30, 40 years behind them."
The benefits of running are many, Guyas said, and contrary to a popular misconception, the activity is usually beneficial to knees, not detrimental.
"Exercise stimulates all sorts of health markers — cardiovascular, mental and others — and provides ancillary benefits: better memory, better sleep, better mood and one of those getting better makes the others better," Guyas said.
He said running helps people let go and focus at the same time.
"Running and other forms of endurance exercise can give you a state of mental euphoria, a dream-like state, similar to meditation," Guyas said. "You shut down a lot of the sensory overload that is typical these days, but you are also not so closed down that you are not thinking about anything. You're in a nice sweet spot. You can focus on something without having to concentrate on it so tightly that it gives you anxiety."
---
Your first 5K
Guyas recommends that runners who are just getting into racing go at their own speed.
"Most people who are not injured or otherwise disabled can make 5,000 meters," he said. "For a first 5K, all that anyone has to do is sign up and go for it."
But as results add up and the resulting addiction kicks in, runners develop a desire to move beyond just finishing to becoming competitive, even if with their most recent time.
"If you want to be competitive —whatever that means to you — you want to have a plan and be able to run more than five kilometers," Guyas said. "If a 5K is your goal, you're probably going to want to make sure that you can run five miles. You can find training plans online or you can hire a coach, which may be more effective and customized. Begin your plan at least a month prior to race day. Competitive racers may train six months for an event, Olympians may have a four-year plan."
Of course, if a runner wants to run a faster race, he will need to run faster in his training. Keep to the same pace and routine in workouts, and you are going to get the same result.
Workouts can be varied. Some runners favor interval training in which they alternately speed up and rest. That is, a runner might dash from a fire hydrant to a live oak and jog to the magnolia.
When Guyas first got into running, he did a lot of group runs.
"Running is a solo sport, but it also can be very social," he said. "People talk about accountability, and it is hard to skip a workout when you have agreed to be there for others. But when I see two runners running side by side, I always think that one of them is slowing the other one down. It may not be obvious which one is which, but one of them is underperforming. If you are really out there for maximum performance in the moment, you should really be doing your own thing."
Guyas has found a way for runners to do their own thing together. Versus running side by side, he and a partner may agree to run for 30 minutes and then turn around and head back to their starting point.
"You have confidence because there is someone out there with you should something go wrong, and competition can develop on the way back," Guyas said. "The slower runner tries to keep his lead and the faster runner tries to overtake him."