A Backward Sport
Rowing teaches lifelong lessons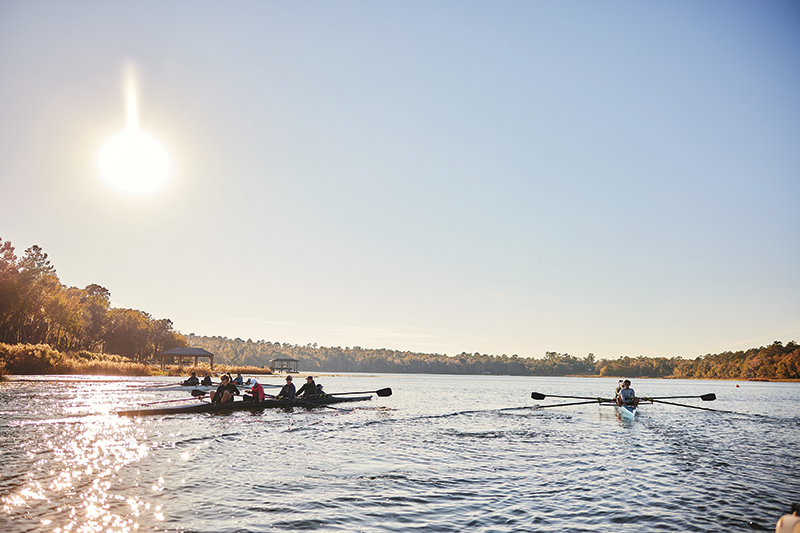 With the new year comes the perilous impulse to sign up for a gym. You may tell yourself, as have I, that you will use it "all the time."
If you are one of the few who make good on that promise and walk through the gym's doors, consider this advice: Jump on the rowing machine, or "erg," set the distance to 2,000 meters and go as hard as you can until the display reads zero meters remaining. Once you have picked yourself off the floor, I hope you will have a new appreciation of the world of rowing, albeit the land-based version.
Countless sports claim to be the toughest, most grueling or difficult to master. Whether or not rowing, also known as crew, can take these titles is for others to decide, but I can tell you that it should rank pretty high on anyone's top 10 list. The simple physical action of rowing works 86% of the muscles in the body. The mental aspect is a challenge all unto itself. That said, rowing is as tough as the rewards are spectacular.
Aside from the glory of collapsing over a finish line in first place, the lifelong lessons and discipline that rowing instills are priceless. The "toughest" sport or not, I would challenge anyone to find a better team sport. Each crew member is invisibly tied to the next. Every movement, forward and back, in the boat has to be done at exactly the same time, the same cadence, as many as 38 times per minute over a 2-kilometer course. Spend long enough on a lake or a river in a crew boat, and you cannot help but build a sense of accountability, character, discipline and a deeply held feeling of not wanting to let your crew mate down. The rowing family that you build can, and in most cases will, last a lifetime. In my case, that same lifelong "family" recently suggested we try to row the Atlantic together for one last "hurrah." No.
A former rugby coach once, somewhat jokingly, said to me, "Why do you want to row all year-round? It is a backward sport!" Thankfully I ignored him. I have been fortunate enough to row, coach and become a father whose daughter is as passionate about the sport as I was at her age. Likewise, Tallahassee is fortunate to possess Capital City Rowing (CCR), the area's only youth rowing program.
CCR, is open to girls and boys in grades 6–12 from any Leon County school, private school or home school. It is something of a hidden gem in the world of rowing. CCR's training grounds are nestled on the shores of Lake Hall in the beautiful Maclay Gardens. The program has a history of punching above its weight. Despite a relatively short stretch of water to train on, appearances at state and national championships have become a yearly occurrence with crews traveling to world-class rowing facilities in Sarasota, Tennessee, New Jersey and California, to name but a few. The numerous scholarships and signings with prestigious schools across the country have become a regular feature for CCR's seniors, a fact that cannot be ignored.
A current CCR rower was recently overheard saying, "When you find rowing, you find yourself." Profound for a 15-year-old? Yes. Were they correct? Absolutely. You don't need to have read Daniel James Brown's The Boys in the Boat to appreciate how this sport balances the demands of an endurance sport with its lifelong benefits, but you do need to come out to Lake Hall with your future rower and have a look. The blisters and calluses on their hands will pass, but the time spent and memories made in this "backward" sport will last a lifetime.
---
Huw O'Callaghan is on the Board of Directors for Capital City Rowing. Learn more at capitalcityrowing.wildapricot.org or by emailing operations@capitalcityrowing.org.
---