Rowing is Growing
Tallahassee is set to become Florida's next crew hub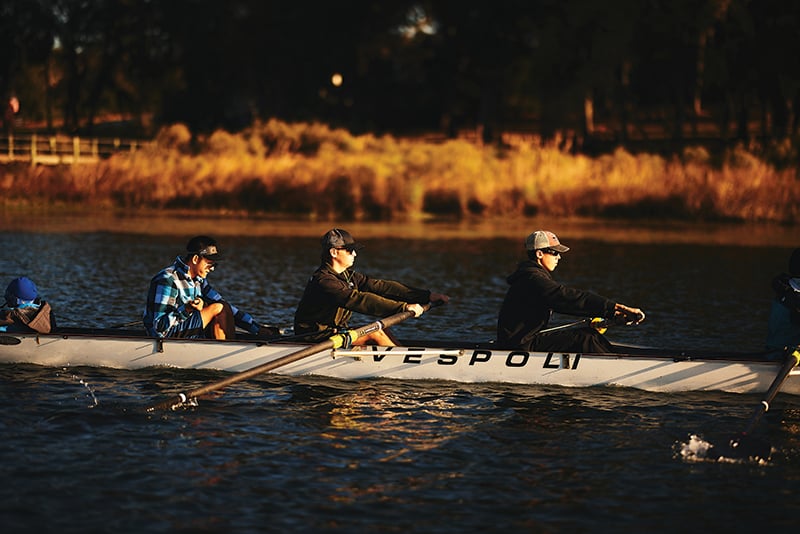 The folks at Capital City Rowing are convinced that Michael Moxom holds command over the wind and rain.
The men's head coach for Tallahassee's decorated youth rowing club, Moxom may not possess such mythological power, but the skies always seem to clear up when it's time for his kids to hit the water at Alfred B. Maclay Gardens State Park.
Unlike communities around Tampa or Miami where the sport is both well-known and well-funded, Tallahassee is no hub for rowing. In fact, CCR is the city's only youth rowing program, but that has not kept its crews from gaining recognition across the country. CCR participates in regattas from Florida to Tennessee and regularly sends crews to the state and national finals. According to Moxom, not a year has gone by that the program has not sent rowers on to the college level.
"We consistently punch above our weight," said Huw O'Callaghan, a CCR parent and board member. "A lot of it is down to the fact that we have very, very dedicated coaches who have personal backgrounds in the sport. They put the hours in. They make sure the kids are engaged and excited about the sport, and they get the work done."
CCR is open to middle- and high school-age boys and girls with no direct affiliations with any one school. Practices are held between five and six days every week, either on the water at Maclay Gardens or on land at CCR's training center on Meridian Road where the crews work on strength training, yoga and cardio. Those interested in signing up can join a week's worth of practices for free without any commitment.
Out on the water, there's no tackling, tagging or blocking, just boat after boat barreling forward at blistering speeds. In some ways, Moxom said, rowing is much like running or cycling. It takes an immense amount of focus and discipline to remain in the moment when your muscles are burning. These characteristics, not always associated with middle and high school students, must be fostered through consistency and encouragement.
"Some people are more naturally gifted at it, as with any sport, but I think rowing tones that down, particularly at the high school level," Moxom said. "If you have someone who is willing to put in the work more consistently than the other guy, they will be successful. We want the kids to have a very visceral understanding that, if they put in the work, it's going to happen."
Rowing differs from running and cycling by one distinct principle — teamwork. Rowing is, perhaps, the most cooperative sport out there. Each movement must be coordinated down to the most minute detail to keep the boat balanced, in line and up to speed.
"There is a rhythm to the stroke, and you're trying to get eight people in time," Moxom said. "Breathing is a very good metronome to help with that."
"It's one of those things where, if you are in a boat and one person looks out to the side, the balance will be off," O'Callaghan said. "You have to do everything together, so it doesn't surprise me that Michael is coaching breathing that way. It all goes together."
In rowing, there are various classes of boats with different numbers of people, but a cox-eight is the most common. A cox-eight holds eight rowers and a coxswain. Something like a team captain or quarterback, the coxswain is responsible for steering the boat, a particularly critical position in head races where the crew must navigate down winding rivers without colliding with another boat or going off course. Seated at the back of the vessel, the coxswain faces toward the path ahead and directs their teammates through a microphone. The coxswain is typically the smallest in stature but must be confident and savvy.
"It's a very unique position," Moxom said. "You're often looking at a 100-pound girl barking orders at 200-pound, 6-foot-5 guys, and they are heeling very well. It's a really fun thing to watch when you have a good coxswain."
Aside from the coxswain, Moxom said there is a stereotypical order of how to seat your rowers but no hard and fast rules. The rower seated closest to the coxswain, called the stroke seat, sets the pace for the rest of the crew, and the following seat backs them up. Those seated in the central four seats serve as the engine room — strong crew members who bring the power. The two rowers at the front of the craft add finesse and technicality.
"But that's just your starting point," Moxom said. "There aren't many hard and fast rules that make a boat go fast. A lot of times, it's just the coaches' discretion about what they see when they are making a lineup and moving guys around. Sometimes things click and make a boat work, and the coach doesn't really know why. There is a little magic voodoo to it."
Rowing boats may be powered by humans, but they are still delicate pieces of machinery. High intensity races put a strain on the nuts and bolts that hold the boat together. The length and orientation of adjustable oars can be the difference between a gold medal and an honorable mention. Whether it's a race day or just practice, each member of the crew is responsible for checking the boat and equipment.
From preparation to performance, rowing is a labor of love that has myriad benefits, both physical and mental. Rowing is widely considered to be one of the best full-body workouts, O'Callaghan said, and Moxom always encourages his crew to "sharpen the ax" by eating right and staying hydrated.
Focus, responsibility, self-discipline and teamwork are just a few of the qualities that rowing is teaching the CCR crews.
Moxom stresses the importance of pre-race equipment checks, citing them as one of his kids' most important responsibilities. Months of training and preparation for a race may be wasted if equipment is faulty.
"After all," Moxom said, "you only have one shot at it.
---
---