A Boat With No Name
For a time, it paused at Saint Teresa, inviting speculation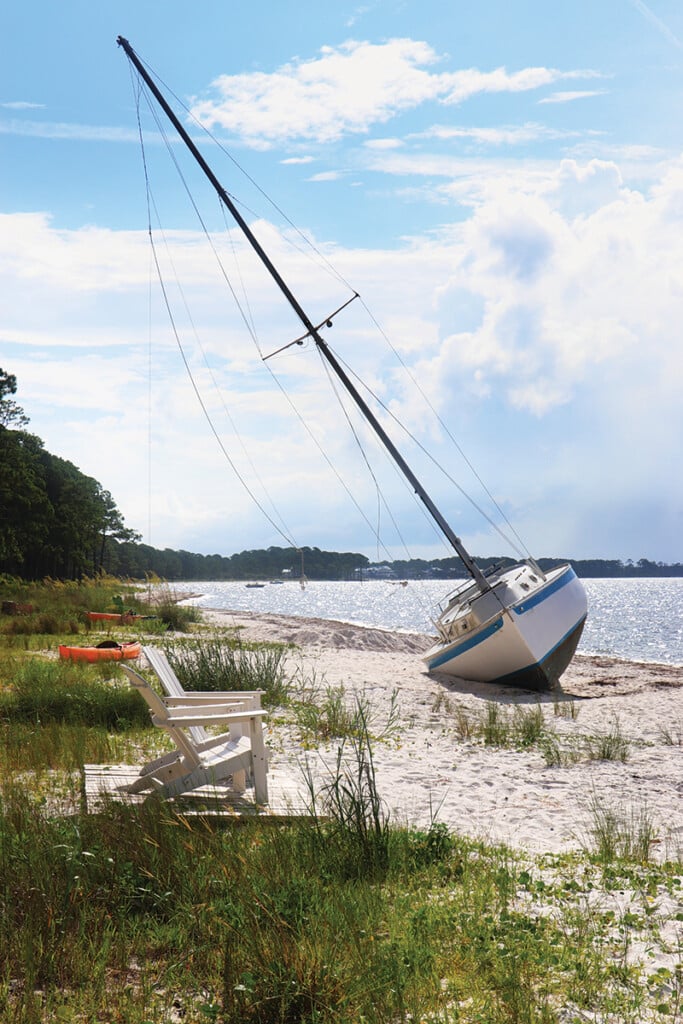 I was sad to hear the old sailboat was gone. A few years after it was stranded by the tides of Saint Teresa, people arrived to free her. I'm sure whoever owns the view that had been obstructed by the boat is happy, but I was disappointed to see a romantic symbol of my favorite beach disappear.
Nobody knows how the sailboat got there, but, among the Saint Teresa regulars, the theories are various. Some think it simply broke loose from its buoy and was steered there by a storm. Others surmise that it was used for a drug running operation that went south, leaving lost souls to ditch their boat before escaping through Tate's Hell swamp on foot.
There were no identifying marks on the boat. Its hull settled in the sand and its tall mast leaned over the dunes. It hunched over shoreline pines like an old man leaning on his cane. Due to its towering presence and unknown past, the vessel developed its own mythology.
For me, the sailboat was a symbol of why I keep coming back.
Saint Teresa might not be the most pristine of Florida's beaches, but I'd be hard-pressed to think of a sandy retreat with more charm. There are no condo towers, tourist traffic or commercial activity to speak of. Once used as a training camp for amphibious army landings during World War II, "St. T." is adored by property owners, visitors and familiar faces who revere its history, quiet beauty and seclusion.
Driving along Highway 98 in the area of Saint Teresa, the only evidence there's a beach nearby are the brightly colored, hand-painted signs at the entrance to dirt roads leading to the secluded shore.
In Saint Teresa, you'll find both authentic cracker cottages and dream homes meant to look like they're from another time. The driveways are made of crushed oyster shells, and at night, the black bears try trash can lids. It's my favorite place to disappear.
Its rustic charms attract homeowners and guests from all over the region. From your beach chair, you'll see CEOs and artists; lobbyists and state workers; retirees and adolescents. They all come to unplug, unwind and unscramble their thoughts. Stress gets lost.
That's why my wife and I have been so drawn to this special place. When we're there, we're at our best. Together with our children, we collect seashells and precious memories. We build sandcastles and make s'mores over driftwood fires.
We've gone to Saint Teresa after losing jobs, pregnancies and elections. Just sitting on that beach with a cup of coffee or cold beer is all the reminder I need that life goes on. If you ever need to turn the page, I can't imagine a better place to do it.
Which brings me back to the old sailboat. That stranded vessel made me think about the cycles we experience in life. One day you ride high on waves that take you to exciting places, then in the blink of an eye, you run aground.
During trying times, I looked at that sailboat and wondered if I would stay stuck or set sail for some new and enticing destination. Then it occurred to me that maybe the boat wasn't stuck after all. Perhaps it just settled in Saint Teresa until it was ready to face the open sea again. Just like me.
I knew the day would come when the sailboat left the shore. In late 2022, crews excavated her from the sand and got her floating again. Then, just as unceremoniously as it arrived, the boat was gone.
I'm one of many who like to slip in and out of Saint Teresa like that boat did. Peacefully. I arrive with baggage and leave unsaddled.
---
Beachgoer, golf enthusiast, writer and marketing professional Jay Revell is a regular contributor to Tallahassee Magazine.