When It's (Not) Just a Mole
As David Springer Learned, a Critical Key to Surviving Melanoma is Recognizing It Early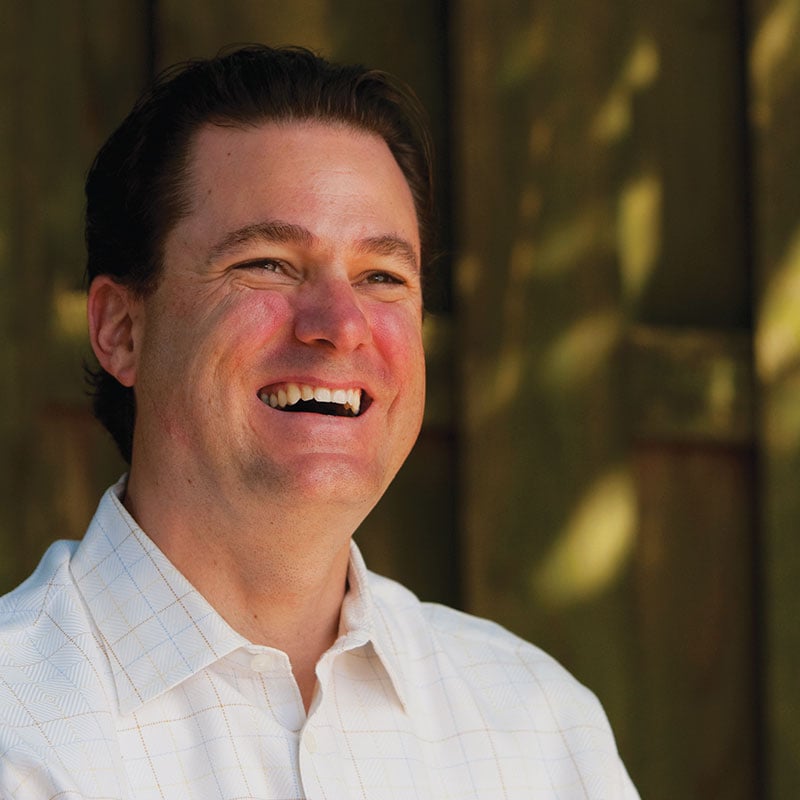 It was just a mole. No big deal.
Every day, as 35-year-old David Springer shaved his face, he would look at that mole in the mirror and think nothing of it. He had grown up in South Florida and, like every other child, Springer spent time playing in the sun. His mother had urged him to wear sunscreen, but when he reached his teenage years, he ignored her warnings.
Decades later, now an Aflac insurance agent in Tallahassee, Springer didn't worry about his health. He didn't go to the doctor with any regularity. "If it's not broken, why fix it?" he figured. What he didn't know on that January day in 2006 was that his life was about to change dramatically. That mole was screaming out for his attention, and if he were smart, he would pay attention to it.
Finally, Springer did listen to his wife, his mother and his friend, and had his mole looked at by a physician.
"I found myself in the doctor's office, and as far as I was concerned I wasn't sick," Springer says. "He came in and was real friendly and introduced himself. He said, 'What's this spot I've heard about?' I pointed to my cheek, and he took a good look and he backed away.
He said, 'David, that's melanoma.' I felt as if I had been kicked in the gut."
Springer's doctor did a biopsy and sent him home with more information on melanoma.
"I came out of that appointment and my mind was reeling," he says. "I had a lot of questions. What are we dealing with? He gave me an information packet on skin cancer. I've got to tell you, being in the insurance business … I have filed hundreds of skin cancer claims. I felt like all skin cancer was cancer until I was diagnosed and was informed there were different types, different degrees. And as I read about the types of skin cancer, I learned that melanoma was the deadliest of all. It was a real eye-opener."
According to the Centers for Disease Control and Prevention, skin cancer is the most common form of cancer in the United States. The two most common types of skin cancer — basal cell and squamous cell carcinomas — are highly curable. However, melanoma, the third most common skin cancer, is more dangerous, especially among young people. Approximately 65 percent to 90 percent of melanomas are caused by exposure to ultraviolet (UV) light or sunlight.
"Cancer develops when DNA becomes damaged and the body cannot repair the damage," says Dr. Cynthia Tie, who has been a dermatologist for 10 years and has practiced in Tallahassee for seven of them. "These damaged cells begin to grow and divide uncontrollably. When this occurs in the skin, skin cancer develops. As the damaged cells multiply, they form a tumor. Since skin cancer generally develops in the epidermis, the outermost layers of skin, a tumor is usually clearly visible. This makes most skin cancers detectable in the early stages."
In 2005, the most recent year for which statistics are currently available, 53,792 people in the United States were diagnosed with melanomas of the skin and 8,345 people died from melanoma.
Springer would learn from his biopsy that his melanoma was stage 3. He knew from working at Aflac that that was serious.
"It was characterized as 'advanced level' cancer," he says. "That was another realization for me. It's not to be taken lightly."
In April 2006, Springer endured an extensive procedure involving the removal of the cancer at Tallahassee Memorial Hospital.
"It was a pretty large incision that left a large scar on my cheek, about 6 to 7 inches in length," he says. "And they also made a 2-inch incision on my neck to remove a lymph node to see if the cancer had spread."
As those who have been told they have cancer know, it is an emotionally draining experience that is difficult to explain.
"I have shared this story with a lot of people," Springer says. "The mental side of cancer is something that doesn't go away. It haunts you. All of the 'what-ifs,' the sleepless nights of staring at pictures of my kids and wondering if I'll be there for their graduations, baseball games and weddings, not knowing if I'll celebrate another anniversary with my wife."
After much agonizing, Springer would learn that the cancer had not spread.
"I got the all-clear," he says. "It had not spread to my lymph nodes. No cancer cells were found."
But, as luck would have it, that would not be the end of the ordeal for Springer.
"One of the big pieces of all of this was making me more informed about melanoma and what causes it, and how important it is as a patient to do six-month checkups," he says. "The doctor told me to watch for changes. He said that, in his experience, patients who become informed are one of the first lines of defense. Of course, I became hypersensitive to my own body. I learned the ABC's of melanoma. (See sidebar on p. 136.) I've learned a lot about that and looked at a lot of pictures and realized mine fit right into the classic situation. He asked me if there were any other spots that could be questionable. Wanting to be a good patient, I pointed at one on my left knee. We had the spot removed and a biopsy was done."
Within days Springer got a call from the doctor's office.
"It's melanoma."
Another surgery was scheduled two months after his first.
After two brushes with cancer, Springer is not bitter. He's not angry. He's grateful.
"I never had a primary doctor," he says. "I never had anyone to tell me that a mole looked funny. Now, the whole experience has made me more aware of my health in general. I now get blood work done, I have my cholesterol checked. It made me more aware of the need to have relationships with doctors and to take care of myself."
Now, at the age of 38, Springer sees both his primary-care doctor and dermatologist every six months. He and his wife still take their kids to the beach, but now he's wearing hats, staying in the shade, using an umbrella and keeping the sunscreen lathered. And he hopes his experience will "rub off" on others.
"I talk about it to anyone who will listen," Springer says. "I encourage people to get cancer screenings every year. I tell guys, 'If you don't have a doctor, get one.' Get a prostate screening. But skin cancer is one of most detectable kinds; you can actually see it. And if I had a relationship with a doctor, if I had been going in for checkups, there's a chance my doctor would have caught it. If one person reads this and it saves their life, it will have all been worth it."
Just remember, it's possible your spot is not "just a mole." It could be a red flag that saves your life.
---
Contributing writer Triston V. Sanders is an executive producer and news anchor for WCTV. Watch her televised medical segment, "Health Matters," weekday mornings on "the Good Morning Show" on WCTV.