What's the WOD? CrossFit Explained
Extreme Fitness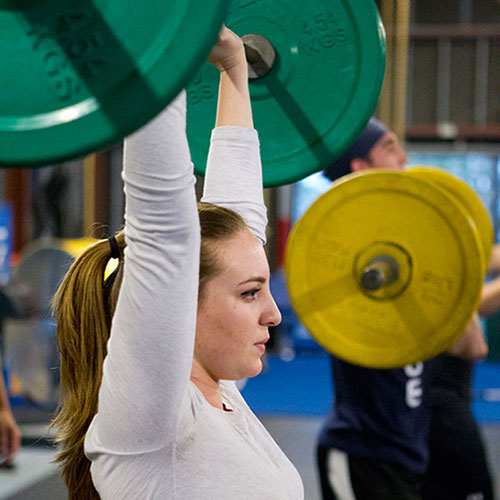 It sounds so easy. Run three miles, do 100 pushups and 100 sit-ups, then lift kettlebells over your head until you can't lift your arms anymore. Tomorrow you do headstand pushups and climb to the ceiling on heavy rope that will burn you if you try to come down too fast. The day after that … well, who knows? That's the method behind CrossFit. It's the most intense workout of your life, and it's unpredictable. You never know what you're going to be doing one day to the next.
"It is intense … and the point is to be intense," said Greg Keeter, head coach and owner of three CrossFit affiliate gyms in Tallahassee. "You should think about intensity, because intensity is not undesirable. It is, in fact, very desirable."
CrossFit is a high-intensity core strength and conditioning program based on constantly changing Workouts of the Day — WODs, in CrossFit-speak. It incorporates elements from gymnastics, Olympic weightlifting, dead lifts and jumping rope. You won't find workout machines like stair steppers, stationary spinning bikes or treadmills in a CrossFit gym. What you will find are barbells, kettlebells, some gymnastic equipment and climbing ropes. Here, the human body is the workout machine. The workouts are designed to improve, among other things, your stamina, strength, coordination, agility, balance, power and speed.
"If you're fit, then you have a lot of these capacities," Keeter said.
CrossFit was founded by Greg Glassman, a scraggly haired unconventional entrepreneur, in Santa Cruz, Calif., in 2000. His system proved addictive and quickly spread to competitive athletes, special operations units, military and police personnel and everyday fitness enthusiasts. Today, there are more than 7,000 affiliate gyms around the world. Keeter opened his first Tallahassee gym in 2009.
Unlike a typical gym, at CrossFit you're not turned loose to do your own thing. Just like sports training, a coach is there to give you direction, teach you how to do things the right way and lend encouragement. But unlike training for any particular sport, said Keeter, CrossFit workouts are designed to "prepare the body for any physical contingency — not only the known but also the unknown."
"We take some of the best part of sports and incorporate it here. So if you've ever played sports before, you know what practice is, right? You do that more than you play the sport. So coming to a CrossFit workout is a lot like going to practice," he said. "What I'm really trying to create here and at most CrossFit gyms, really, is a high-quality training environment."
With its five-day-a-week schedule, CrossFit is one of the more relentless exercise regimens out there today.
Jaimi Wacksman got a wake-up call when she started CrossFit two years ago. The petite businesswoman, wife, mother and busy community volunteer learned in a hurry that the high-intensity program of weights and sudden, explosive muscle action wasn't at all like any conventional gym experience she was accustomed to.
"The first time I started, it was painful and frustrating because you've done all these moves maybe in a regular gym but you were doing them all wrong. You come (to CrossFit) and you learn a whole different method of working out," Wacksman said. "You have to relearn everything as well as learn movements that you haven't done before."
In short, she had to re-learn what she thought she knew about exercise.
Scott Holstein
Equipment is minimal and basic in a CrossFit gym, but participants are still able to get high-intensity workouts.
"I committed myself to three months, and the first two, I won't say I hated it but I was like, 'I'm going to do my three months and be done.' But I stuck with it, and can't imagine doing anything else now," she said. "And I'm an 'everydayer.' I (went) to the gym every day, even previous to this, but this is something I look forward to. It's a community. You work out with the same people every day and they become your friends."
CrossFit can be exciting, productive and socially enriching — just as long as the clients take care of themselves and the trainers do the right thing, according to Mark Lui, director of Cardiopulmonary Rehabilitation at Tallahassee Memorial Hospital.
Lui is an exercise physiologist who has worked in cardiac rehab and wellness programs for 33 years. He's seen different high intensity workout programs come and go over the years. But CrossFit, he said, is one of the most stable programs he's seen for quite a while. In general, he favors some high-intensity exercise programs. But he urges caution. If you're over the age of 35 you should check with your doctor first. And if you have a history of lung, heart or kidney problems, you should probably steer clear of any high-intensity program. Even if you are healthy, extreme exercise is not something to enter into without first having reached a certain level of physical conditioning.
"This is not something you want to go into de-conditioned," he said. "I would suggest before CrossFit you spend three months at a lower-level cardiovascular activity and weight training. Hopefully the instructor has kind of a progression to where you have lower level introductory CrossFit and (then can) progress up."
Another problem for those who aren't accustomed to exercise: Doing too much, too fast, can really wallop your immune system, Lui said.
"The most common problem is you get sick with a cold or virus, because you haven't acclimated and gradually progressed up to high intensity," he said. "Probably the most common reason for (stopping an exercise program) is you jump in too much and your immune system breaks down. That's one more reason why you should progress yourself into high intensity."
Once you feel ready to start any high-intensity extreme program, Lui said you should make sure the staff devotes adequate time to muscle recovery. In many conventional cardio-intensive sports like track and field, he said, coaches devote as much time to muscle recovery as they do the duration of the exercise itself. But with some extreme forms of exercise, he has seen a tendency to focus more on results and competitiveness than muscle recovery. The danger there is that without adequate down time, blood lactate levels can get so high that you can vomit, and even pass out, if that can't be controlled.
"I also see that with some high-intensity activities, your blood pressure goes way down and, if you're diabetic, the blood sugar can bottom out on you as well," he said. However, he still thinks CrossFit does a real service to a lot of people by getting them involved in exercise. He just advises that you go about it in a smart way.
"Too much of anything is bad, especially with exercise, and people have to take a common sense approach to it," he said.
Keeter said his programs strive to make sure their clients know how to do the required moves in a safe and effective manner. They are supervised in a safe, comfortable environment, and he even offers "recovery services" such as yoga to help work out the kinks and tightness that a CrossFit program creates. Keeter also said that two local sports chiropractors are among his clients and provide some consultation to folks who may need it. However, in general, Keeter said CrossFit does have its share of risks.
"Is CrossFit riskier than other fitness activities? Yeah, because everything we do has its own risk. You can't take the risk away from everything. You drive a car, and you're certainly taking a risk," he said. "CrossFit is riskier than other fitness activities just because it has a variety. Now, here's the really important question: Does CrossFit cause injuries? And the answer is, not in my experience. Now, do we have people who are injured? Yeah. Mostly they come injured. Part of that is because (a previous injury from long ago) never got healed."
Keeter's CrossFit program costs, in general, $170 a month, according to his website. But college students, teachers, grad students, law enforcement and military pay a little less.
For more information visit crossfittallahassee.com.