Welcome to the Stick-On Relief Revolution
Pain, Pain, Go Away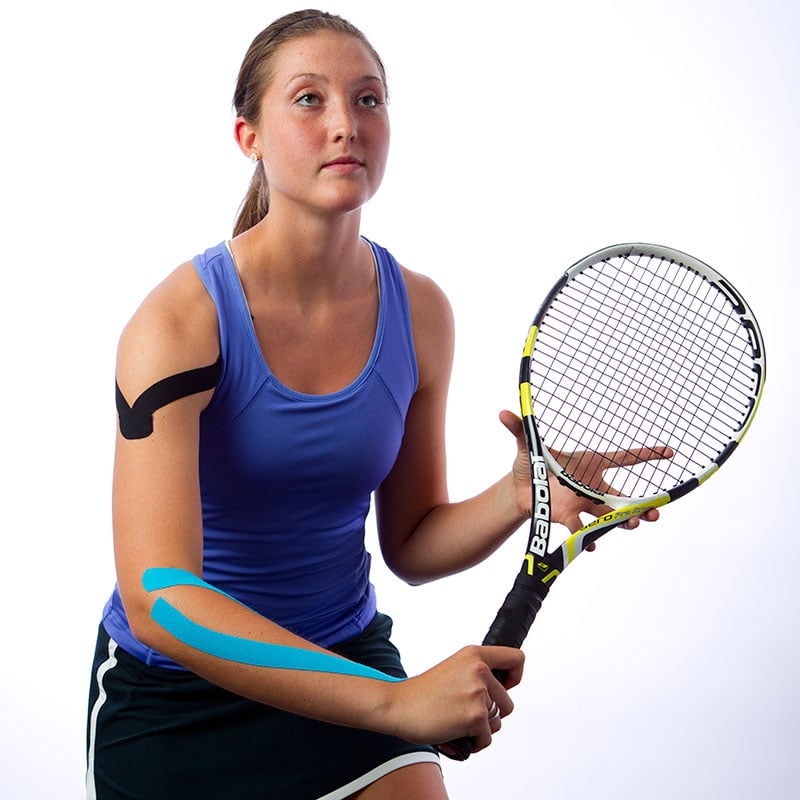 It's weird, it's colorful, it's seen on TV. It's Kinesio Tex Tape, and it could just do the trick for your trick knee, shoulder, ankle, back or hip.
Kinesio Tex Tape is a brand-name elastic adhesive athletic tape developed by Dr. Kenzo Kase in Japan back in the 1970s. If you follow the Olympics, you might have seen its bright sworls of color or telltale spider web pattern adorning the bodies of volleyball players, swimmers and other athletes. But it isn't exclusive to the sports world. Desk jockeys and other everyday folks with aches and pains can use the tape as well. Essentially, Kinesio Tex Tape is a non-invasive and non-medicinal "tool" to either keep a muscle from straining, or to get it to do what it's supposed to do.
"Strapping or taping has been used in physical therapy and athletics for a long, long time. This is a kind of a branch of the taping or strapping methods that has become prevalent over the last few years," said Dr. Kent Knisley, physical therapist and CEO of Tallahassee Orthopedic & Sports Physical Therapy. "What it essentially does is … gives the body feedback and helps to inhibit, or facilitate, muscles. So it helps the muscle contract, helps the muscle relax, helps guide a muscle in the direction it's supposed to go."
It also helps reduce swelling by putting pressure on the skin to push fluids away from an inflamed area, Knisley said.
"It's just another treatment we can use for people with musculoskeletal injury or syndrome, and it's very, very effective — but not a lot of people know what it is," he said.
The Kinesio Taping Association International has trained thousands of people across the world in the special taping technique. Two of the 5,000 people in the U.S. certified as Kinesio Taping Practitioners are in Tallahassee and both Elizabeth Stafford and Chris Sbroglia work at TOSPT.
Sbroglia can testify that the tape works. She's used it herself with good results.
"I lived off it for about a year and a half. I had radial tunnel syndrome, which is basically like carpal tunnel, but in an elbow. It's a nerve impingement and caused by repetitive typing, which is what we have to do as far as documentation is concerned," she said. "And so in order for me to get through my days, five days a week, and work with less pain, one of my coworkers would tape me and it would get me through an eight-hour day."
Sbroglia said she wound up having surgery for the condition but, even then, the taping helped to ease post-surgical swelling and bruising. Now, "I am a huge believer."
Stafford said one feature that makes the tape pretty popular among patients is the taping procedure is an easy technique for patients to learn.
"You can do it yourself, once you learn exactly how to do it. Once you get it down, you don't have to keep coming back to us to get it taped," she said. A taping can last three to five days, as long as it doesn't get wet.
Knisley said his office offers the taping for $40–$50 per session. It's something you don't necessarily need a referral for (his staff is permitted to see and evaluate walk-ins), you can pay for it out of your own pocket and it saves time, too.
"A lot of people do that because it is relatively inexpensive compared to going to get an injection for tennis elbow," he said. "And, in the time it would take to see your doctor, get X-rays and your injection, you could probably have had this tape done four times."
If you want insurance to cover it, Knisley said, you can ask your primary care doctor to write a prescription.