Welcome Home Brewing to Your Home
You can bring the coffee bar home with you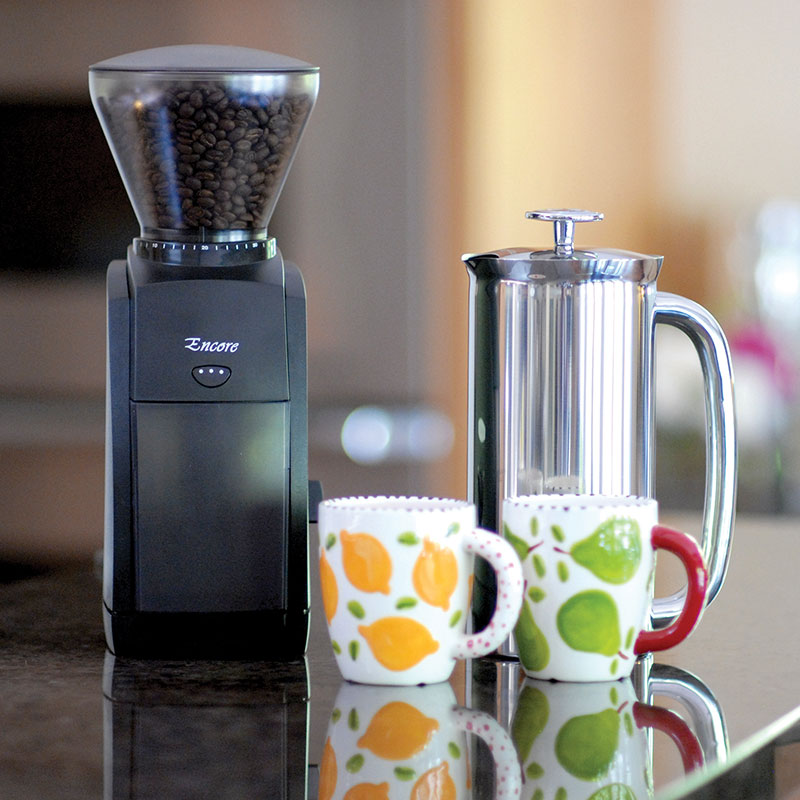 Lucky Goat Coffee owner Ben Pautsch is a coffee evangelist, and he wants you to brew the best cup possible.
He's no snob when it comes to equipment: Ben says you can make excellent, hot-brewed java with a $20 French press and a basic manual grinder. He doesn't insist on premium beans, but beans from places like Kimbo Coffee are a great place to start. But in regard to the freshness of beans and how they're treated, this coffee professional is a stickler.
When customers ask how to make a homemade cup o' joe that is as delicious as what they buy at their favorite coffee shop, Pautsch's answer is simple: "Buy fresh coffee that you like and grind it at home."
According to Pautsch, much of coffee's taste comes from aroma — and stale java isn't going to smell and taste great, no matter the brewing method.
Ideally, beans are bought freshly roasted, stored properly and ground daily. An open bag of whole beans can stay fresh for two weeks, but ground  coffee left exposed to air can go stale in an hour, Pautsch says. Oxygen is the enemy, and storage is key. Coffee doesn't belong in the freezer or refrigerator, but in a dark, cool spot in an airtight container. Lucky Goat uses nifty AirScape stainless steel canisters, with a valve to force out air.
Next on the list for exceptional java is a conical burr grinder. Neither Pautsch nor the writers for the coffee-obsessed website, HomeGrounds, has a good word for blade grinders. "Talk to any barista and they will tell you that the most important tool in making (fantastic) coffee isn't the brew method — it's the grinder," says HomeGrounds. "Buying pre-ground, while not ideal, is a better option than using a blade grinder." Blade models get little respect, because they grind inconsistently, which can result in a "muddy" brew.
Manual burr grinders cost around $40, while the Baratza Encore, Lucky Goat's entry-level electric burr grinder, is sold at the store for $129.
After freshness and grind, Pautsch touches on three other key factors for a great cup:
Water quality: Tallahassee is fortunate on that point, he says, because there is little chlorine in the water.
Coffee-to-water ratio: This should be carefully controlled. Aficionados weigh water and coffee and go by grams for both. Pautsch notes that more coffee does not necessarily make stronger coffee. "It actually gets rounder, smoother and sweeter, to a point."
Temperature: Water should be just below boiling: 195–205 degrees. For manual pours, a "smart" electric gooseneck kettle will maintain the right heat. Alternatively, boil water on a cooktop, turn off the heat and wait about 30 seconds before pouring.
Remember that in the end, a good brew comes down to what you like. "I love talking about it," Pautsch says of the art of coffee-making. "But there is no right or wrong."   
---
Roasts
Tallahassee-based Lucky Goat Coffee's "roastery," tasting room and distribution company is located at 668 Capital Circle NE. Lucky Goat also has stores at 1307 N. Monroe St. and 1400 Village Square Blvd. Find Lucky Goat Coffee online at luckygoatcoffee.com.
---
EQUIPPED FOR BETTER BREWING
If you're looking to bring a little craft to your coffee, here are a couple of hand-brew setups that can produce coffee-shop-worthy results, with just a little effort.
The French press: This old-school favorite is a low-cost, manual brewer that steeps grounds in hot water. "If you ask me what the best cup of coffee is, it's a French press," Ben Pautsch says. French presses do not need a filter, which means you get a pure coffee flavor. For the best results, they require a coarse grind, similar in texture to sea salt. French presses are commonly available in capacities ranging from 12-51 ounces and are easy to find online or at retail stores.
The pour-over: Like many coffee sophisticates, the folks at HomeGrounds are huge fans of pour-over makers, also called hand drip or manual drip makers. These can be ceramic, glass, metal or plastic, and they frequently look like a cone-shaped hat that fits over a cup or carafe. The elegant Chemex, which, along with its special filters, is stocked at Lucky Goat, is a classic. HomeGrounds also likes the Hario V60, the Kalita Wave, the Bee House, the Kone Filter system and the Walkure. Besides requiring a burr grinder and a maker, proper pour-over brewing generally requires filters, a kitchen scale, a timer and a way to carefully control temperature, such as a "smart" electric kettle. It also takes a few minutes of attention. Coffee, for these makers, should be a medium grind. For anyone needing advice on pour-over technique, HomeGrounds offers a comprehensive guide.