Watching the River Flows
Activist Georgia Ackerman is devoted to the unique watershed that she loves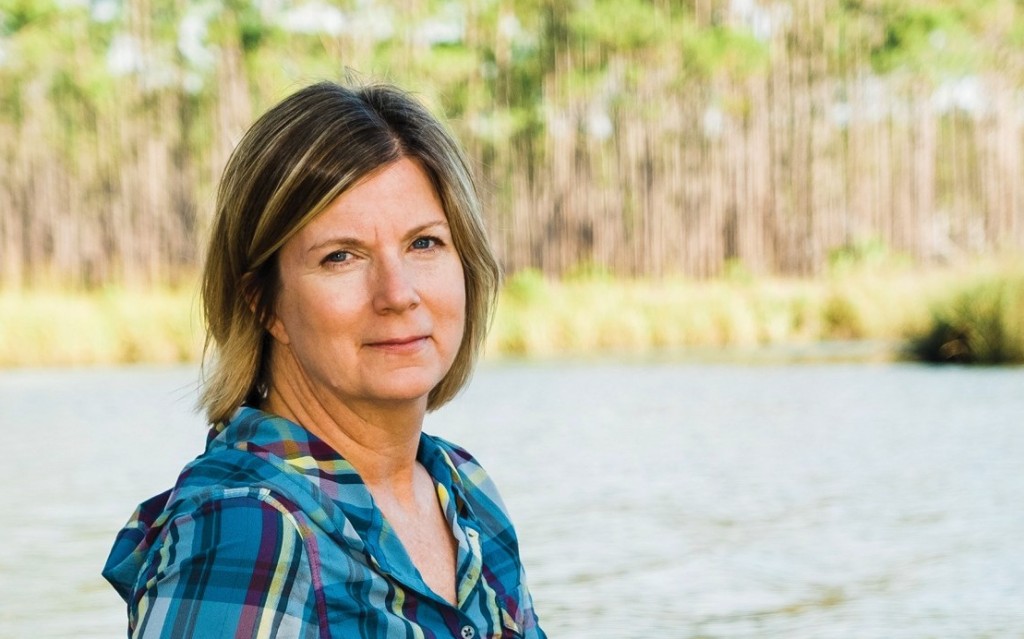 For Georgia Ackerman, conversation flows easily when she finds herself talking about what she calls the Apalachicola River's remarkableness.
She recalls her days leading kayak tours along northern reaches of the Apalachicola as the operator of an ecotourism business in Crawfordville, and how her love of the river intensified after she paddled its entire 107-mile length at the invitation of the organization she now leads, Apalachicola Riverkeeper.
She notes the river's significance as a biological diversity hotspot and lists some of the many designations that have been applied to the Apalachicola: Outstanding Florida Waterway, National Recreational Trail, Florida Aquatic Preserve, National Estuary Research Reserve, United Nations Man and the Biosphere Programme (MAB) Reserve.
Together, the designations attest not just to the remarkableness of Florida's largest river, but to its uniqueness.
"Diversity has long been recognized as what makes the Apalachicola river, bay and watershed so special," Ackerman said. "It deserves protection. Good human health is a product of maintaining diversity. When we mess up habitat, there is a ripple effect because everything is connected. Water and land are connected, and our health is connected to the habitat's health."
The UN MAB program, according to its website, combines natural and social sciences in efforts to improve human livelihoods, safeguard ecosystems, and advance approaches to economic development that are socially and culturally appropriate and environmentally sustainable.
On a smaller scale, Ackerman and Apalachicola Riverkeeper are all about the very same things. The environmental advocacy nonprofit's mission and projects reflect its concerns for the regional economy, flora and fauna.
In an interview with Tallahassee Magazine, Ackerman offered a three-part prescription for seeing to the health of the Apalachicola River biosphere, humans included.
Restore healthy freshwater
flows: "Everything else flows
from doing that."

P

romote widespread understanding of why the Apalachicola River system is important: "Most Floridians have an appreciation for the significance of the Everglades. I'd like for them to become as familiar with the importance of the Apalachicola river and bay." (The Everglades and the Apalachicola system, as it happens, are beset with identical problems, including restricted flows and saltwater intrusion.)

Achieve community consensus about a restoration and protection plan: "And then find the political will and the funding to enact those plans." The Florida State University Coastal and Marine Laboratory's "Apalachicola Bay System Initiative," approved for funding by the Triumph Gulf Coast Board, provides for a community advisory board, Ackerman noted. She is a board member.
Traditional Apalachicola River corridor livelihoods, including oystering and beekeeping, have been dramatically affected by recent events, both climatic and manmade. (And, one could argue that the climatic events were influenced by human activity.)
"Oysters have become the poster child for the declining health of Apalachicola Bay," Ackerman said. "We experienced a series of droughts in the early 2000s, and that coincided with restricted flows of freshwater from upstream because it was being diverted for use in Georgia.
"As a result, salinity in the bay increased. Predators (such as oyster drills) moved in, and in 2013, following the drought of 2011-12, NOAA declared that the oyster fishery had collapsed."
Ackerman stressed that oysters are an indicator or keystone species. Their decline invariably is accompanied by declines in other species, including finfish and blue crabs.
"Apalachicola Bay has not recovered," Ackerman said, "but it is recoverable. Oysters and other species can rebound, but time is of the essence. The system is elastic, but if you stretch the rubber band past the breaking points, you're in trouble.
"We're not there, but we may never see the bay restored to its ecological heyday. Natural oyster reefs are a big part of that healthy habitat. We need the bars restored."
Ackerman said she has encountered support for the idea of suspending oystering entirely in Apalachicola Bay to give the fishery an opportunity to bounce back.
The same droughts that disrupted Apalachicola Bay also affected sloughs, channels, creeks and lakes upstream. When the flood plain dried up, tupelo trees were lost, drought-tolerant vegetation moved in and honey production suffered. (One should not be surprised that among the movies that Ackerman has watched most is Ulee's Gold, about a Wewahitchka beekeeper played by the late Peter Fonda.)
Ackerman intends that people spend time on the river — such experiences tend to inspire people to make contributions to Apalachicola Riverkeeper — but her job has as much to do with litigation as it does recreation.
In 2013, the year in which the oyster collapse was declared, Florida filed suit against Georgia, seeking a consumptive use cap on withdrawals from the Flint River Basin, part of the Apalachicola-Chattahoochee-Flint River system. Twice, the Supreme Court has sent the case to a special master for study and recommendations.
This spring, Florida filed an exception to the report of the second special master, which favored Georgia and, said Ackerman, relied in part on testimony previously discounted at oral arguments before the high court.
"It's tough to speculate on when finality in the case will come," Ackerman said. "The Supreme Court will make a ruling, probably in a year to 18 months, but there is the possibility that they could send it back again to a special master."
In a separate case, Apalachicola Riverkeeper and other environmental organizations filed suit in April 2017 against the U.S. Army Corps of Engineers, alleging that it failed to adequately consider impacts on the environment when it developed a water management plan that will dictate freshwater flows through the Apalachicola-Chattahoochee-Flint river system for decades to come. The plaintiffs contend that the Corps, in arriving at its plan, violated federal laws including the National Environmental Policy Act, the Water Resources Development Act and the Fish and Wildlife Coordination Act.
The case against the Corps is pending in the Northern District of Georgia.
Apalachicola Riverkeeper has taken matters into its own hands in working to reverse damage done by the Corps when it piled dredge spoils on land, preventing the exchange of water between three sloughs and the river at its lower end. Riverkeeper, with a project funded by the National Fish and Wildlife Foundation and an assist from University of Florida researchers, is undoing those blockages.
If all of that were not enough, Riverkeeper also feels compelled to monitor activity related to six exploratory oil and natural gas wells authorized by the state Department of Environmental Protection. The well locations are in the Apalachicola River floodplain in Calhoun County.
It must seem to Ackerman that she cannot turn her back on the river. And, indeed, she has its back.