Visit the Haunts of Our Youthful Neighbors for a College-Style Night Out
Town, Meet Gown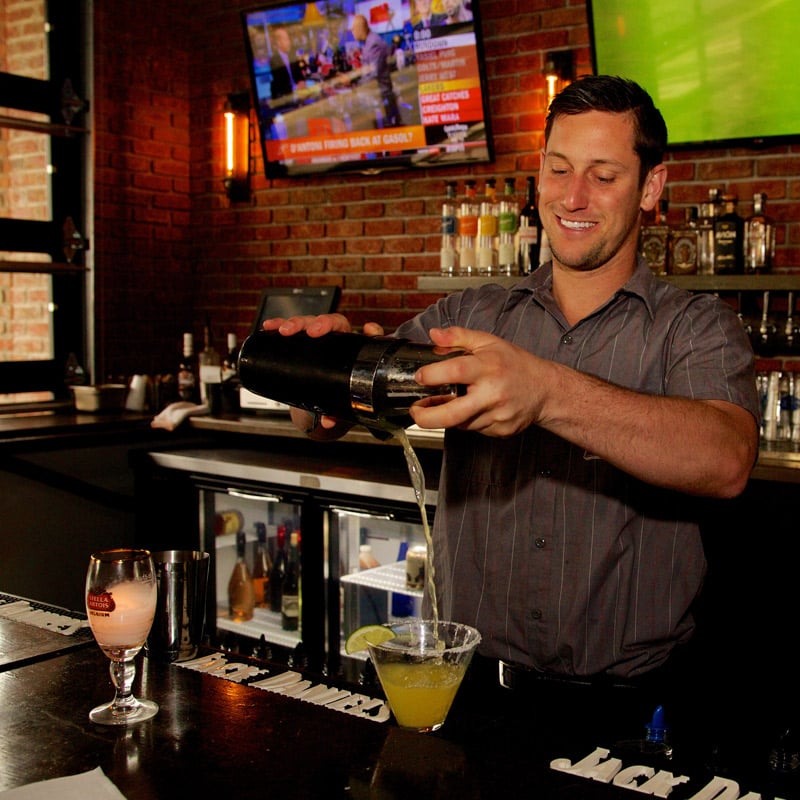 Madison Social
Expect a lively crowd, free-flowing drinks and good food during a night out at CollegeTown's Madison Social (above and below).
Sometimes, it seems like North Monroe Street is the Berlin Wall, dividing Tallahassee's government officials, office workers, soccer moms, business owners and bankers — you know, us — and the 60,000-plus, lively college 20-somethings living, studying and partying to the west.
With a city so diverse, it's time to experience how the other half enjoys life. Take an adventurous night out on the town at some local college hot spots that are sure to pique your interest.
On campus or off, Tallahassee's multifarious nightlife offers an exciting escape from the ordinary. Leave behind, for the night, your suburban life. Take an adventure. Relive the glory days that made up the best four years of the young adult life.
To experience something close to college campus nightlife, try one of these gems:
Madison Social
With an extremely gregarious atmosphere, guests can easily socialize with their own friends or hang out around the bar making new ones. The beers and drinks are always delicious, making it the perfect spot for post-work libations. Take advantage of the happy hour specials, and celebrate the end of a long, tiring week. Madison Social is at its prime on game day Saturdays. Guests can enjoy a table outside with a trough full of icy cold beers while tailgating before the big game.
705 S. Woodward Ave. // madisonsocial.com
Bullwinkle's
While it may cost $10 to enter on any given night, the all-you-can-drink, top-shelf liquor specials are sure to make up for it. This watering hole located on the Tennessee Strip is a popular destination for college students, so be prepared. The atmosphere is lively, to say the least, and the back deck is spacious, but it does get rowdy at times with the occasional live band adding to the rambunctious atmosphere.
620 W. Tennessee St. // bullwinklessaloon.com
PrimeTime Tallahassee
This is the perfect place to enjoy a delicious brunch on the weekend or to watch sports on the TVs that ring the restaurant and bar. Primetime offers the largest outdoor patio in Tallahassee. Guests can lounge around day or night while enjoying some good eats and great company. And with $12 endless mimosas during Sunday brunch, a good time is sure to be had by all.
1921 W. Tennessee St. // primetimetallahassee.com
Proof
If craft beers are your thing, Proof Brewing Co. creates its own brews (may we suggest Creatures in the Dark Stout) as well as offering the fruits of other craft breweries' labors.
Another laid-back, casual bar. Connected to Proof Liquor store, this bar offers inside as well as patio seating. It is frequented nightly by a multitude of college students, but any adult beer enthusiast will savor the vast hoppy array of drafts offered. Glass giveaway nights are the perfect chance to sip new beer and take home a souvenir mug.
1717 W. Tennessee St. // proofbrewingco.com
101 Restaurant
Welcome to 101's double happy hour, where big-city style meets Southern hospitality. This upscale college bar and restaurant hosts a classy atmosphere to sip martinis and chat over a delicious appetizer. Located within walking distance of Florida State's campus and the Capitol, the nightly guest mix is just as diverse as Tallahassee's population.
215 W. College Ave. // 101tally.com
If being within walking distance of the gorgeous Florida State campus is too close to the rambunctious college nightlife for your taste, try a few Midtown watering holes that have become graduate student favorites.
5th Ave Tap Room
Nights are filled with either karaoke or local bands. A typical crowd is a mix of college upperclassmen, graduate students and Tallahassee locals. With a somewhat spacious dance floor, grab a drink and dust off your blue suede shoes to have a great night.
Manor@Midtown // 1122 Thomasville Rd.
Finnegan's Wake Irish Pub
Sometimes overly crowded, this fun-loving pub with its wooden tables and bookshelf backdrop, strewn with eclectic items, has the perfect atmosphere for a casual drink. But get there early to grab a table, because they fill up fast on a typical weekend night.
Manor@Midtown // 1122 Thomasville Rd.