Veggie Tales of Delight
Yes, You Can be a Vegetarian and Still Eat Well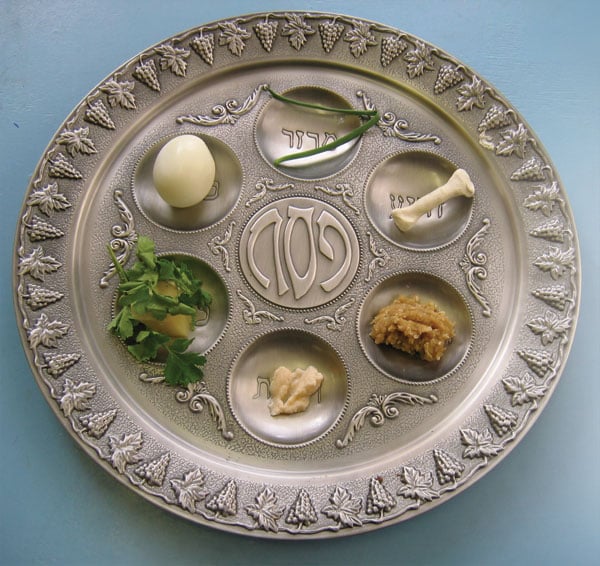 Please don't ask me how I get my protein.
As a lifelong vegetarian, it's one of the most common questions I get. Usually followed by the predictable "Why?" or "Do you eat fish?" or "I was a vegetarian for six weeks … in 1998."
And then it usually ends with: "So what do you eat?"
As for why, my eating habits developed naturally. It was how I was raised. My parents were vegetarians and wanted their kids to be, too.
I was often given the option to eat meat. But I was never interested. To me, meat is a completely foreign, unappetizing thing, like eating metal or garbage.
Granted, my upbringing was a little unusual. More traditional reasons to become vegetarian include a desire to eat healthier; religious reasons (for instance, most Hindus are vegetarians); distaste for meat; or ethical opposition to killing animals or concerns about how animals raised for human consumption are treated.
A vegetarian is someone who does not eat meat, and that includes fowl and seafood. A vegan is someone who does not eat meat or any animal byproducts, which includes eggs, cheese and milk. I can hear the rebuttals now: "My cousin was a vegetarian, and she ate fish." No, your cousin wasn't exactly a vegetarian; she was a pescetarian, a common stepping-stone to becoming a full-blown vegetarian like myself.
There are reams of scientific studies showing the health benefits of going vegetarian. The American Dietetic Association reports that vegetarian diets are healthy and nutritious — even for children, athletes, pregnant and breastfeeding women — and provide health benefits in the prevention and treatment of certain diseases. Vegetarians, the association reports, have a lower risk of developing heart disease, high blood pressure and Type 2 diabetes, and have lower low-density lipoprotein, the so-called "bad cholesterol," than non-vegetarians.
The American Dietetic Association also says that most vegetarians get all the nutrients they need from their diets, including protein and calcium. In fact, some vegetarians have higher calcium levels than do meat eaters, the association says. Certainly, though, there are some nutrients that vegetarians and vegans fall short on, such as the omega-3 fatty acids that are found in fish and eggs. But many milk and soymilk producers address this problem by fortifying their products with DHA (docosahexaenoic acid), a fatty acid important for cardiovascular health, as well as eye and brain development. There are so many fortified products developed for vegetarians and vegans these days that it is easy to supplement diets with missing nutrients.
I have found that some meat eaters imagine that the vegetarian diets are nothing but salads and Brussels sprouts, with heaping plates of beans and spoonfuls of peanut butter to capture the protein that so many people think that we're not getting. To set the record straight, the American Dietetic Association's research on scientific studies of vegetarian nutritional needs shows it is not necessary for most vegetarians to go that extra mile in search of protein. Plant foods alone meet protein requirements and energy needs. (And vegetarian athletes also don't need special foods or supplements to meet protein requirements).
As for my diet, I have had meat-eating friends and family members politely insist that I won't be able to succeed in one of my passions, running long distances, on a vegetarian diet. Well, I just ran my first marathon in February, and I'm hardly alone. There are lots of vegetarian athletes. Former New York Jets quarterback Joe Namath was a vegetarian, and when track star and Olympic gold medalist Carl Lewis was in training, he committed to a vegan diet. Triathlete Dave Scott was a vegetarian when he won six Iron Man World Championships — a grueling competition that consists of a 2.4-mile swim, 112-mile bike ride and 26-mile marathon run. Bottom line: The Wall Street Journal reports that a 1988 study of vegetarian runners found they ran as well as their meat-eating counterparts.
The truth is that vegetarian diets aren't exotic. Everyone eats vegetarian meals, at least some of the time. American favorites including garden salads, pancakes, cheese nachos, smoothies, chocolate cake and marinara pasta are vegetarian.
I usually take traditional recipes and either remove the meat or add in a meat substitute. So if it's fajitas, I'll grill some tofu. If it's pasta, I just won't have the meat or fish and instead add a vegetable.
Just like any meat eater, vegetarians tailor their diets to their own preferences. As for me? I like pasta. If I could, I'd probably eat spaghetti, vegetable lasagna and ravioli every day of the week. My friends and husband often joke that I'm a "vegetarian who doesn't like vegetables." Their point isn't far off. I'm not the stereotypical salad lover.
While I wouldn't mind if more people adopted a vegetarian lifestyle, and I certainly wish more dining establishments in the South catered to our dietary preferences, I'm a firm believer that vegetarians and meat eaters can happily co-exist. We do in my own household where my husband eats meat regularly; I maintain a vegetarian diet; and my stepdaughter has, for three years, been a vegan.
So here's my attempt to demystify the vegetarian diet. Below are three easy recipes that should please vegetarians and meat eaters alike, ranging from the simple (pasta) to the more challenging (stuffed portabellas). A word of caution: Try not to compare meat substitutes to actual meat. They aren't intended to taste exactly the same. Treat them as you would any other new food — with curiosity and an open mind.
---
Creamy Spinach & Mushroom Pasta
makes 4 servings
10 ounces of your favorite pasta
2 tablespoons olive oil
9 ounces mushrooms, sliced
1 tablespoon dried oregano
9 ounces vegetable stock
1 tablespoon lemon juice
6 tablespoons frozen spinach leaves
6 tablespoons cream cheese
Salt and pepper
Cook the pasta in a large pan of lightly salted boiling water according to package instructions. Drain, reserving 6 fluid ounces of the cooking liquid. Meanwhile, heat the oil in a large, heavy-bottom skillet over medium heat, add the mushrooms, and cook, stirring frequently, for 8 minutes or until almost crisp. Stir in the oregano, stock and lemon juice and cook for 10 to 12 minutes, or until the sauce is reduced by half.
Stir in the cream cheese and spinach and cook over medium-low heat for 3 to 5 minutes. Add the reserved cooking liquid, then the cooked pasta. Stir well, season with salt and pepper, and heat through gently before serving.
Recipe from "Perfect Vegetarian"

---
Enchiladas
makes 5–6 servings
8-ounce package of yellow Spanish rice
Small can of olives, chopped
Large tomato, diced
Avocado, sliced
Lettuce, shredded
12-ounce package of meat substitute of your choice
1 package of enchilada or taco seasoning
2⁄ 3 to 1 cup water
Green onion, minced
16-ounce can of refried beans or black beans
24 ounces of taco or enchilada sauce
Flour tortillas
1 tub of sour cream (for vegans, use Tofutti-brand sour cream)
12 ounces shredded cheese (vegans use soy cheese)
Salsa or taco sauce
Preheat oven to 375 degrees. Cook the rice following the directions on the package. Slice, dice and shred the ingredients according to preference and set aside. Heat the meat substitute. Add three-fourths of the package of enchilada seasoning mixed with water to the meat substitute. Allow it to simmer for a few minutes, and add a handful of minced green onion at the end. Heat the refried beans while adding the remaining enchilada seasoning and enough water to allow it to be stirred (between 1/3 and 1/2 cup). If using black beans, combine the contents of the can with the remaining seasoning and apply heat.
Once the rice, meat substitute and beans are ready, combine them into a large mixing bowl. This is the main filling. In a large casserole dish, pour enough enchilada sauce to cover the entire bottom (about one third to one-half can). Take a tortilla and spoon in the mix, add the sour cream, cheese and as many veggie toppings as you wish. Drizzle the tortilla with about a tablespoonful of the enchilada sauce, and roll the tortilla. Repeat the process with remaining tortillas. Once the casserole dish is full with filled and rolled enchiladas, pour the remaining sauce over them. Cover with shredded cheese. Bake for 20 minutes or until the cheese melts. Serve on plates and top with sour cream, olives, tomato, avocado, green onions, lettuce, and taco sauce.
Recipe from GoVeg.com
---
Simple Sweet and Sour Sauce
1 cup unsweetened apple juice
1 tablespoon soy sauce
1 tablespoon rice vinegar or cider vinegar
1 teaspoon grated fresh ginger root
1-2 teaspoons sugar
1 tablespoon cornstarch dissolved in 1 tablespoon cold water
Preheat oven to 350 degrees. Oil a baking pan large enough to hold the portabellas. In a bowl, crumble the tofu into small pieces. Add the peppers, water chestnuts, scallions, rice, peanut butter, miso, ginger, 1 teaspoon of the sesame oil, and the chili paste, if using. Mix well and set aside.
Carefully twist off the mushroom stems and gently rinse the caps to remove any dirt. Place the caps gill-side up (gills are the thin flaps under the caps) in the oiled pan. In a small cup, stir together the remaining 3 teaspoons of sesame oil and the soy sauce. Brush the mushrooms with the mixture. Mound one-fourth of the filling in each mushroom.
Bake for 35 minutes, until the mushrooms release juice and the filling is firm to the touch. While the mushrooms bake, prepare the simple sweet and sour sauce. In a small, non-reactive saucepan, combine the apple juice, soy sauce, vinegar, ginger, and the sugar, if using, and bring to a boil. Stir the dissolved cornstarch into the boiling sauce. Reduce the heat and stir for about 1 minute, until the sauce thickens and becomes clear. When the mushrooms are ready, top them with the sauce, scallions and sprouts. Serve immediately.
Recipe from "Moosewood Restaurant: New Classics"