Try Ballet-Inspired Workouts for a Lean Look and Strengthened Core
Back to the Barre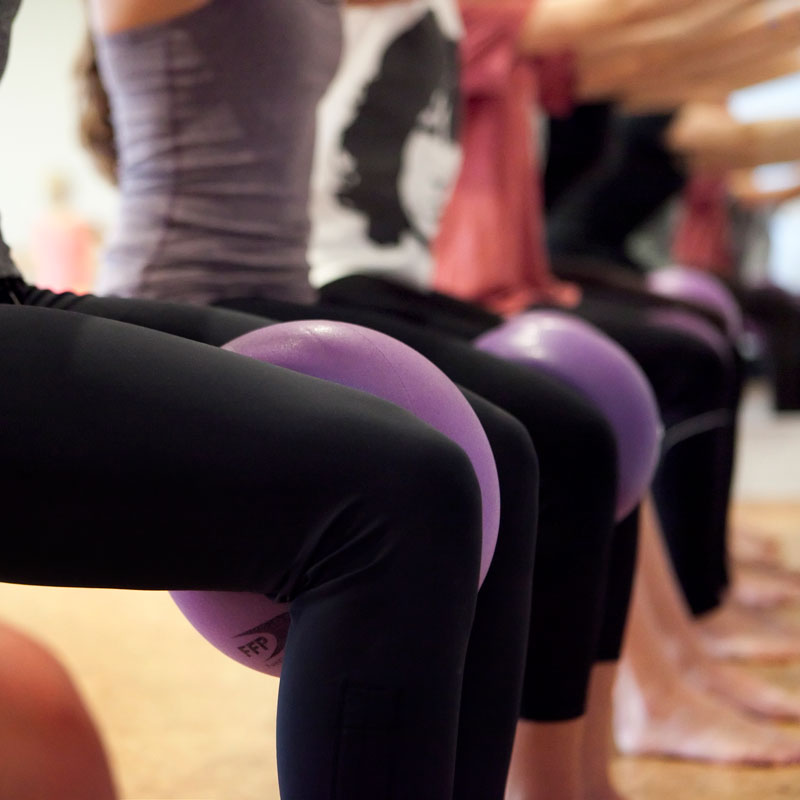 If the words "ballet barre" remind you of ill-fitting leotards and boring music, the new take on barre may surprise you.
As a little girl, I was forced to wear an itchy pink tutu and pink satin slippers. Both were in tatters at the end of ballet season. Recognizing my utter lack of grace, my mom decided to cut her losses and move me on to piano lessons. I thought mirrored rooms and dance studios were permanently in my past. Then the newest fitness fad came to Tallahassee.
I viewed the barre craze — where instructors employ the ballet barre and dance movements to work every muscle in your body — with trepidation. I am no ballerina, but the promise of a fit, toned figure lured me back to the barre.
The 55-minute workout is designed to give you lean muscles, according to Allison Buckenheimer, an instructor at Pilates Pavilion.
"If you want to lose weight, you run. If you want to gain muscle, do Pilates. If you want a long dancer body, do barre," Buckenheimer said. "In barre, you lose inches."
Luckily, you do not have to be a dancer to begin.
"We use dancer terms, like first position and second position," Buckenheimer said. "But we explain them as we go."
Buckenheimer teaches Xtend Barre, a class that uses exercises from both Pilates and dance.
Every barre class contains the same core elements: small movements that challenge you to use different muscles that you don't normally use.
The deep knee bending plies, for example, work your entire leg from your toes to tip of your hips. Balancing with the barre also improves your stabilizing muscles and strengthens your core. Some of the exercises are done at the ballet barre, and others are done either standing or on the mat.
"Barre is phenomenal," one woman commented on her way out of Pilates Pavilion. "I lost a ton of weight doing barre classes."
Other women in the class nodded in agreement. In fact, everyone who has joined the barre movement seems enthusiastic.
"People like the barre classes because you feel it right away," said Ashley Adams, owner of the Firm Studio. "You're sweating; you're burning through calories. You're pretty much always sore after. People like that, because you get quick results."
And the classes are fun. At the Firm Studio, located near CollegeTown at 833 W. Gaines St., you're greeted with upbeat music. With people smiling and dancing, there was high energy from start to finish.
"It feels more like a fun dance class than a yoga or Pilates class," said Adams. "Barre is the closest thing to dance you can get without being a dance."
This sets barre apart from other fitness classes.
"Yoga is more stretching, more about mind-body and more about flowing," Buckheimer said. "Barre is set to a higher tempo, more like an aerobics class."
"You'll burn more calories in a spin class," she said. "But in barre, you're constantly moving and sweating. People burn a couple hundred calories per class."
Adams believes Barre Tone is the simplest class at Firm since there is no extra equipment.
"The most important thing you can bring is comfortable clothes," Adams said.
Buckenheimer noted that the instructor should warm you up before the class and cool down after, and no prior experience is necessary.
"We do require these sticky socks," she said, pointing to a basket of socks with plastic grips on the bottom. However, most studios will allow you to go barefoot.
Barre provides a good workout for any fitness level. Each exercise has modifications to make the move easier or more advanced. Don't be intimidated by barre masters in the studio; the instructor will make sure you can follow along.
Like every fitness class, the first step is simply showing up. If you're a non-dancer like me, you can sweat through a fresh, challenging workout. But, who knows? You might unleash your inner ballerina.
---
Tallahassee's Best Barres
Sweat Therapy Fitness serves up Biker Barre, a mix of spinning and barre.
Firm Tallahassee offers Barre Tone, barre with an emphasis on muscle tone.
The Refinery's free Barre 101 introduces the basic building blocks of barre.
Pilates Pavilion mixes Pilates and dance in their Xtend Barre classes.
Tallahassee Ballet encourages novices and experienced dancers to try Barre Fusion, a mix of ballet and cardio.
---