Trend Cycling
The world of two-wheelers is changing at a fast and furious pace — and it's more inclusive than ever, for just about anyone!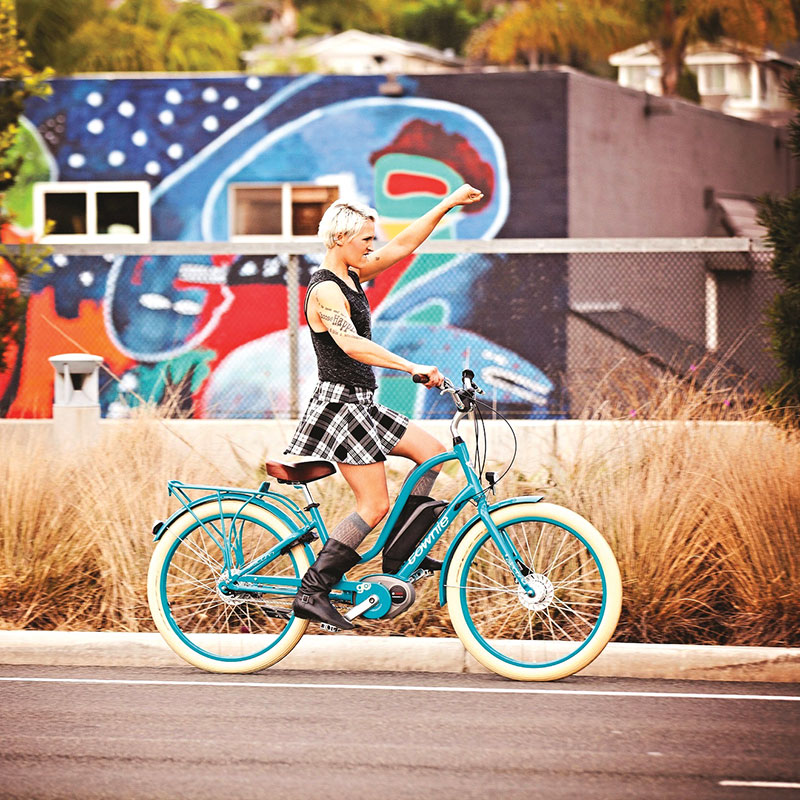 Bicycles are part of just about every community in the world — for transportation, recreation or both. Roger Hawkes, owner of Higher Ground Bicycle Company in Tallahassee, says the area's cycling scene is mainly recreational; but the training class is a growing segment. "As a competitive, sociable, low-impact, high-level activity, cycling (including road riding, triathlon and off-road) has been steadily growing as an exercise trend since Lance Armstrong became a household name," he explains. The options for cyclists today are nearly infinite and can be crafted to fit almost any budget or need. The good news is, the best innovations are now commonplace throughout manufacturers' lines and are readily accessible via any one of Tallahassee's boutique cycling stores.
Super Strong, Ultra Flexible Frames
Traditionally, bicycles were made of steel or titanium, but these heavier, less-efficient materials have given way to aluminum and molded carbon, which make up 95 percent of the road-bike market today. Whereas aluminum/steel frames alone can weigh up to 30 pounds, carbon frames can be as light as 2 pounds. In addition to its feather weight, carbon frames are stronger and offer a remarkable absence of vibration — which is important for longer rides and frequent use because of its fatigue-dampening effects.
Electronics Everywhere
Adding electronic components to increase efficiency is a big trend among mid-level cycling enthusiasts, according to Hawkes. Electronics have definitely infiltrated the modern bicycle, from electronic shifting via a computer that senses the sweet spot for gear change and even orchestrates it, to electric drive trains that offer pedaling assistance for commuters and recreational riders.
Hydraulic Disc Brakes
Cycling enthusiasts know that while disc brakes became cycling technology about 20 years ago, they are standard on mountain/off-road and road bikes, today. That's right: Two-wheeled vehicles now have brake fluid, and the innovation makes for a stronger, more consistent braking action that doesn't deteriorate the wheel. Especially in off-road applications, where mud is a safety issue, disc brakes are a welcome upgrade to today's bicycles.
Aerodynamics
According to Bird Legs Bicycles' Hank Brandes, the endless quest to reduce wind resistance has occupied race cycling for decades. The Trek Bicycle Corporation's latest racing machine brings new technology to a whole new level, with its ultra-low-profile components. Integration of gearshifts (electronic), hidden cables and built-in power meters make for a sleek, deceptively simple carbon frame.
Helmet-makers are even getting into the action by exchanging vents for a smarter system that delivers more airflow with less air-resistance. Ultra-lightweight designs swap bulk for contour and still offer an astounding level of impact protection.
Adventure Bikes
Bird Legs Bicycles showcases Trek's new line of adventure bikes — think of a cross between road and off-road bikes — that let riders get off the paved road, literally. These slightly souped-up road bikes feature a wider frame to accommodate wider tires and a relaxed body position. These changes allow riders to ride gravel, clay and grass roadways and trails. Brandes sees this new class of bike permeating the high-end bike market and becoming available in aluminum and carbon.
Commuter Cyclists
Electric (or E-) Bikes are growing in popularity for commuters, because they offer the pedaling assist for uphill routes. Utilitarian/cargo bikes are also on the rise, offering a longer "tail" behind the seat to transport family members (children) or groceries and household goods. More than a couple of Tallahassee families go carless, using these freight-enabled cargo bikes as their exclusive form of transportation.
Off-road/ Mountain Bikes
Plus-sized tires and what Brandes calls "slacker geometry" are making mountain bikes comfortable to ride and able to power through sand, mud and gravel on the off-road trails. Some mountain bike tires may actually be wider than that of a small motorcycle — up to four inches wide, in some cases — but the width doesn't prevent riders from performing death-defying off-road shenanigans in all sorts of terrain.
---
Bicycle Boutiques
Bird Legs Bicycles
Exclusive Trek and Specialized dealer,
large selection of adventure bikes
2784 Capital Cir. NE, Tallahassee
(850) 422-1075
Damn Good Bikes
652 Capital Cir. NE, Tallahassee
(850) 270-3266
Great Bicycle Shop
1909 Thomasville Road, Tallahassee
(850) 224-7461
Higher Ground Bicycle Company
Offers free, comprehensive fit consultation with every bike
1410 Market St., Tallahassee
(850) 562-2453
Joe's Bicycle Shop at Lake Ella
1637 Monroe St., Tallahassee
(850) 222-3855
University Cycles
Geared toward commuters and campus riders
668 W. Gaines St., Tallahassee
(850) 222-1665
---
Higher Ground's Roger Hawkes is, perhaps, Tallahassee's resident cycling guru. He considers this area to be filled with world-class cycling opportunities. With typical bike ownership for enthusiasts tapping out at just two years, it's probably time to begin planning your next cycling investment. Whether commuting to work, taking a long group ride or relaxing on a scenic bike trail, Tallahassee's cycling community has a spot — and the tech — for you.
For the best biking locations, visit trailahassee.com.