Transformative Facility
New M.T. Mustian Center at TMH anticipates the future of health care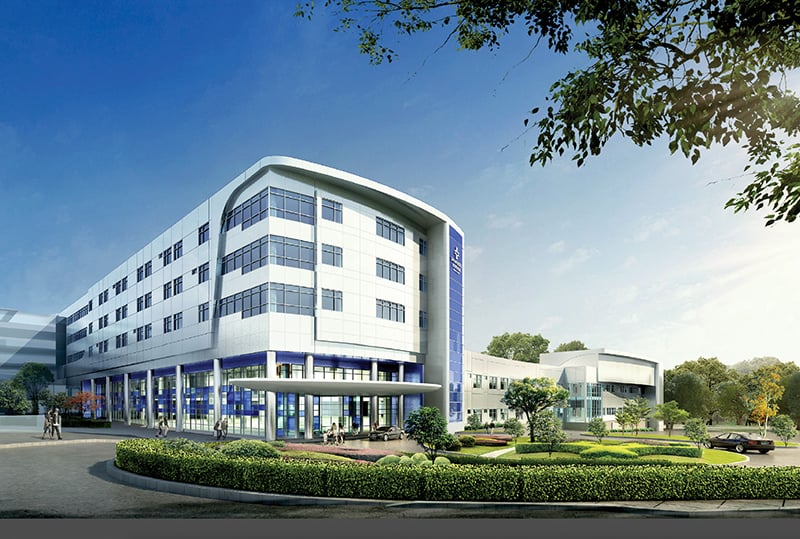 It's not every day you get to design and build a hospital from scratch. At Tallahassee Memorial HealthCare, that's exactly what it's like for local health-care leaders as the M.T. Mustian Center takes shape at the corner of Miccosukee Road and Medical Drive.
Named for the late M.T. Mustian, the hospital's first CEO, the center is a five-story, 340,000-square-foot addition, due to open in 2019, that represents a $260 million investment in construction and equipment for TMH. It also is the first major development of its kind in the hospital's 50-year history. The existing building has been tweaked and adapted as far as its layout will allow, and the new "tower" has been designed to accommodate the region's health-care needs for the next 50 years. In fact, the current CEO hails it as a "transformative facility."
"It will be state of the art. It will be as nice and as modern as anything you'll find in Chicago, Atlanta and Philadelphia," said TMH President and CEO Mark O'Bryant. "It's going to allow for changes in technologies. We call it our 50-year building. You don't want to build a building and have it full in five years or 10 years. Or, one that's not able to accommodate changes in technology. So we really took a broad view of it."
The Mustian Center will feature 28 operating rooms, which will replace all existing operating rooms, four interventional suites for neurosurgical and vascular procedures, and 72 adult medical/surgical intensive care beds. Sixty of these will be operational upon the center's opening late next year, with expansion space available for 12 more beds. All told, the center will host all the necessary support services for the ORs and the ICU beds, such as preadmission testing, perioperative services, a post-anesthesia care unit, sterile processing services, blood banking, respiratory therapy, CT imaging, pharmacy and materials management. Those changes will service the hospital's market growth, while the new operating rooms will operate on a much bigger scale to handle plenty of equipment. The smallest OR at the Mustian Center will be 625 square feet, compared to the smallest existing size of 336 square feet.
"When we looked at our surgical platform, we recognized there's an evolving environment around technology. And even though our current surgical platform is sufficient to meet those needs, it's not sufficient to accommodate changes moving forward," O'Bryant said. "Some of the rooms are small, some of the rooms aren't configured as well as they should be, and the pre- and post-support areas aren't large enough to allow for growth."
Simply put, the new operating rooms had to be built bigger because surgical machines take up a lot of space, according to Dr. Chris Derosier, microsurgery specialist.
"This is out of necessity. As OR technology has improved, the equipment that we use has also increased, so in order for us to be able to function efficiently and safely, we had to expand the operating room size to be able to include the available technology but also leave room to grow as technology continues to improve," Derosier said. "The scalability of our ORs that we are building is extraordinary. I think it demonstrates a good bit of forethought and vision."
Derosier said there's a broad spectrum of technology coming into play, from intraoperative technology and integration of radiology to surgical imaging, laparoscopic and robotic surgery.
"The other thing that's really going to be nice about it is we're going to be able to use more of this technology to communicate with the patients and the families … so the patients can see it and have a better understanding of their care and be able to participate in it a little bit more," he said.
O'Bryant said that TMH has, in the recent past, mitigated space issues through partnerships with off-campus facilities such as the Red Hills Surgical Center, which has given surgeons the ability to move certain "lower acuity" cases — the ones that don't necessarily need a big hospital.
"But still, with the growth we're experiencing, we needed a new surgical center to accommodate those changes but also to allow us to grow," he said.
The new tower makes maximum use of space to allow for improved patient flow and family comfort.
"It's going to really optimize efficiency of care. Patients will walk in the front door, register, and walk right into their preoperative room. They'll go straight from there to surgery, recovery room, the same preoperative room and back home," Derosier said.
Dr. Carlos Campo, ICU director and pulmonologist, is pleased with the new ICU layout and design.
"In the ICU there is a lot more space for family to stay and spend time. Toward the back of the room there's a sofa that can be converted (into) better sleeping accommodations, like a sleeper sofa instead of a recliner," he said.
Customized Design
O'Bryant said the new facility became part of the hospital's strategic plan back in 2008, but to see it become a reality TMH needed a higher level of funding that it didn't have at that particular time.
"This is a $260 million project. That typically requires financing at the highest level. That requires bond financing," he said. "In 2008, TMH didn't have the financial backbone to support a major bond of that nature. So we had to improve our financial status to allow us to competitively go out and draw down a bond.
"That meant making sure that we had margins to show stability in financial performance. We had to significantly build up 'days of cash' because that's also a measure important to the bond markets. We were finally able to go out and secure a very competitive bond."
Designing the workspace and patient environment wasn't a job left to architects, alone. TMH administrators, physicians, nurses and even patient representatives all had input in how the new operating rooms and ICU rooms would flow and function.
Patient representative Marsha Smith Hill is one of many people to have benefited from TMH care over the years, and her personal connection made her an obvious choice for the design panel. She gave birth to her youngest daughter, faced down breast cancer and was treated for a heart condition at TMH facilities. She was recommended by her OB/GYN, Dr. Andrea Friall, and enthusiastically offered suggestions for making families feel more comfortable at the hospital.
"Thanks to the wonderful, gentle, caring team at TMH, I'm still living today. It was wonderful to be involved in this state-of-the-art center. We met once a month for a solid year," she said. "We listened to each other. Some of us were patients, some were family of patients and some were staff from TMH."
Her suggestions were simple, but little things do make a difference.
"I asked for the linen hamper to be covered, so it would not be seen. I did not want to see a dirty linen hamper showing in the beautiful rooms. They now hide in the counter space," she said.
Campo said the design team took seriously the smallest of details, such as the location of beds, lighting, compressed air, TVs, switches and oxygen outlets. Room mockups were built in a nearby warehouse to give physicians a chance to physically interact with their new environment and equipment before the real deal was built.
"Good things came out of that," Campo said. "We realized we needed to move things around or have more mobility with this equipment and that equipment or where the lights would go, where the outlets would go, so it was very helpful."
The goal was to do what's best for the patients and make it as efficient as possible, according to Dr. Hank Hutchinson, orthopedic trauma surgeon.
"All the equipment decisions were brought to the surgeons so we could have input in what we felt would be the best way and most efficient way for us to take care of the patients," Hutchinson said. He added that the new tower and new operating rooms should be "superior to" any facility he's seen before, thanks to the new tech and new integrated systems that will, for example, allow surgeons to consult with outside physicians during surgery.
"If I had a question about something during surgery and had a question for the pathologist, those things can be done in real time. At least that's the plan. I think that's neat," he said.
Of course, for a project of the Mustian Center's scale, you need the right contractor. TMH picked Brasfield & Gorrie, a Birmingham-based general contractor that "Modern Healthcare" magazine ranks third among the nation's top contractors in health-care construction. The rating was based on 2016 revenues, with Brasfield & Gorrie near the top that year with more than $1.04 billion in completed health-care construction projects representing 3.8 million square feet of project space.
Senior project manager Brian Smith said the Mustian Center is a significant — and unique — project for the company.
"Incorporating lessons learned and collaboration with all parties involved leads to a better product. This will be a first-class facility to serve Tallahassee and surrounding counties." 
— Senior project manager Brian Smith
"Incorporating lessons learned and collaboration with all parties involved leads to a better product," Smith said. "This will be a first-class facility to serve Tallahassee and surrounding counties."
Smith added that new projects such as the Mustian Center give him and his colleagues a chance to examine workflows and make improvements.
"It is also a great time to see where technology can aid in efficiency. Equipment is being used that decreases the amount of storage space needed while greatly improving the time it takes to assemble supplies for procedures," he said.
Meanwhile, the construction work itself is boosting the local economy, according to Mike Roche, senior project superintendent, a Tallahassee native who's thrilled to be back in his hometown working on such an important project.
"I love it. I've worked for 20 years to try to get back home to Tallahassee, so this is exciting to me," Roche said. "This has huge benefits to the community. This new facility has a lot of great new features and aspects for the community in terms of jobs and technology."
There are about 289 workers of various trades on site at any given time, Roche said. A majority of the workforce is made up of workers who are from the local area —  Tallahassee, Crawfordville and Quincy. Some crews came from Jacksonville, Orlando and Atlanta. Wages vary according to trade, but they have one thing in common: They all spend their hard-earned money here.
"It's fantastic. You've got guys who have a steady job and are making good money," Roche said. "It impacts all the little shops around here. Probably 60–70 percent of our guys go to lunch around here every day. You've also got some guys from out of town and they're staying in hotels. A project this size has so many people working for it. You touch every industry."
Serving Tallahassee and Beyond
As to basic services, TMH covers a 17-county area that spans the Red Hills region up through southern Georgia. But it's not uncommon for patients to come from throughout the Southeast for various acute or specialized treatments.
"TMH is becoming, really, a referral base for southern Georgia, the Panhandle and we're starting to get referrals in from Alabama as well. So as we continue to expand the scope of what we do, we have to be dynamic and let our facility grow with that demand and volume," Derosier said. "If you look at the way we've expanded our orthopedic, neurosurgery, cardiology and reconstructive offerings here over just the past four years, it's been pretty extraordinary how we've been able to expand our scope of practice here across multiple specialties."
O'Bryant said that as you look at TMH becoming more of a quaternary, or highly specialized center, it's not just growth that's tied to an expansion of population. Rather, it's also tied to expanding market as the hospital gets into higher acuity services.
"It's not just an expansion to accommodate the growth in population and an aging population, it's also to accommodate a growth of services and bigger markets. So that being said, we realized that we needed a new platform," he said.
Hutchinson said the Mustian Center will become a "huge addition" to TMH, the community and the region.
"Tallahassee Memorial Healthcare is really a regional trauma center and medical center and I don't think a lot of people realize the area from which people come to Tallahassee for medical care," he said. "I get patients who come to TMH from Dothan, Valdosta, Pensacola and Panama City for care. It will allow TMH to have the best and most modern operating rooms in the entire region, which will ultimately lead to a higher level of care for all of our patients, both trauma and elective surgery."
The TMH campus is larger than people realize for a seemingly land-locked facility. There is room for expansion, and one future land-use map shows a new 770-space parking lot to be built between Centerville Road and Physicians Drive.
Expanding Workforce
O'Bryant said that at this point, it's not known how many new surgeons TMH will hire to help staff the Mustian Center.
"I can tell you, though, as far as staff is concerned, it's not just doctors," he said. TMH will need more specialists, nurses and support staff, especially nurses.
"There's a nursing shortage anyway. When we look at what our demands are now, and including what we see coming out with the Mustian Center, we recognize that we're going to have to recruit upward of 500 nurses from what we have now," O'Bryant said. "So, we are very active on that front. It is a huge number. But we are working with FSU and FAMU — and very closely with TCC. They expanded their nursing program to include a four-year degree, their first baccalaureate program at TCC, to help us with the development of a source of nurses for here but we also recently brought on a nurse sourcing specialist, which is a new kind of concept."
Pulmonologist Campo said that his practice is looking to expand its roster of physicians.
"Right now, we have four full-time physicians dedicated to the hospital at our practice. When we go to this new ICU tower, we'll probably need six," he said. "So our practice is growing and recruiting more critical care doctors to come in and help us out. Along with doctors and nurses, you need more CNAs, monitor techs, all sorts of other positions that are going to be needed to provide care to all these patients."
O'Bryant said TMH prefers turning to the local medical colleges and technical schools for help filling all these needs.
"Clearly, as we engage in expanding our role and services, we look for quality physicians to come in and provide clinical leadership because, at the end of the day, hospitals only provide a platform for care," he said. "We're finding it easier to get people who already have an orientation to Tallahassee through the medical school to come back to Tallahassee after their residency and fellowship programs. But we're also expanding residency programs. And as we kind of build our own bench, we think about the old farm-team approach to baseball. If we can grow our own, one, it's easier to keep them; but we can also pick the best, you know who the best are."