Tracking Wristbands Can Make a Huge Difference in Reaching Your Fitness Goals
Wearable Tech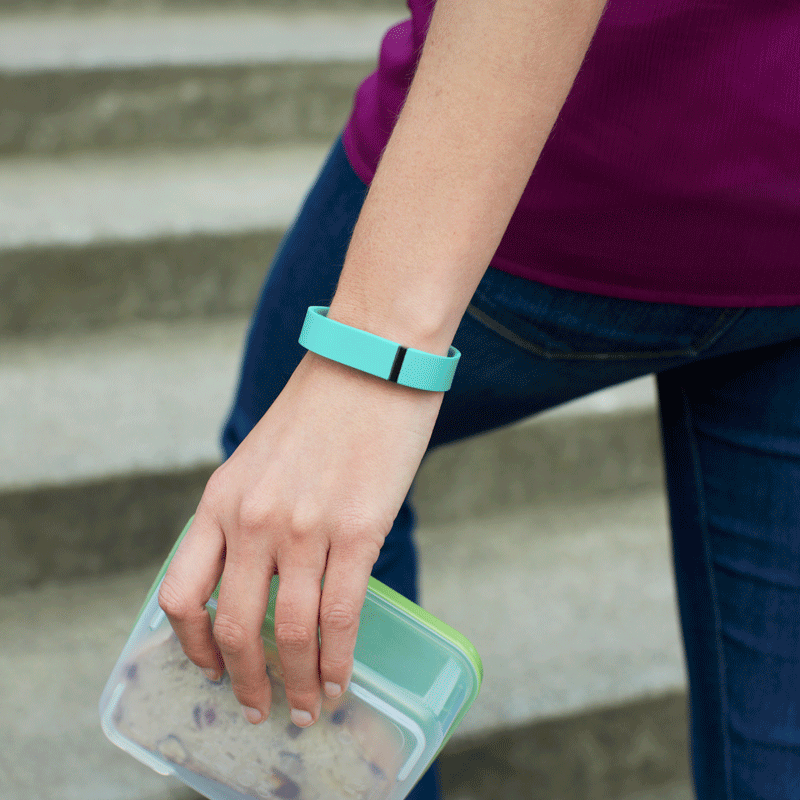 As bikini season nears a close, the holidays start to loom. The coming months are the home stretch of everyone's post-New Year health marathon. But with so many things to juggle already, tracking your diet, weight and exercise can quickly get overwhelming.
A 2013 Pew Research study found 60 percent of U.S. adults track their weight, diet or exercise routine. Of those who tracked, 46 percent said it made them change their overall approach to health. Beneficial or not, the idea of tracking our every habit can sound tedious — even daunting. That's where the wristbands come in.
Heather Fuselier, certified wellness coach and owner of Wellness Without Pity, said these gadgets' biggest benefit is the accountability they promote. As a trainer, Fuselier noticed the wristbands help clients become aware of their habits.
"The biggest benefit is that reality check of what you think you're doing, compared with what you're actually doing," Fuselier said.
The only thing users must do themselves is log their food. Only you know what you've eaten, Fuselier said, so honesty is key. Like the wristband, food logging helps users become aware of their habits and nutritional needs they might not be meeting.
Attorney Barry Richard, principal shareholder at Greenberg Traurig, has been using his Nike FuelBand for more than a year and said it helped him make huge changes in his lifestyle and health.
"I'm getting enormously more exercise than I used to," he said. "It keeps me conscious all day of whether or not I am meeting my goals."
The wristbands' most common feature is activity tracking. But they're more than fancy pedometers. They can sync with apps on your smartphone to show your performance in real time and connect with food logs. Some, like the Jawbone UP24, can even monitor your sleep and help you get better rest.
On top of accountability, these wristbands provide motivation.
"It's fun to plug it in and see it upload into the system and be able to see the positive things you've done for yourself at the end of a long day," Fuselier said. "That's one way you can have some really positive affirmation."
Richard checks his FuelBand throughout the day, and if he's falling behind, he'll go out and exercise to stay on track.
"If I'm at the end of the day and I'm 500 points short, I'll go out and take a walk, or I'll go up and down the stairs because I want to hit my goal by the end of the day," he explained.
Richard's goals before buying his fitness tracker were to exercise more and be healthier. Both goals have been met, he said, and his resting heart rate has dropped by about 10 points.
Tallahassee City Commissioner Scott Maddox uses his Fitbit Flex to track his activity, sleep and water intake. Maddox said the accountability and convenience separate the gadget from other tools and apps.
"I really like it," Maddox said. "The No. 1 thing you need for fitness is the willpower to stick with it. I think the Fitbit is an excellent tool to help with your willpower (and) help keep you accountable."
Maddox credits the Fitbit with keeping him on track to reach his New Year's resolution: walking 725 miles in 2014.
"We have had New Year's resolutions around for a long time, but now technology is making them easier," Maddox said. "But you still need the key component, which is willpower."
---
Buyer Beware
Tracking wristbands are a great tool, but they can have a dark side. Wellness coach Heather Fuselier warns they can heighten obsessive tendencies for those who tend to set unrealistic goals, adopt extreme health regimens or have eating disorders. Don't get tied up in the numbers, Fuselier urged. Always listen to your body.
---