Throw Yourself Into Disc Golf
Gaining Popularity Worldwide, It's a Game Anyone Can Play and Enjoy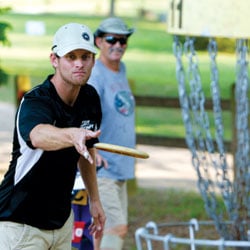 Scott Holstein
David Muntean III attempts a "putt."
During the long days of summer, outdoor recreation is on nearly everyone's mind — and one sport in particular is fast becoming a favorite in Tallahassee.
Disc golf is a relatively new sport that is gaining fans across the globe. You may be asking yourself, "What is disc golf?" The sport is not as foreign as it sounds. In fact, it is very similar to its more familiar "ball golf" cousin. Players tee off from a designated area and have a set number of attempts (strokes) to land a throwing disc in the hole, which is a pole with a suspended basket attached. Each hole has a par requirement and players must take each throw from the location where the previous one landed; putts are taken when the disc is within 32 feet of the hole. The object is to achieve the lowest score.
There are a multitude of discs to choose from, including long-range "drivers" and short range "putters," each with a different weight and flight style. It is not uncommon to see serious players carrying a number of discs to accommodate the setting and distance from the hole.
A sport adaptable for any skill or age level — that doesn't require expensive equipment — disc golf is a healthy, low-stress form of aerobic and mental exercise that promotes camaraderie and spending time outdoors. Players can expect to walk a mile or more in a typical game. Florida has 80 public courses, two of them in Tallahassee.
Bryan Moore of Sarasota, the Professional Disc Golf Association's state coordinator for Florida, said along with the benefits of walking, the sport's common setting of parks and outdoor areas can turn the game into a way to enjoy nature. "It may be the most eco-friendly sport. Most courses are designed around the natural habitat, with little to zero destruction of plant and animal life," he explained. "There is health benefit in that you're walking through the park, but at the same time, there is pretty good reward because it's kind of like a nature hike."
Disc golf has become useful to parks and recreation departments because they often utilize terrain unsuitable for any other type of recreation that would likely go undeveloped.
For example, Mario Palmentieri, with the Tallahassee Parks and Recreation Department, said a swampy creek bed near the end of the course at Tom Brown Park has been transformed into six additional holes.
Tallahassee's two 24-hole disc golf courses are located at Tom Brown Park and Jack L. McLean Jr. Park. Each poses its own unique challenges and both regularly draw amateur and professional players.
Scott Holstein
Demonstrating his disc golfing techniques at the Tom Brown Park course is local club president David Ricke (top). Mike Thompson looks on (top left) as Dave Muntean, Jr. takes his shot.
Those venturing to Tom Brown can expect varied elevations and terrains as the course winds its way across open fields scattered with oak and pine trees and through several forested areas where trees and branches in the playing field add to the challenge of play. Most holes are par three, but there are a few longer holes with a par of four.
McLean Park is more challenging. Moore said he considers it the toughest disc golf course in Florida because all the holes are played through thickly forested areas, incorporating the natural foliage as obstacles that test the skills of even the most experienced players.
The origins of the sport have never been completely pinned down, but the PDGA reported a group of Vancouver, B.C. children played a similar sport with tin trash can lids in the 1920s, and there were several later attempts to merge the sport with the growing Frisbee culture of the 1960s. A small group of enthusiasts in Rochester, N.Y., established courses and leagues and were playing the modern game of disc golf in 1970. By 1974 they had attracted the attention of the International Frisbee Association and the American Flying Disc Open was held. The late Ed Headrick of Wham-O, the company responsible for the Frisbee, included the sport in the 1975 World Frisbee Championships, and in 1976 he left Wham-O to create the Disc Golf Association. He built the first disc golf course Eadriin Oak Grove Park in Pasadena, Calif.
Since then, disc golf has seen an explosion in the number of players. With 50,000 PDGA members and millions of recreational players, the organization continues to grow along with the sport worldwide.
Courses can be found on nearly every continent, including Antarctica. And most places where there is a disc golf course, there's a good bet there is also a disc golf club.
The Tallahassee Disc Golf Club started in 2011 with 66 members, and Vice-President David Muntean, III said the club is on its way to recruiting even more this year.
The club holds events on Saturday mornings and Wednesdays and hosts tournaments that draw amateurs and professionals from around the country. The Tallahassee Ice Bowl, held in January, benefits America's Second Harvest of the Big Bend. The event has brought in more than $37,000 and 13,000 pounds of food in the past eight years. In June, Jack McLean and Tom Brown parks hosted the Tallahassee Open.
For anyone hesitant to try out this new sport, Moore's advice is to just get started. "Grab a disc and get out and give it a try. My bet is you'll probably get into the sport," he said.
More information can be found at talgov.com/parks/discgolf or by contacting Palmentieri at (850) 891-3879.