This Chef Has The Minas Touch
Former Governor's Mansion chef shares his taste for family, food and the delicious space in between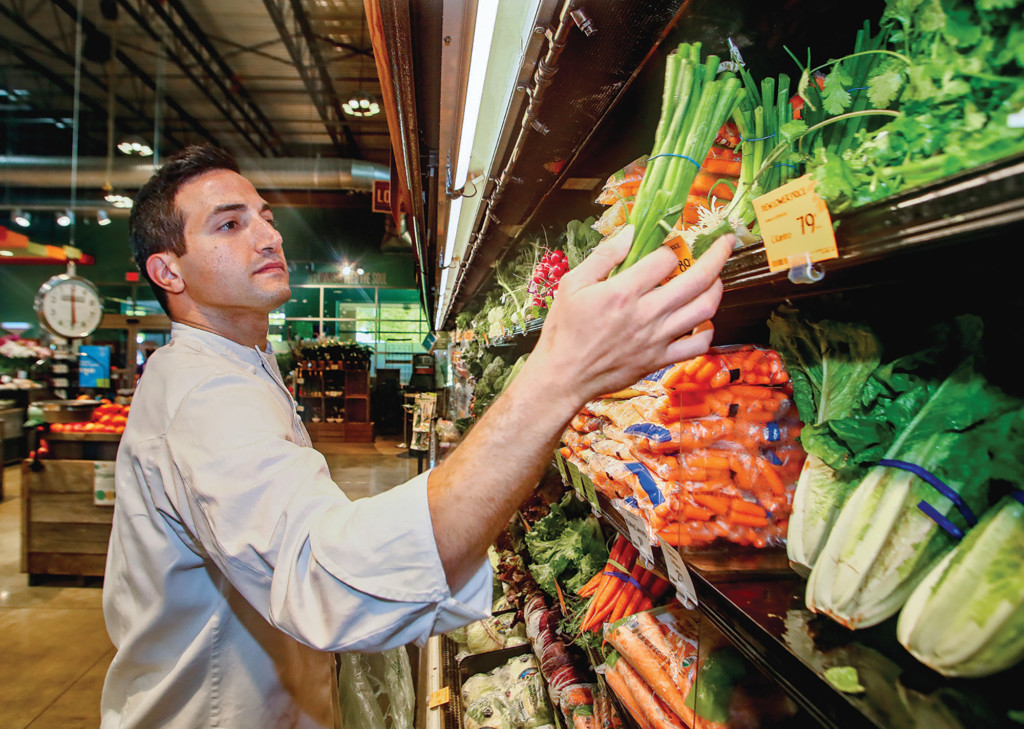 Ask anyone. Meeting Chef John Minas and completely adoring him are pretty much the same thing.
So I wasn't surprised at how thoughtful the Watertown, Massachusetts, native was when he arrived early for our interview at one of Tallahassee's newest dining establishments.
He was even so kind as to grab a table toward the back in order for us to, I assumed, chat candidly about his career and next steps in the Capital City.
But one appetizer in, it became apparent why we had been so strategically placed.
Chef John wanted to keep an eye on the kitchen.
"Some things just can't be helped, you know?" Minas, 34, said with a laugh. "I grew up in the kitchen."
In culinary circles across the state and even the nation, Minas is celebrated for serving as the executive chef to Florida Gov. Rick Scott, now a U.S. senator, and first lady Ann Scott, as well as for launching The Edison Restaurant and working alongside celebrity chef Art Smith at Reunion Kitchen in Madison.
He's now leveraging that lengthy resume to provide mostly in-home private chef services to select clients through his company, Minas Hospitality.
In 2011, when he threw his name in the hat for one of the Sunshine State's top culinary positions, Minas was unknown.
"I was sitting with a buddy in Boston when I got a call that the new governor in Florida was looking for an executive chef," he said.
"I told them, 'Thank you so much for calling, but there's no way I'm qualified enough.' When we hung up, my buddy made a joke and said, 'Good thing you turned them down because there's no way you'd get that job.' That was enough. I knew I had to prove both of us wrong."
At just 26 years old, Minas beat countless applicants for the executive chef position at the Governor's Mansion. And it didn't take long before Tallahassee was buzzing about his arrival:
"Have you been to the Governor's Mansion lately? The new chef is amazing.

Yes! My son had a field trip there last week. He couldn't stop talking about Chef John."
"I was there for a banquet. The food was delicious."
Listening to the chatter then, it was if this new hot-shot chef had been a gift from above. According to Minas, though, the recipe to his success had been simmering for generations.
"Every Saturday when I was a kid, my dad would pick up my grandfather with me and my brother in the car," he said.
"We'd drive to Haymarket, which was a farmers market before farmers markets were cool. My grandfather would hand-select the produce he wanted, and my dad would barter with them for the best price. We'd end up leaving with a case of strawberries for like $8. And that was our day."
On Sundays at the Minas house, things always heated up a little. Church, family time and lots of cooking were always on the menu — especially for John's paternal grandfather, Bashir.
"I just loved hanging out with him," said Minas, the third of four children to Syrian immigrants, Mikhail and Mariette Minas.
"My grandpa passed away right around my 15th birthday. After that, I started thinking about what I shared with him. All of my best memories of him were in the kitchen."
After high school, Minas decided to pursue a career as a chef. Convincing his traditional, orthodox family that culinary school was the right step was no easy sell, though. Especially for dad, Mikhail.
Minas says his father was dedicated to helping any family member in Syria navigate the U.S. immigration system if they were ready to move to the United States.
It's a legacy his kids have remembered fondly since Mikhail passed away in October.
"My dad did not want him to go," Lucy Minas, John's oldest sister, said with a laugh, recalling her brother packing his bags for his first semester at the Culinary Institute of America in New York City.
"I think it was just Johnny not being here. It was all of this unknown. It didn't take long for Dad to come around, though. He saw that it was the right choice. He could not have been prouder of Johnny. There's just something about that kid. Johnny is our golden boy."
His passion for food may have come from his grandfather. But his passion for family? All Mikhail, he says.
"I am definitely my father's son," Minas said with a smile.
That means he was instilled with a work ethic that won't quit.
Most days you'll find the chef in private homes helping clients with specific diets lead more healthful, delicious lives. In addition to Mediterranean cuisine — his favorite — and Southern fare, menus for medically restricted diets have become his specialty.
In the last year, though, he also has provided inspiration and background research for a cookbook, gone on a culinary tour across the state, hosted group cooking classes in Tallahassee, and logged in many hours supporting local nonprofits, such as Autism Cooks and Chemo Uncovered.
Basically, there's no telling where Chef John might show up and what he might cook up.
"Tallahassee has been very good to me," he said. "I'm excited to see where it takes me next."