The Wonders of Coconut Oil
From Hair Healer to Cooking Companion to Mind Mender, It Seems There's No Obstacle Coconut Oil Can't Conquer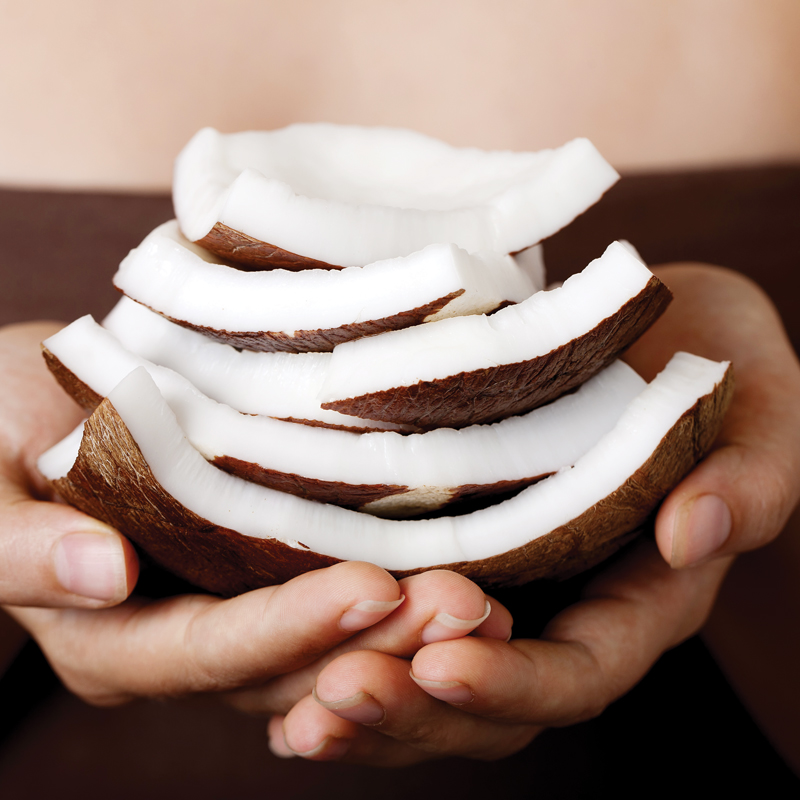 ---
Do a quick Internet search for the phrase "coconut oil" and your browser will come alive with testimonials advocating for this New Age super-fruit. Add "organic" to the mix, and there's a serious possibility your server might crash from information overload.
All across the Internet, healthy-living junkies are going bonkers for this sweet, tropical oil — and their enthusiasm seems to be warranted.
In recent years, the potential medicinal value of coconut oil has sparked the interests of researchers worldwide. Today, physicians and nutritionists alike are paying attention, and many are encouraging their patients to seek out coconut oil's healing properties for ailments ranging from acne to Alzheimer's.
Dr. Jessica Yoon, a dermatologist at Dermatology Associates of Tallahassee, might just be one of coconut oil's biggest fans. An avid consumer herself, she recommends that the majority of her patients integrate coconut oil into their daily skin care routine — and that goes for her own children, too.
"I want to keep people safe," emphasized Yoon, a Harvard Medical School graduate. "I feel like all the lotions and soaps and all the junk out there with a ton of preservatives might be contributing to an increase in breast cancer, as well as other kinds of cancer. I want to get people away from that kind of stuff."
For Yoon, the anti-microbial properties naturally found in coconut oil make it an ideal match for patients suffering from acne, eczema, rosacea or any other dermal conditions where fragile skin is prevalent. Thanks to its high levels of lauric acid — a naturally occurring substance also found in breast milk — coconut oil's healing properties are pretty remarkable.
And unlike many other folklore remedies, there are tons of medical studies to prove it.
"They've especially studied eczema patients," Yoon said. "There was one study where they looked at eczema patients who often carried a lot of staph on their skin. They had them use the coconut oil for eight weeks, and the staph was gone in all but one of them. And I believe there were 50 patients. That's pretty cool. There were no drugs (used), no toxic chemicals — just soothing coconut oil."
In an equally notable study conducted on mice, coconut oil was found to increase collagen levels during wound recovery, suggesting that it could potentially have a similar effect when it comes to the treatment of fine lines and wrinkles in humans.
Whether or not people are following the research, coconut oil's popularity is certainly on the rise.
According to Dolly Fields, the Whole Body Team Leader at Tallahassee's Whole Foods Market, organic coconut oil is one of the few items in the store sold on three separate aisles — Supplements, Beauty and Cooking Oils.
"It's huge," Fields marveled. "I would say it's in the top five (items sold) on any day of the week."
From gentle makeup remover to hair treatment mask, coconut oil's beauty-boosting benefits are abundant. Advocates assure that supple, brighter skin is just the beginning of the health-giving gains that incorporating coconut oil can bring. Some even believe the benefits may include (when cooking or ingesting organic, virgin coconut oil) the possibility of improved cognitive abilities.
Deborah Merwin, a Florida-licensed nutritionist and the Director of Wellness at the Feeling Good Health Food Store in Destin, warmed to the notion of organic coconut oil being an underappreciated warrior against dementia and Alzheimer's disease when an enthusiastic customer cited the writings of Dr. Mary Newport, a neonatologist in the Tampa Bay area whose husband was diagnosed with Alzheimer's in the mid-2000s.
"The customer who knew I was selling the oil basically as a cooking oil, or in my beauty section as a body lotion, wanted me to know that she had personally had two members of her family that had been diagnosed by medical professionals with having what she called 'full-blown Alzheimer's' where they were gone, they were no longer cognitive at all," Merwin recalled. "By using the coconut oil, based on Dr. Mary Newport's recommendation, they had recovered. They were now living full lives again."
Merwin has passed on Newport's literature to many of her clients — a number of whom have returned with impressive tales of recovery all their own.
Newport's theory is based on the medium-chain triglycerides (or MCTs) that give coconut oil its "fatty" composition. When consumed, they're converted into ketones and utilized by the brain as an alternative fuel to glucose. Originally hypothesized in 2008, Newport's take on coconut oil took a few years to gain traction within the medical community. By spring 2013, research regarding the power of coconut oil on the brain began at the University of South Florida's Byrd Alzheimer's Institute.
It will be years before any quantitative data is released. But for less than a dollar an ounce, if the only drawback to making the coconut-oil cooking switch is consciously swapping new calories for old ones, there may be no time like the present.
An easy substitute for olive oil and butter, coconut oil is ideal for sautéing meats, mixing a tad into a batch of oatmeal, drizzling a tablespoon into a green smoothie or even spreading across a hearty slice of whole grain toast.
"There are a lot of ways to ingest it," Merwin said. "I use it very regularly."