The Power in the Pills You Pop
Enthusiasts tout the benefits of vitamins and other supplements, but be wise before buying and using these products.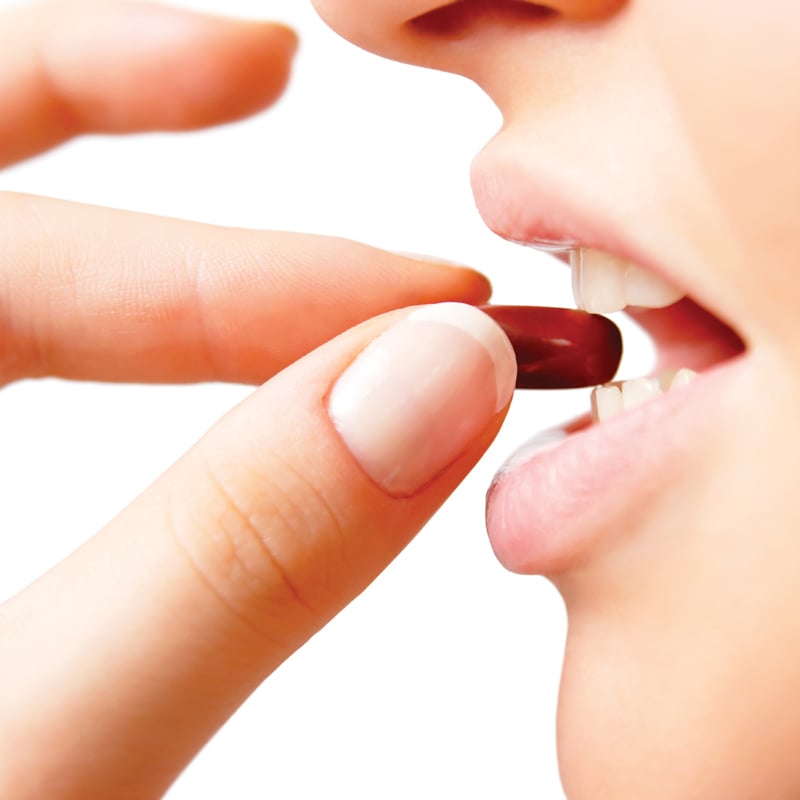 ---
Take a look inside the medicine cabinet of Tallahassee residents Brian and Kim Bibeau and you'll find enough vitamins, minerals and supplements to stock a small health food store. Kim Bibeau takes vitamins E, C and B-complex, Omega 3-6-9-D Complete, calcium, magnesium, Glucosamine/Chondroitin/MSN, probiotics and flaxseed. Brian Bibeau takes some of the same supplements as his wife as well as ginkgo biloba, HCL with pepsin, vitamins C and D, folic acid, brewer's yeast and ubiquinol. »
The active couple own their own fitness studio and pay close attention to their health and wellness. They say they do whatever they can to take care of themselves, and that includes taking supplements.
"We feel good and we live good and we look good," Brian Bibeau says. "So we feel they are very important."
Brian Bibeau estimates he spends about $1,200 a year on dietary supplements, and Kim Bibeau says she thinks she spends about half that amount annually. The Bibeaus are contributing to an industry that continues to grow. The American Medical Association says the supplement industry has accounted for at least $23 billion in domestic sales annually in recent years. National surveys indicate about one-half of Americans use dietary supplements.
But are supplements necessary? Is there any power in that pill you pop? There are lots of questions and, believe it or not, not a lot of answers.
When asked, "Do supplements help or hurt our health?" Tallahassee registered dietitian and licensed dietitian/nutritionist Heather Fisher says, "We don't know 100 percent for sure."
"Researchers use animal models and cell cultures to test the components in these supplements, so it is difficult to know exactly how these components are absorbed and metabolized within the human body … we can only guess," Fisher says. "Essentially, you have to see for yourself if the supplement helps you.
"If you can afford the product and you are willing to take the unknown risk associated with taking the supplement, then you have every right to try it and see what it does for you," she adds. "But I would strongly recommend you speak with your doctor to find out if it is safe for you, given your current health status — and check for the purity of the product." In other words, find out if the product contains what it says it contains.
Congress passed legislation in 1994 that allowed supplement makers to sell products without approval from the FDA for their ingredients or health claims. But those worried about the safety of these supplements have urged adoption of new laws to change that.
This year, researchers at an accredited lab working for Congress' nonpartisan Government Accountability Office (GAO) found traces of potentially hazardous contaminants, including lead, mercury, cadmium, arsenic and pesticides, in almost all of the 40 supplement products tested. But the GAO report says the level of the contaminants in the products did not exceed FDA or Environmental Protection Agency regulations on dietary supplements.
The GAO also says certain dietary supplements commonly used by older Americans are deceptively or questionably marketed. FDA statutes and regulations do not permit sellers to make claims that their products can treat, prevent or cure specific diseases. However, in several cases, written sales materials for products sold through online retailers claimed that herbal dietary supplements could do just that for conditions such as diabetes, cancer or cardiovascular disease. When the GAO shared these claims with the FDA and the Federal Trade Commission (FTC), both agreed that the claims were improper and likely in violation of statutes and regulations.
GAO investigators posed as elderly customers and were often told by sales staff that a given supplement would prevent or cure conditions such as high cholesterol or Alzheimer's disease. The investigators say they were given potentially harmful medical advice. For example, a seller stated it was not a problem to take ginkgo biloba with aspirin to improve memory; however, the FDA warns that combining aspirin and ginkgo can increase a person's risk of bleeding. In another case, a seller stated that an herbal dietary supplement could be taken instead of a medication prescribed by a doctor. The GAO referred these sellers to the FDA and FTC for appropriate action.
Here's Fisher's advice: "Please ask yourself, 'Does this claim sound too good to be true?'" she says. "If it does, then you likely do not want to take it. Always ask your doctor and pharmacist about any supplement you are considering taking. Additionally, you can do your own research. Investigate the components of supplements; see if there has been any research on these components; call the supplement manufacturer to ask about the product's purity and how the purity is tested."
Amy Magnuson, a licensed and registered dietitian at Florida State University's Thagard Student Health Center, works with college students. Always attuned to the latest trends, young adults tend to take the supplements that are the most heavily marketed.
"It always surprises me when I ask an individual why they are choosing to take a supplement and they are often unsure themselves," she says. "The U.S. Food and Drug Administration will investigate if there are many adverse reactions or complaints about a product, but every new product that hits the shelves is not investigated or analyzed beforehand."
Magnuson recalls the time in 2004 when all ephedrine-based products (MetaboLife, Xenadrine, Hydroxycut and others) were pulled from the shelves by the FDA after hundreds of people suffered adverse effects and dozens died.
"Now, that is a great example where the costs and harms definitely outweighed the benefits," she says. "I remember looking at the research when I was in graduate school on ephedra-containing supplements and weight loss, and the supplement only helped study participants lose an additional 2 to 4 pounds, which is certainly not worth risking your life for."
Back to the question at hand: Does a person really need to take a supplement?
"When we aim to eat healthy and get all of our vitamins, minerals and macronutrients from food, then we do not need a supplement," Fisher says. "In fact, our bodies prefer, and are more efficient at, digesting and metabolizing (them) from actual foods. However, to be completely realistic, our intake is often less than ideal of fruits, vegetables, dairy, whole grains and lean protein (including fatty fish, two times per week)."
If your diet is low in the foods listed above, she suggests a standard multivitamin (one that meets 100 percent of recommended daily value for most vitamins and minerals) and fish oil (which provides omega 3). Finally, a calcium/vitamin D supplement could be beneficial in rounding out your diet.
"You have to remember though, supplements — as the name implies — should be used to 'supplement' what you are aiming to attain by following a healthy, balanced overall diet," Fisher says.
The FDA says that if you are already taking dietary supplements, you should inform your doctor. Research shows that many people do not let their doctors know they are taking a dietary supplement or are considering taking one.
While you may think side effects happen only with prescription medicines, some dietary supplements can cause side effects if taken with other medications, or if certain health conditions exist. Even if you don't take medication or have a chronic health problem, the wrong dietary supplement or the wrong amount can cause problems. So check with your doctor before taking a dietary supplement. And remember, while there are circumstances when it may be appropriate to take vitamin and mineral supplements, they are not a replacement for a healthful diet.
---
Contributing writer Triston V. Sanders is an executive producer and news anchor for WCTV. Watch her televised medical segment, "Health Matters," weekday mornings on "The Good Morning Show" on WCTV.