The 'Hag Phenomenon'
Recurring Sleep Paralysis Might Be a Symptom of a Deeper Sleep Disorder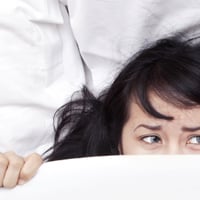 Narcolepsy is a neurological disorder caused by the brain's inability to regulate sleep-wake cycles normally.
You've just fallen asleep and it's happened again: You're suddenly wide awake, but you can't move, can barely breathe, and you have this creepy sensation something dark and foreboding is stalking you from across the room, or maybe sitting on your chest. Try as you may, you can't get up, and you find yourself unable to speak. The more you struggle, the more exhausted you become.
Suddenly you snap out of it and gasp for air like a drowning swimmer breaking the surface. You quickly flip on a light; nothing is there. Everything is OK.
Supernatural as it may seem, you haven't been abducted by aliens or possessed by demons. You've just experienced sleep paralysis, a phenomenon that's been plaguing some sleepers for centuries. In folklore it's been called the "Hag Phenomenon," "Old Hag Syndrome" or "night mare" because of the monstrous, demonic hallucinations sometimes encountered.
The monsters may not be real, but in some cases sleep paralysis can indicate there's a real problem needing attention.
"If you have sleep paralysis as you're waking up, it's not all that uncommon. The (episodes) that happen when you're falling asleep are often signs of a sleep disorder, and the one most likely is narcolepsy," said Dr. David Huang, medical director of the Tallahassee Memorial Sleep Center.
According to the National Sleep Foundation, narcolepsy is a neurological disorder caused by the brain's inability to regulate sleep-wake cycles normally. The main features of narcolepsy are excessive daytime sleepiness and cataplexy (sudden collapse without loss of consciousness). The disease is also often associated with sudden sleep attacks, insomnia, dream-like hallucinations and sleep paralysis. There's no widely accepted cure for narcolepsy but symptoms can be alleviated, and treatments may involve medication and behavioral therapy.
Huang said you can cut down on the episodes of sleep paralysis by simply getting into a regular sleep pattern, and sleeping between seven and eight hours a night. But if you're susceptible to frequent episodes of sleep paralysis at the onset of sleep, then you need to see a sleep specialist.