The Fox & Stag Makes You Want To Stay Awhile
Featuring good ambiance and classic drinks with a twist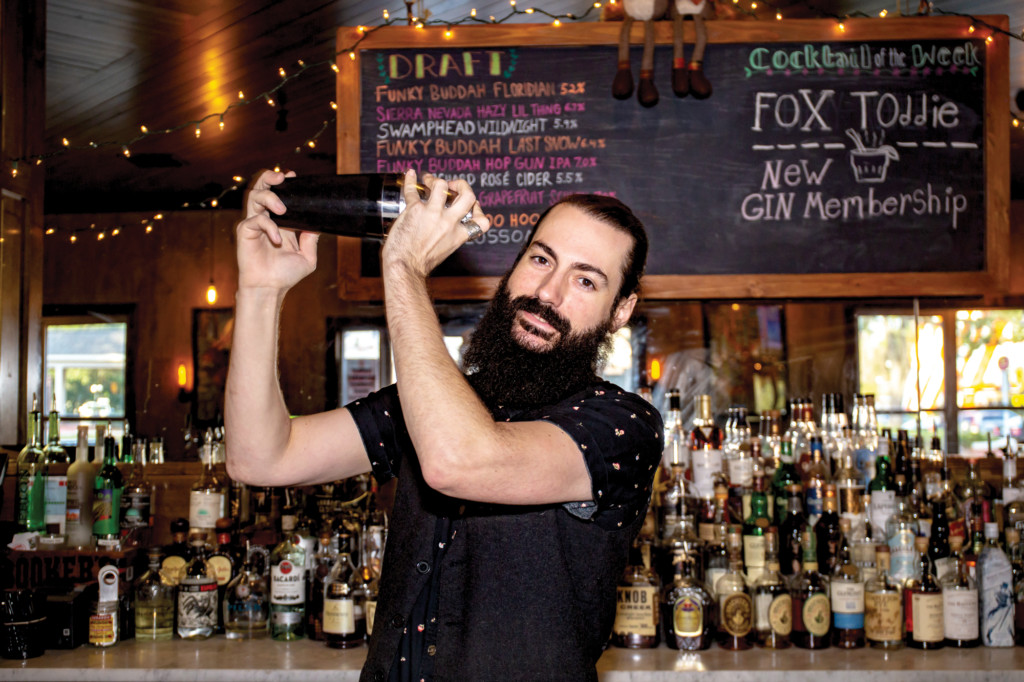 Stanwyck's charter to St. Moritz was waiting at the airport. Nothing I could say, do or beg was changing her mind. I was desperate. I played my last chip.
The Fox & Stag.
Perched on the southern edge of the Manor at Midtown on Thomasville Road, Fox & Stag is a warm and sedate tavern with a couple of mixmasters who know how to sling a signature cocktail.
It was my only hope to keep Stanwyck from going back to that bounder Clooney.
My humble scribbler's wage packet cannot compete with the allure of that dastard's vast fortune, curse him thrice. How can I lure Stanwyck to abide in Tallahassee when she has tasted of Paris and Monaco?
"One last drink before you go?" I suggested innocently. "For old time's sake."
She took the bait, commenting as we walked in the door, "Did you feel that? As if we crossed a threshold?"
My bold plan at work: Challenge her passion for glitz and glamour with her abiding love for home.
I held her chair with a flourish.
Perched at the well-polished bar — illumined by a series of green-shaded banker's lamps marking F&S as a fine prospect for settling with a cocktail and a good book — my dearest sighed.
"This place feels so … so … homey."
"You ain't catching that vibe at no baccarat table," I said stupidly.
She glowered. I shut up.
A groaning charcuterie board appeared as if from heaven itself, an abundant array of dairy and pork treats garnished with jam, olives and crackers.
At $14, this is a full meal for a glutton and more than ample for a couple grazing with drinks. The F&S small-plate menu covers the range from snacks to a chicken-and-waffle chow-down.
"Why have we never come here?"
I explained that the three-year old Fox & Stag had only recently risen to standard under new ownership.
Tyler Woolson, Matt Larmoyeux and Alex Beltrami — Tallahassee bar veterans who also run the Strip on Tennessee and Fire Betty's adjacent to F&S — spent the past 18 months creating a welcoming and reasonably priced haven for adultish locals craving unpretentious sophistication.
I handed my dreams over to bar wizards James Hall and Danny Anderson. They were my last hope at averting lonely desolation.
Our first mixological emprise was the Buffalo Vieux, an F&S original that captured first place in the 2017 Buffalo Trace Competition.
Imagine an Old Fashioned with liqueur booster. Accented nicely by Hall's homemade cinnamon-walnut bitters, it rolls softly across the tongue, a waft of walnut lingering after the swallow.
Stanwyck's gentle "ahhhhhh" gave clue: Keep quiet and let the drinks do the talking.
Next: An unnamed variation on a Sidecar in a sugar-rimmed coupe glass rinsed with Laphroaig, just enough peaty richness to satisfy even the grumpiest scotch dogmatist.
This delicately balanced blend of Dewars, Cognac, Chartreuse and a dollop of house-made rosemary syrup moved our International Woman of Mystery to survey her surroundings and reckon all was right with the world.
Stanwyck glanced at her bejeweled Bulgari.
"Moritz can wait. This place is all right."
She texted the pilot her regrets.
Pressed to conjure a name, Danny and James christened the Hail Mary, a perfect designation for the concoction that raised my last ditch plan to victory. Excelsior!