Growing Groceries
Renovated historic FAMU Community Garden is back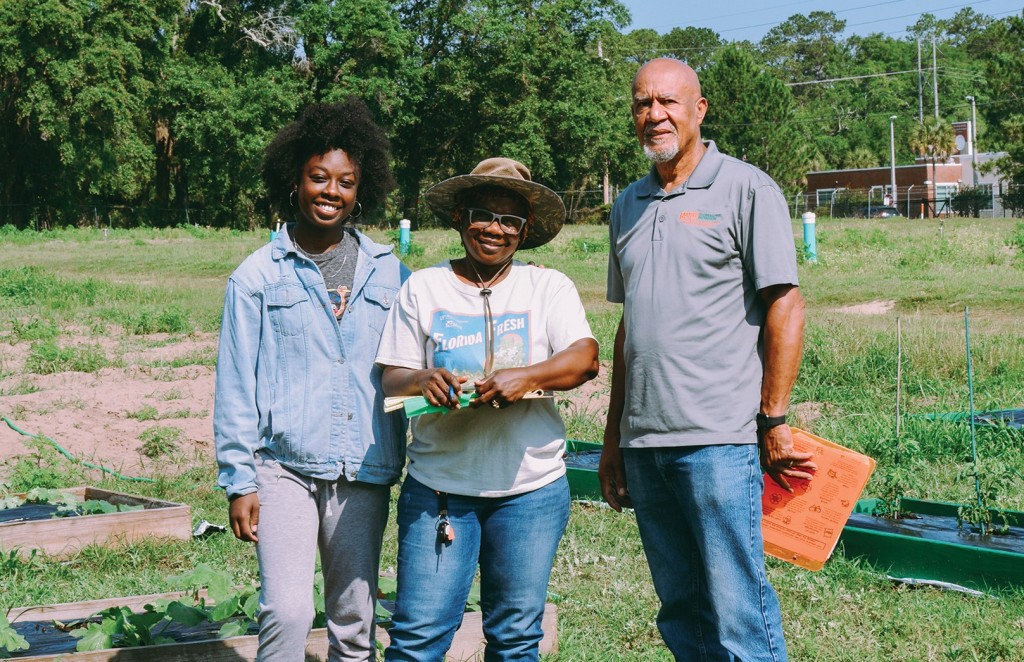 The Florida A&M University Community Garden is back open for business!
Established almost 50 years ago on South Adams Street and later relocated to its current home at 2001 W. Orange Ave., it is the oldest community garden in Tallahassee and one of the oldest in the state.
It was closed for renovation before the COVID-19 pandemic began, and its reopening in spring 2022 has coincided with a gradual reopening of society in general.
Nestled on three acres of fertile soil across the street from the FAMU Developmental Research School (FAMU High), the garden has been a community hub for decades. FAMU Extension Agent Trevor Hylton, who oversees the garden, said that unlike some gardens that are communal, the FAMU garden has always offered gardeners the opportunity to grow the crops they prefer by leasing individual plots. As a result, there has been great diversity in the crops and in gardening methods.
"It offers an opportunity for newcomers to Tallahassee to produce crops they've traditionally grown that are otherwise unavailable locally," he said. "There are gardeners from all over the world working side by side, sometimes without speaking the same language."
The language of gardening is universal, and the Orange Avenue gardeners have a tradition of sharing. For people in the surrounding neighborhoods, it is a gathering place.
"It was a community of people, a lot of nice people. We'd trade plants, seeds, advice, what have you," said Donald McBride, who began toiling the soil at FAMU when the garden was still on South Adams Street. "I can remember bringing my daughter Akacia with me when she was a toddler after we moved to Orange Avenue. She liked to play in the dirt and watch the crops come up. She's 29 now."
Originally established to provide a space for faculty, staff, students and community residents to grow fresh vegetables for at-home consumption, the garden also exists to improve the diet and health of families and to reduce the cost of food for them.
McBride moved to Tallahassee from Tampa to attend FAMU, ended up staying and had a career at the university
before retiring a few years ago. To say he's happy the garden has reopened is an understatement.
"I used to worry Mr. Trevor to death about when it was going to reopen, because the garden was the only thing keeping me out of the psych ward," he said with a chuckle. "Gardening is good for you spiritually, for your mental health."
Before the renovation, the garden had 71 plots, each measuring 40 by 40 feet. One of the changes has been to reduce the size of the plots to 20 by 20 feet, as many gardeners found the larger plots difficult to maintain. Most years, the garden was full; there was always a waiting list. Having more compact plots will allow more gardeners access to the garden.
McBride didn't want a plot quite that small, because he kept his large plot lush with a variety of vegetables over the years. What did he grow?
"It would be easier to tell you what I didn't grow," he said. "I didn't grow potatoes, rutabagas, watermelon or cantaloupes."
He swapped his crops — including peas, corn, tomatoes, squash, green beans, onions, okra, greens and carrots — with fellow gardeners for the things he didn't grow. Since the garden reopened, he was able to snag one slightly oversized plot in an odd-shaped corner of the space that measures 20 by 30. "I can still grow a lot," he said.
He's happy with the improvements that have been made.
"Before, if a water main would break, they had to shut off the water to the entire garden to fix it," he said. "Now, the water is set up in zones, so if there's a problem, the water is shut off only in that zone."
The paths are wider now that the garden has been reconfigured, making it easier to get around garden beds, and the garden has equipment available for gardeners to borrow, so they don't have to haul their own from home.
As of mid-May, about half the plots had been leased at $80 a year.
The garden has long practiced good environmental stewardship, with on-site composting and sustainable watering practices. There is also a buffer zone between the garden and the stream that runs beside it, so the garden can help filter rainwater.
Before the garden was closed for renovation, Hylton estimated it produced about 14 tons of fresh produce a year. Many gardeners, like McBride, filled their freezers and canning jars, shared with their friends and neighbors, and donated to charitable organizations working to provide food security and alleviate hunger. Gardeners are not allowed to sell the food they produce, under the terms of the lease.
"We were happy to share, sometimes with people who just walked up needing food," he said. "There was plenty for everyone."
McBride paused and said, "I'm really looking forward to having everyone come back to the garden."
GROW
The Florida A&M Cooperative Extension Community Garden was created to provide a place for faculty, staff, students and community residents to grow fresh vegetables year-round for consumption at home. Its goals are to improve the diets and health of families; reduce the cost of food; and to provide an area for people who do not have adequate space at home to grow vegetables. The average planted plot produces enough food annually to feed approximately 60 individuals. More information is available at (850) 599-3546.