In Tune With FAMU
Darryl Tookes brings his musical passion and experiences to his alma mater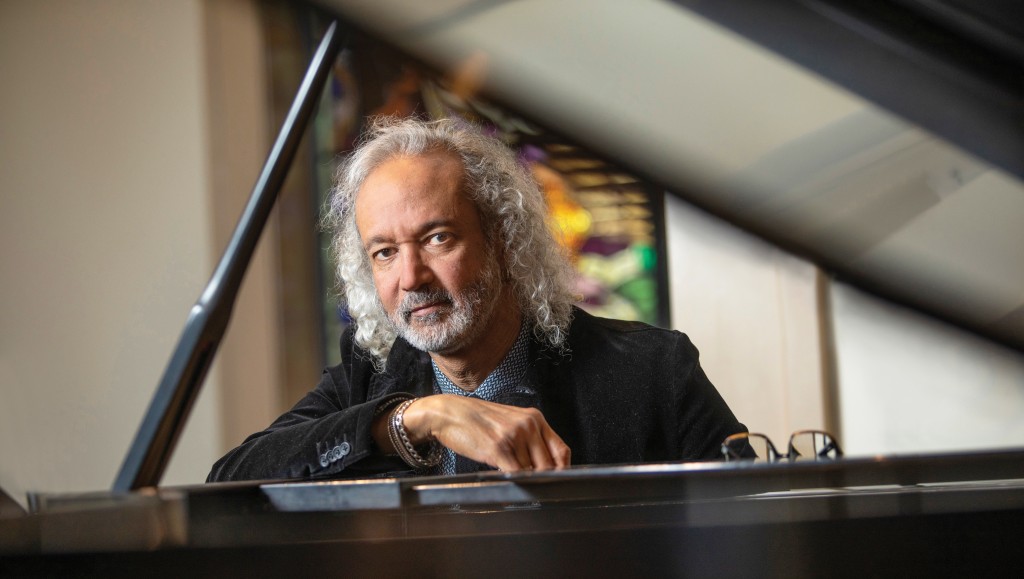 More than 30 years ago, Darryl Tookes advanced his career in music with a hit record.
He has worked with Quincy Jones, Lionel Richie, Roberta Flack, Burt Bacharach and Christina Aguilera, to name a few. He counts Sting, Michael Bolton and George Benson among his friends.
He has performed at Radio City Music Hall, the Apollo Theater and the White House. He has sung in London, Oslo and Tokyo. And he has taught at Lagond Music School and New York University.
All that means he has brought a world of talent and experiences to Florida A&M University.
"It's just something I couldn't say no to," he said.
He said he wanted to return home and help make a mark, just as his parents did. His father, Hansel Tookes, served as athletic director at FAMU, founded the FAMU Sports Hall of Fame and oversaw the university's transition to NCAA Division I athletics. His mother, Leona Washington Tookes, "was a professional singer who filled their home with music," Simone Williams wrote in the fall 2019 edition of Florida A&M Magazine. "Her work as FAMU's PBX switchboard operator made her the unofficial voice of FAMU for decades."
Tookes graduated magna cum laude with a bachelor's degree in physics from FAMU in 1977. He moved to New York and turned to singing and songwriting.
He has remained a teacher, singer, writer, producer, collaborator and performer. In November, he performed with the Javacya Elite Chamber Orchestra and other musicians in a "Poppin' at the Pops" concert at FAMU. After he came on stage, he greeted fellow performers with hugs, handshakes, fist-bumps and fist pumps, underscoring an appreciation and a passion for his art.
"I don't even notice it," Tookes told Tallahassee Magazine. "I'm so happy to be there. You know, we're all on the same team, and I'm just thankful that we're touching people and having a chance to do that. What a gift that is to us."
About a year and a half into his job as director of music industry studies in FAMU's Department of Music, Tookes shared his thoughts on a variety of topics, including:
His singing voice, which "has been described as angelic," according to FAMU …
"I grew up in a house with a mother who truly did have the voice of an angel, and she played the piano, and she was beautiful, and she could dance, and she was my confidant. My mother was a soprano. My maternal grandmother was a contralto, and she starred in an all-black musical on Broadway called The Green Pastures, which won the Pulitzer Prize (for drama in 1930). And my mother's sister was an operatic mezzo-soprano. So I grew up around some great singing. I went to New York and started finding that my voice was catching on as a vocal arranger. I just know my voice is real. It's me.
"The other day in my office, a few students came in, and I was demonstrating a song with them, hooking up some gear and playing and singing along. And one young lady says, 'Wow. The whole time you're singing, we're just sitting here with chills.' What a daunting gift that is, to hear someone say those kind of things."
His decision to accept the FAMU position …
"I had been on target to teach voice at Berklee College of Music (in Boston), and I had never taught at Berklee. My home is in Connecticut, and I went up on Amtrak, a leisurely ride, and I said, 'You know what? I can spend a few days a week here and work with these local students … and see where it takes me.' I was really excited about it. And when I realized my background and my love for FAMU, the fact that I'd been away from FAMU for so long, in spite of my family's legacy here, I couldn't say no to the opportunity to come here and try to build this program in a way that could create sustainability.
"My dream would be that it's working so well that whoever's the next director could be looking at a program that's very well endowed and is perpetually endowed the same way the Carnegie Foundation or any other high-level arts initiative globally is endowed."
His work at FAMU …
"I'm teaching jazz history, which I have lived, and I'm teaching some classes in music industry, which I have lived. So I'm really teaching the life that I've lived professionally. I use textbooks and I use anecdotes, and it's constantly changing. It's more of, let's try to have a holistic approach to having a solid education at an accredited university, an HBCU, that is within a conservatory approach — and entrepreneurship has got to be the bottom line.
"The people who I've seen at the very top with whom I identify most greatly are the people who keep that wonder about everything but have kept their feet on the ground. So that's been my initiative, to make sure the students have their feet on the ground and that they still dream big dreams and do the work, and I'm hoping that I can convey to them that there's true reward in doing the work."  
Tallahassee Magazine edited Tookes' comments for length and context.