The Flight that Saves Lives
When Minutes Count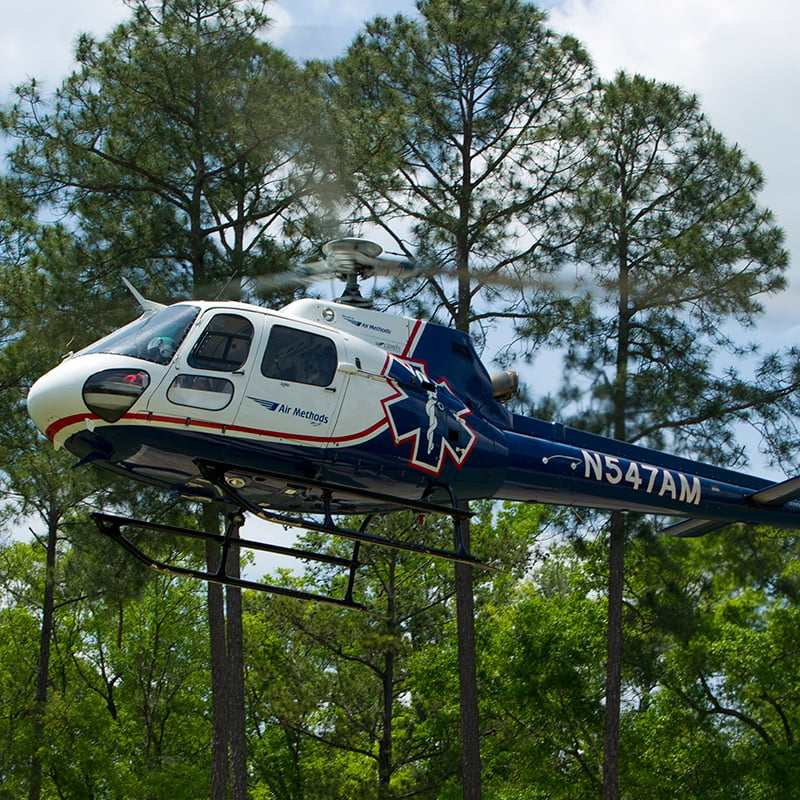 You've lost control, and now your car is wrapped around a tree. Alive — but badly injured — your "Golden Hour" has begun. Your chances of survival are much greater if you make it to a trauma center in 60 minutes. Police and EMS arrive on scene, but you need to get to the ER faster than wheels can take you. That's when the life-saving crews of Air Methods — known locally by its call sign, LifeFlight Tallahassee — are called in.
Air Methods is an "air ambulance" service with more than 300 bases in 47 states. Since 2006 its local carrier has been based at the Florida Public Safety Institute near Midway.
LifeFlight Tallahassee is the primary carrier for the immediate capital area, but there are three aircraft total serving the surrounding counties, according to Toby Witt, regional operations manager. The air ambulance delivers patients to Tallahassee Memorial Hospital and Capital Regional Medical Center. The other aircraft are stationed in Lake City to the east, and Marianna to the west.
"Generally, it's a 150-mile radius around the Tallahassee area," Witt said.
Altogether, the company makes "several hundred" flights each year and serves a corresponding number of patients, he said. The most commonly transported medical cases are victims of trauma, stroke or cardiac emergencies, but any critical care patient in need of quick or long-distance help might just find themselves riding in the carrier's sleek Eurocopter AS350.
The chopper crew consists of a pilot, Certified Flight Registered Nurse and a Certified Flight Paramedic. The air ambulances are equipped with state-of-the-art monitoring and ventilation machines capable of establishing and maintaining critical care-level treatment, Witt said. "It's basically a flying intensive care unit."
Craig Darling, medical base supervisor, said the working space behind the pilot is a bit small compared to a land-based ambulance, but at speeds up to 120 knots you can be delivered to the hospital within minutes.
"The beauty of it is not only our speed but it is the critical care team," he said. "So it's not only the speed, but the crew that make a huge difference."