Teching it Outside
New devices, conveniences leave the house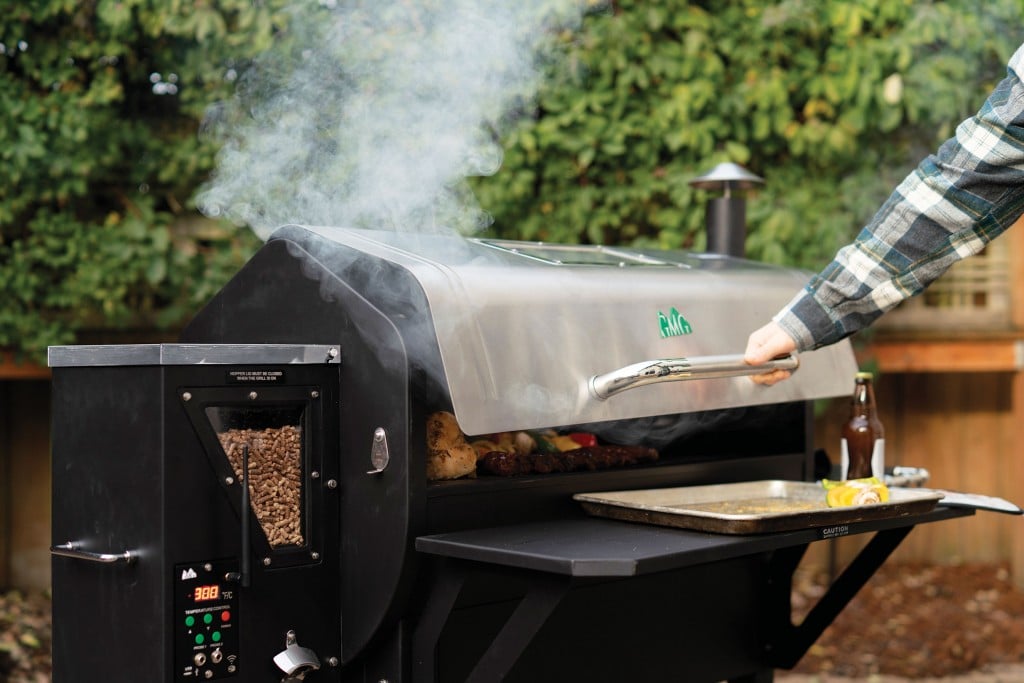 With smart tech invading every corner of the house, it was only a matter of time until it spilled outside. Tempting us are all sorts of gear to help us make the most of time off in the backyard. That includes fun stuff like Wi-Fi grills, TVs that can stand up to a hurricane and speakers that will keep us dancing, as well as practical stuff like robotic mowers and watering systems that cut down on drudgery.
The tech trend could have a lot to do with the fact that 82% of homeowners now say they want to update their outdoor living spaces. Along the Emerald Coast, that means a lot of action at Bay Breeze Patio in Destin, where Wayne Paul is the hero of grill master wannabes.
Paul, who presides over an armada of grills and outdoor kitchen appliances, likes to pass on his know-how. He stages Eggs on the Beach cooking competitions, for example, an idea that stems from his own love of grilling. He grills at home almost every day, and why not? His 1,400-square-foot outdoor kitchen would inspire anybody to get cooking. The kitchen boasts a large Fire Magic Gas Grill, a Big Green Egg and a Memphis Pellet Grill to accommodate all sorts of menus and cooking styles. Under the granite counters, there are three True refrigerators, an ice machine and a dishwasher.
There is also a vent-free outdoor propane fireplace, a 65-inch television, and enough dining and seating areas to host a crowd. In fact, Paul and his wife Susan host charity events in this space, including Destin Charity Wine Auctions.
Smart Cooking Gear
Like Paul, Bobby Dollar, owner of Bobby Dollar's Appliance Consultants in Thomasville, Georgia, is enthusiastic about technologically enhanced grills.
For him, nothing cooks a Boston butt quite like his Green Mountain pellet grill. Available at Bobby Dollar's Appliance Consultants in models Peak, Ledge and the smaller, but no less practical Trek, Green Mountains come equipped with digital Wi-Fi controllers, temperature probes and thermal sensors.
"With Wi-Fi enabled grills,  
you can download an app to remotely start them and track progress," he said. "I can be watching TV or working in my office and simply check my phone to monitor the cooking time and get feedback."
On the Green Mountain Grill smartphone application, that feedback includes adjustable grill and food temperatures, active cooking timers and food profile trackers.
Dollar frequently employs the app's cookbook feature. Primed with step-by-step preparation processes, precise grilling techniques and suggested cooking times, you're almost always guaranteed a smoked, braised or seared masterpiece.
"We love it because you never burn up your food," said Dollar. "The flavor is better; the meat is juicier and doesn't dry out nearly as much."
And then there's the Big Green Egg, a favorite along the Emerald Coast and Big Bend. Offered at Esposito Lawn & Garden Center in Tallahassee, Eggs can slow-roast, smoke or grill your main course and serve as a wood-fired oven for pies, rolls, cookies and pizza.
Should you invest in the EGG Genius accessory, you can remotely monitor temperatures and receive real-time notifications from your smartphone, tablet or computer when your cooking is complete.
But if you wish to branch out beyond grills, you might consider a pizza oven. A wide range of pizza ovens, fired by wood or gas, are on the market. They can be pricey, costing thousands of dollars, but there are more affordable alternatives says the American Barbecue Association. Gozney's Roccbox pizza oven is one of those. It's portable and operates using either wood or gas, pumping temperatures way up to 900 degrees Fahrenheit, producing your favorite pie in about 60 seconds.
The Backyard Party
Want to go further than cooking? Then consider a beer dispenser to get the party going. Kegerators that will give your deck a pub flair are made by companies like GE, KitchenAid and Frigidaire. They are small fridges that hold and dispense entire kegs of beer.
And what is a party without music? Built-in speakers controlled by a smartphone will do the trick.
You need lighting, too. Joseph Rey-Barreau of the American Lighting Association recommends high-tech lighting systems controlled by apps.
"They can add any kind of lighting, from functional to romantic," he said.   "Think of creating special effects, such as highlighting a gorgeous tree or dialing up moonlight even on a cloudy night."
But probably the most wanted item on the backyard list is a TV. Techies rave about the SunBriteTV, which is designed to withstand rain, dust, humidity and extreme temperatures, all while offering images that are 50 percent to three times sharper than indoor TVs.
Drudgery Busters
If taking care of a lawn isn't your idea of weekend fun, technology is here to help. A robotic mower could be the answer. Since they are battery-powered, they're so quiet they can work at night, and they'll do that automatically if that's the schedule you set. They cut the grass in random paths, but reviewers say they come close to 100% coverage.
Units that can handle a half-acre lawn run about $2,400, and if that's too pricey, there are now Uber-inspired services. You create a profile on the apps of such services as Mowz or Green Pal and schedule a mowing.
You can also get your smartphone to handle the watering of the garden. The Hydrawise irrigation system, for example, is controlled by your phone and keeps an eye on the weather. An affordable option is Edyn's smart garden system, which monitors soil nutrients and features a plant database.
More tech is coming, of course, so keep the smartphone charged.
A GOOD EGG
The Big Green Egg's fans are fiercely loyal. For them, absolutely no other cooker will do. Why? Its manufacturer explains, "It is a simple yet highly efficient blend of ancient tradition, modern technology and unmatched quality, making it the finest, easiest to use outdoor cooker available." The Big Green Egg reaches perfect cooking temperature and is ready to use in just minutes. Its natural lump charcoal is made from only the best cuts of natural hardwood for superb performance and results. Lighting the charcoal is always quick and easy, as the design of the Big Green Egg allows air flow to circulate efficiently. Its rEGGulator Vent Cap controls the amount of air flowing through the cooking chamber, which retains heat and keep food moist.
It's not every cooker that is at the center of cooking contests around the country.