Tally Mac Shack Finds A Permanent Home
The popular food truck adds a brick-and-mortar location to their growing business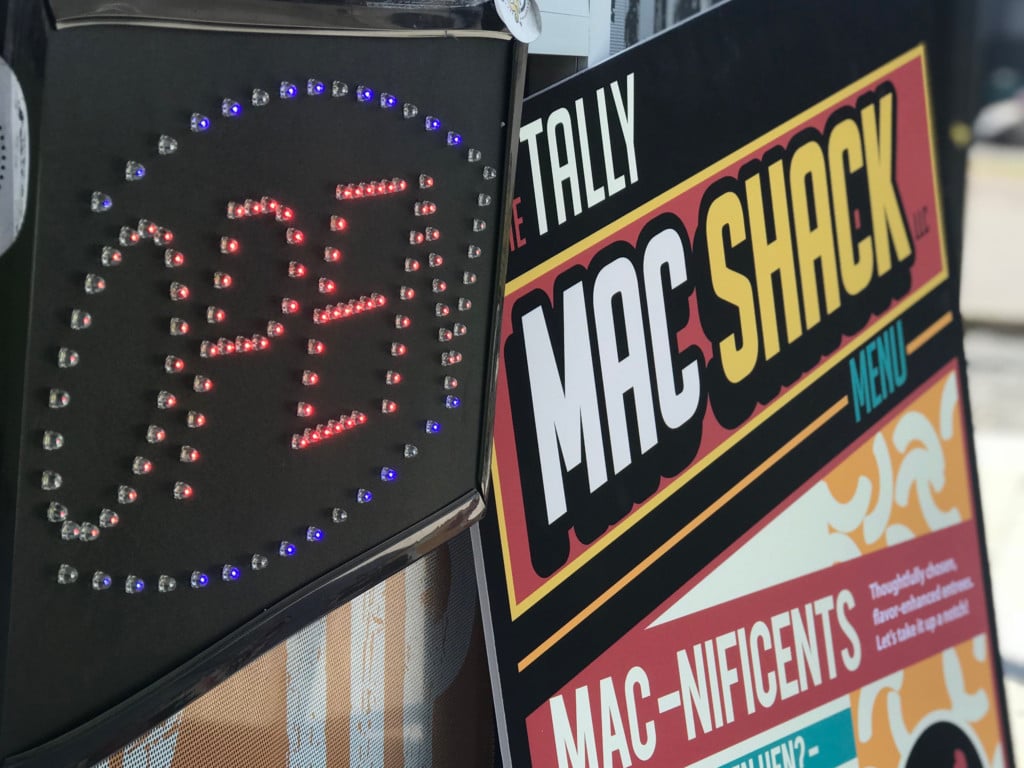 The Tally Mac Shack has been delivering Tallahassee's best craft macaroni and cheese experience since 2017. With two food trucks and a permanent location now inside Happy Motoring in the Capital City's SoMo district, the five-time honoree as Tallahassee's best food truck has captured the hearts of comfort-food lovers throughout the region. Owner and founder Justin Cruz has built a thriving business by combining an innovative twist on a culinary favorite with a generous helping of community involvement and support.
The story of Cruz's meteoric rise from FSU grad student to influential restaurateur began with a decision in 2017 to trade his 2006 Nissan Armada for an old Frito-Lay delivery truck.
Even with a graduate degree in criminology and a steady job with a state agency, Cruz jumped at the chance to pursue his entrepreneurial dream.
With help from friends and his neighbor, the owner of Kelly Griffin Plumbing, Cruz transformed the weathered gray van into a fully functioning food truck while still parked in his driveway. He then hired local street artists from the BAET Collective to brand it with the initial logo, took some photos and began to build a following.
His timing was perfect as his launch coincided with a burgeoning Tallahassee craft beer scene that included the opening of several local breweries.
"The fact that we had a very young brewery scene allowed us to tie into the movement," Cruz said. "Our trajectory, marketing and growth has been very similar to theirs. I was literally walking door to door to breweries and pitching my idea of a beer and mac-and-cheese pairing."
Today, the Tally Mac Shack trucks are seen regularly at local breweries, but things didn't start so smoothly. "Our first day was on October 1 at Deep Brewing, and I almost shut it down," Cruz said. "We were expecting 50 to 60 people, but the line was around the building and we couldn't get control of it."
Cruz said those early experiences allowed him to build the company culture and customer experience that is leading to long-term success. "When you see long lines, does that mean popularity or inefficiency? We completely changed our process. Our goal is to produce high quantities of food with the same quality as if it was a slow day. Every customer deserves a dish created just for them."
That would not be possible without a dedicated staff and managers committed to outstanding customer service, Cruz said. "I can only be in one place at a time. Everyone has to buy into the vision and take ownership of every customer experience. It is a big part of our success."
Great service certainly helps, but it is the food that keeps people coming back.
The Tally Mac Shack serves a wide variety of macaroni and cheese dishes that draw from people's best memories of the traditional comfort food while appealing to their more sophisticated, grown-up tastes. With fun names and unique flavor combinations, customers can choose everything from the simple Praise Cheesus, featuring a blend of yellow mild cheddar, American, mozzarella and provolone cheeses, to the What's Mac Hen Hen, a roasted lemon pepper Cornish game hen on a bed of cracked pepper, blended Vermont white cheddar and asiago mac and cheese.
Cruz said his menu is designed for customers looking for an experience and true craftsmanship. "Everything we serve is made by hand and made a specific way for a specific reason," he said. "Our customers appreciate diving into those flavors, and they're tasting everything we've put into it."
Having built a successful food truck business, Cruz felt that opening a brick-and-mortar location was an important next step. "Our food trucks allow us to participate in community events, deliver our menu directly to companies and organizations across town and partner with the region's outstanding breweries," he said. "These are valuable partnerships that we plan to continue and grow.
"However, adding a brick-and-mortar location gives our growing customer base a consistent and convenient location to engage with us. A larger and state-of-the-art kitchen gives us more room, allows us to be more efficient and provides an opportunity to expand our menu."
Cruz said that partnering with the popular Happy Motoring placed his restaurant in the middle of an important and proven demographic of mac and cheese lovers. The SoMo district serves young professionals, older students, the Capitol district and visitors to Cascades Park, many of whom have eaten at a Tally Mac Shack truck around town.
It also provides a hub to get even more involved in the community. In the 18 months since it was founded, Tally Mac Shack has partnered with local agencies and organizations to support a variety of needs including Hurricane Michael relief and the Down Syndrome Association of Florida. For these efforts, it was named an inaugural winner of the "All in Tally Award," joining 11 other local business that have gone "above and beyond to make our community a better place to live." The awards were presented by Leon County Sheriff Walt McNeil and Capital City Youth Services President and CEO Kevin Priest.
Cruz and his team have also supported Tallahassee Memorial Healthcare Cancer Center, Fort Braden Middle School, the Kearney Center and others.
"Since we opened with our first truck, we have been committed to community involvement, and a brick-and-mortar location will give us even more opportunities to get involved and make a difference," Cruz said. "We are grateful for the opportunity to give something back."