Tallahassee Plastic Surgery
Profiles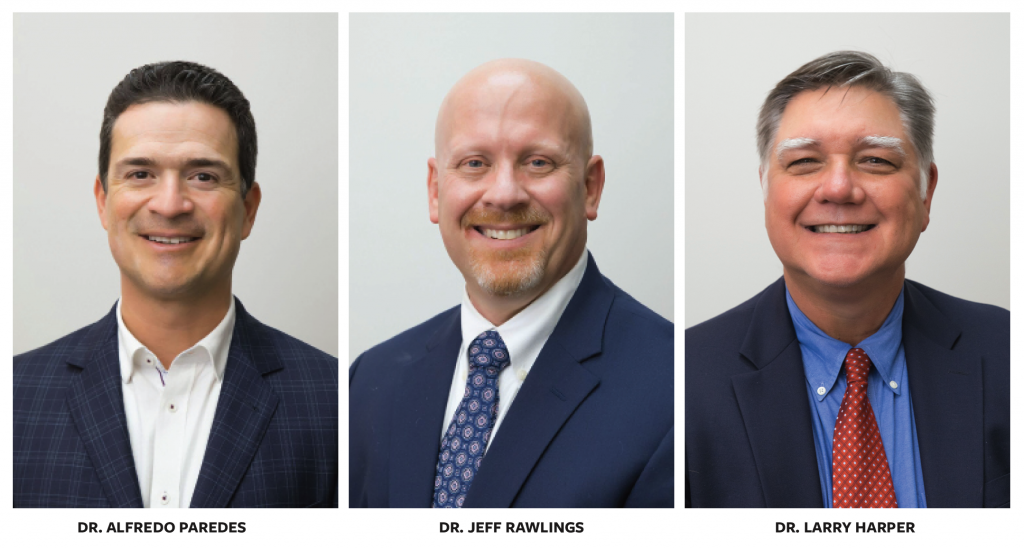 Dr. Alfredo Paredes
As a child new to the United States, Alfredo Paredes attended a prekindergarten program on the campus of Emory University while his father completed a residency in pathology and his mother pursued a master's degree in chemistry.
The family had moved to America from Tegucigalpa, Honduras, so that Mom and Dad could pursue their post-graduate studies here. They would move again to Dothan, Alabama, where he worked as a pathologist in private practice before becoming a state medical examiner. She accepted a job at a Sony plant.
After graduating first in his high school class, Alfredo returned to Atlanta and Emory. There he would remain for 14 years as an undergraduate biology student, medical school student and resident in plastic surgery.
In 2003, Dr. Paredes came to Tallahassee, having been recruited by yet another Emory graduate, Dr. Lou Hill.
Says Dr. Paredes, "Emory has been very good to me."
Today, as a partner at the Tallahassee Plastic Surgery Clinic, he finds satisfaction in bringing about "good outcomes with patients who appreciate the changes that have been made in their lives. Surgery is fun because you get to see results right away and often can help people overnight."
Dr. Paredes finds that his field of practice is continuously engaged in refining techniques.
"Procedures have become less invasive," he said. "Greater emphasis has been placed on safety and proper patient selection. We may delay surgeries to give people an opportunity to quit smoking or lose some weight, for example. Surgery centers are safer, and anesthesia
is safer."
Dr. Paredes is board certified by the American Board of Plastic Surgery. He is a member of the American Society of Plastic Surgery and the prestigious Jurkiewicz Society. He holds a faculty appointment as a clinical assistant professor at the Florida State University School of Medicine.
His special interests include cosmetic surgery, especially breast augmentation, body contouring and facial cosmetic surgery. He performs breast reconstruction surgery and has extensive experience with silicone breast implants and reconstructive tissue flaps. He also treats patients with skin cancer and Mohs defects and is skilled at laser treatments, including removal of brown spots and tattoos.
Dr. Paredes' wife, Maria, is from Venezuela. The couple has three children: a son attending the University of Florida and two daughters at the Maclay School in Tallahassee.
Dr. Jeff Rawlings
Among countless interactions that Dr. Jeff Rawlings has had with patients during the course of his career, some will remain at the front of his mind.
"Ten years ago, I met a lady — a wealthy socialite — who I did a facelift on, and she came back to see me a year later," Dr. Rawlings said. "She was following up to make me aware that, for a long time, her husband of 45 years had never failed to tell her how unattractive he thought she was.
"You experience that for a while, and you start to believe it," Dr. Rawlings recalls the woman telling him. He says she then added, "Now I get ready to go to church, social meetings or my bridge club, and I put on my face and I am happy with the way I look. That is a very powerful thing that you were able to do for me."
"I have never forgotten that," Dr. Rawlings said. "We put people back to a place where they can work and function, or we treat people who have been damaged by disease or injury and make them comfortable again with themselves in society. We give people self-respect by addressing some aspect of their appearance that they are self-conscious about. For me, that's the real privilege of doing what I do."
A board-certified plastic surgeon, Dr. Rawlings received an undergraduate degree from Auburn University and earned his medical degree from the Medical College of Georgia, where he graduated with honors and completed residencies in general and plastic surgery. As an advanced aesthetic and reconstructive plastic surgery fellow at the Mayo Clinic in Scottsdale, Arizona, he trained with internationally recognized plastic surgeons, studying innovative cosmetic surgery techniques in several disciplines.
Upon departing Arizona, Dr. Rawlings established a private practice in Thomasville, Georgia, where he grew up. He remained there for two years before moving to Tallahassee.
He has been elected to membership in the American Society for Aesthetic Plastic Surgery (ASAPS) — only one-third of surgeons certified by the American Board of Plastic Surgery are invited into ASAPS.
An animal lover, Dr. Rawlings sometimes offers free advice to veterinarians.
Between 5 and 10 percent of his patients are men, he said.
"A lot of men are working longer. They've got game, and they want to look as sharp and energetic as they feel."
Dr. Larry Harper
It's an impressive lineage.
Dr. Larry Harper's paternal grandfather was a doctor in Crawfordville, and his father served as a circuit court judge.
He is asked sometimes, often by lawyers, why he did not follow in his father's footsteps.
"I tell them that my grandfather told his son, 'Whatever you do, don't got into medicine, go into law,' and my dad told me to avoid law and go into medicine. I told my son to become an engineer," Dr. Harper said.
At the Tallahassee Plastic Surgery Clinic,
Dr. Harper said that a great day for him presents a mixture of new challenges and established procedures.
"We have two levels of success in plastic surgery that are very common," he said. "One involves reconstructive or restorative surgery, typically in cancer patients. That's a very fulfilling part of our job. And cosmetic surgery is more gratifying than you might think. In our practice, it's not women undergoing extreme breast enlargement. It's reasonable people coming in with reasonable concerns."
For example, he said, a 22-year-old woman with A-cup breasts may be is very self-conscious. She may recall going to the beach as a teenager and feeling the need to stay covered in a towel.
"A safe, one-hour procedure can enable a woman like that to release her potential and enjoy her naturally bubbly personality," Dr. Harper said.
A 1987 graduate of Florida State University, Dr. Harper received his medical degree in 1991 from the University of Florida College of Medicine. In 1996, he completed his general surgery residency at the University of South Alabama Medical Center followed by a plastic surgery residency at
Vanderbilt University.
He joined Tallahassee Plastic Surgery Clinic in 2000 and specializes in breast augmentation and body contouring, including abdominoplasty, liposuction and thigh lifts. He is board certified by the American Board of Surgery and the American Board of Plastic Surgery.
He and his wife have two sons, one in dental school and the other in college in Jacksonville.
"All three of us enjoy talking to people," Dr. Harper said, referring to his colleagues Dr. Alfredo Paredes and Dr. Jeff Rawlings. "If you are just a cutter, one day they will build a robot to do that. There are a lot of interactions between my life, people I know and my patients. That keeps things interesting."
Tallahassee Plastic Surgery Clinic  |  2452 Mahan Drive, Suite 101  |  (850) 877-2126  |  TLHPlasticSurgery.com
Larry L. Harper, M.D.  • Alfredo A. Paredes, Jr., M.D.  • Jeff M. Rawlings, M.D.  • Sue Anne Pearce, Licensed Esthetician