Take It Outside
Five Outdoor Options For Fitness Training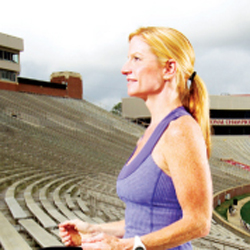 Scott Holstein
Stadium lunges are a great example of using the outdoors as your personal gym.
Let's be honest: Running 5 miles on an indoor treadmill can get really boring, really fast. Even the most devoted gym rats can get sick of pumping iron inside their crowded fitness facility. The quickest cure for fitness boredom: Get back to nature and take it outdoors. We're fortunate here in Tallahassee, where the mild seasons give us eight to nine months of ideal conditions for outdoor exercise. Except for those humid, scorching days in the dead of summer, we can run, cycle, swim and play tennis in any number of open-air gems around town. Here are five great outdoor options to keep your fitness going strong:
1 Doak Campbell Stadium: The home turf of FSU's Seminoles football team is a giant outdoor Stairmaster, with extras like ramps for running sprints and benches for doing dips, pushups, step-ups, etc. With 85 steps from the bottom of Doak to the top, you can get a heart-pumping, quad-burning workout — while getting pumped up for the 2012 football season!
2 Trousdell and Wade Wehunt (Meyers Park) pools: It's easy to take these city-run pools for granted, but most cities don't have one great public pool — much less two. Triathletes flock here for the perfectly heated water and the multiple lap lanes. Even when winter mornings bring icy temps, the indoor domed pool at Wade Wehunt is a go.
3 St. Marks and Munson Hills Trails: At 16 miles from start to finish and flat, the St. Marks Trail is a great workout for cyclists and runners who want to test their speed and endurance. Those looking for a hills-heavy challenge can find it by veering off to the 7.5-mile Munson Hills Loop, which shares a parking lot with St. Marks and is popular among the area's avid mountain bikers.
4 Mike Long Track at Florida State University: Whether you're training for a race or just seeking a break from your normal trail or treadmill, the 400-m lanes where FSU's nationally ranked track and field athletes train is a true community asset. The newly surfaced track, unveiled in 2003, is among the best in the Southeast with wide lanes, fast turns and an expanded infield area.
5 Forest Meadows Athletic Center and Elinor Klapp-Phipps Park: Whether you go for the popular clay tennis courts or the many miles of trails that weave throughout Phipps Park, this city-owned facility on the north side of town is one of the best places to play in nature. The athletic complex has 13 clay and six hard courts that stay busy year-round. The park features 10 miles of running trails, 7 miles for hiking and 4 miles for mountain bikers, and the shade from the big, old trees overhead make it ideal as the weather gets warm.