Styling and Stocking a Bar Cart
Ready, set, roll out your bar cart for any occasion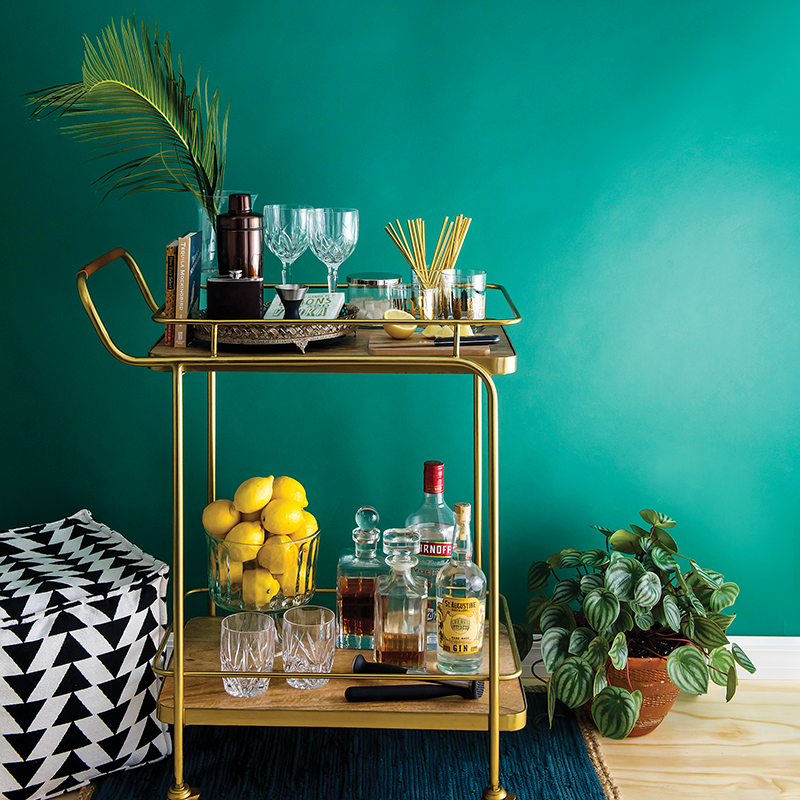 The music thumps, appetizers disappear, toasts are raised and the hostess is free to mingle, all thanks to the newly repopularized bar cart. Today, it need not be confined to Mad Men theme parties.
The accommodating housewives and overtaxed businessmen of bygone eras were on to something. The bar cart is not just a glamorous prop. Of late, we have wised up and allowed this functional design staple to roll back into our lives. Home design stores, antique venues and even your local Target store offer them for sale, making buying a bar cart a breeze. It's the stocking and styling of your purchase that may require a little creative work.
The bar cart is intended to be streamlined, efficient and uncluttered. So it is why Amanda Morrison, managing partner of Social Catering, scales bar carts down to the essentials.
"You can get away with a good bourbon, vodka and gin because you can make so much with those three," said Morrison. As mixers, Morrison suggests soda water, tonic water, maple syrup, honey and agave to add in layers of flavor. These liquids can be stored in cut-glass decanters or jewel-toned bottles to make for a more refined look.
"Every bar cart needs an herbal component," said Morrison. "They are not only great visually, but they appeal to the senses and are key ingredients in many drinks. Fresh citrus can be added to drinks and also displays beautifully."
While the libations are the star of the bar cart, a tastefully decorated spread won't go unnoticed whether it be for an event or home enhancement purposes. Think vintage glasses, ornate bowls, crystal decanters, eclectic bottle openers, shiny shakers, gold-rimmed accents, whimsical paper straws and mirrored trays or books to create height changes, properly showcasing ornately designed liquor bottles.
"By creating your own mix of bottles, glasses and fun décor accessories, your bar cart inevitably becomes your own," said Kyle Johnson Smith, product design manager of Coton Colors. "Adding smaller scale art and plants or fresh flowers further enhances the personality of a bar cart and breathes some life into it."
The resurrection of the bar cart comes down to three factors: design, storage and functionality. Select your theme — be it tailgate party or bridal shower — stock up on your favorite spirits and roll it out to your desired location.
"Most bar carts are of smaller scale and some even have wheels, so they're easy to move and tuck into different corners of the house for a celebration, or even bring outside for some al fresco sipping," said Johnson Smith. "They create a place for guests to grab a refill and create a pretty space while doing so."
Bar carts present a movable party packed with punch and panache. Wet bars have become relics as we make way for these free-wheeling, functional accent pieces.