Steven Dennis of Avenue Eat and Drink Shares His Favorite Spring Cocktail
The Desert Sun is the perfect way to cool down in the Florida heat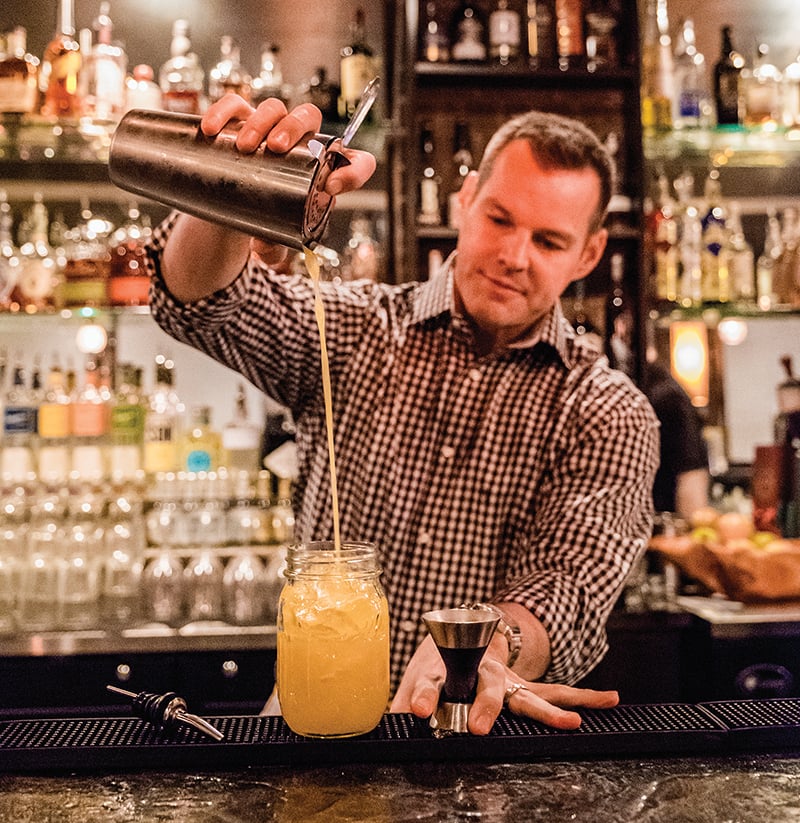 Bartender Steven Dennis has hospitality in his blood.
His grandfather, Milton Dennis, was the general manager for Tallahassee's Morrison Cafeterias and inspired his grandson to enlist in the family trade while still a teenager.
"He was always a calming person in the restaurant business, which is organized chaos, if you will," Dennis says. "It didn't matter what walk of life you were from, he was exactly the same kind of person. That for me is the definition of hospitality. His philosophy was to treat people like they're in your living room."
Dennis does that legacy proud as a curator of the cocktail menu at Avenue Eat & Drink, the contemporary "Southern-inspired" bar and restaurant on Park Avenue, adjacent to the Tallahassee DoubleTree by Hilton hotel.
The array features some 20 signature libations, conceived with friend and fellow bartender Carlos Viegas.
At 44, Dennis looks a good deal younger, despite the rigors — and temptations — of the trade. "I'm the antithesis to the rule," he says with a laugh. "I'm a crazy healthy guy who slings booze."
He takes a similar, even-keel approach to his mixology. The bar's guiding principle? "Balance," Dennis says. "You want a little sweet, you want acid. You want to taste a little of the alcohol. Those over-sweet drinks of the day, hopefully they're going away."
The ideal cocktail teases and satisfies the palate in all five directions: sweet, sour, tart, salty and umami. "You use that formula and ask them what they're in the mood for, take a minute to find out what the customer wants, and then craft it toward them."
That doesn't mean Dennis can't surprise even one of his regulars with a savvy deployment of familiar spirits.
Dennis invented, for instance, a drink called the Dublin Smash, which not only honors his Irish heritage with a jolt of Jameson's but is notorious for winning over new converts to Irish whiskey.
Ingredients such as muddled mint and lime and ginger syrup make for a libation much akin to a mojito.
Likewise, his new springtime cocktail — The Desert Sun — hits all the right notes. "I wanted to come up with a cocktail that used fresh-squeezed ingredients and had two types of tequila," says Dennis, who designed the drink to evoke tequila's botanical sources.
The drink combines the liquid sunshine Floridians love with silver tequila and a touch of Anejo for a distinctive woody tang. A touch of Luxardo cherry liqueur adds a distinctive flourish.
And for a bit of movie-star glamor, Dennis uses Casamigos tequila, the brand launched by actor George Clooney.
The Desert Sun
1-¼ oz. Casamigos
Silver Tequila
¾ oz. Natalie's
Tangerine Juice
¼ oz. Luxardo
Maraschino liqueur
½ oz. Casamigos
Anejo Tequila
Shake ingredients with ice to chill. Strain into a chilled cocktail glass. Garnish with a dehydrated wedge or fresh twist of grapefruit.
AVENUE EAT & DRINK
15 E. PARK AVE. | AVENUEEATANDDRINK.COM | (850) 224-0115
MONDAY–FRIDAY 11 A.M.–10 P.M., SATURDAY 9:30 A.M.–10 P.M., SUNDAY 9:30 A.M. –2 P.M.