Steve Roden Works to Spawn Conservation Movement
Meet the co-chairman of the Guy Harvey Ocean Foundation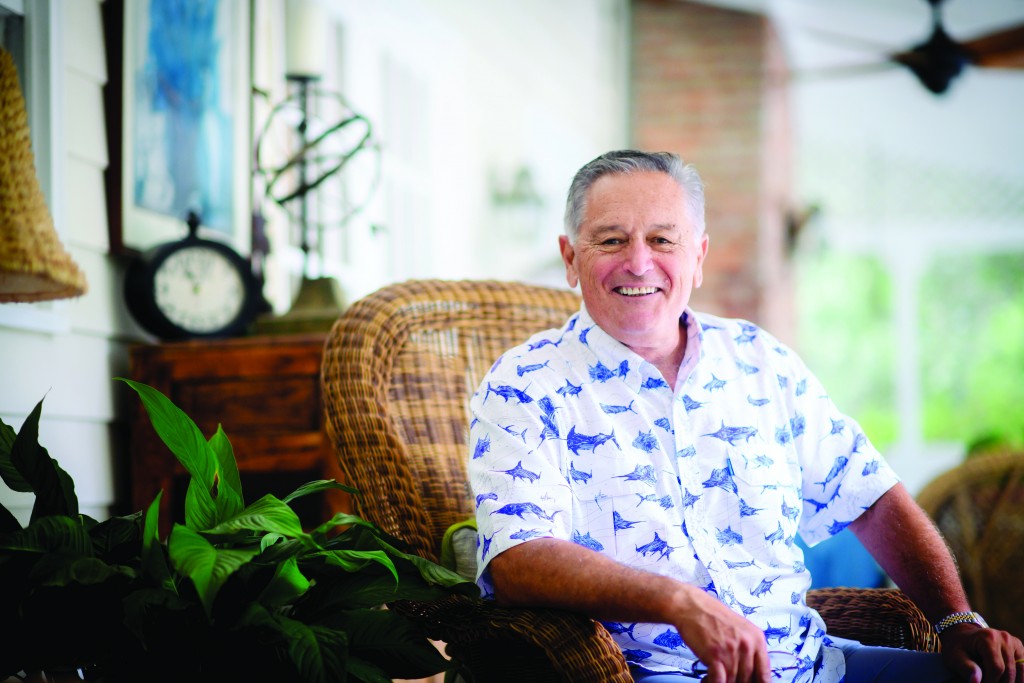 His astrological sign is Pisces, and he grew up in St. Augustine, where he swam and surfed and worked as a lifeguard.
Steve Roden moved inland to attend Florida State University, completed undergraduate studies in economics and earned, in 1978, a master's degree in business administration that helped launch his career as an entrepreneur, consultant and virtual learning pioneer. But he never lost his fondness for the water, fish and fishing.
So it is that Connie Harvey had no trouble talking Roden out of the retirement he began when he left what he thought would be his last job as a vice president and general manager for Conduent, a company that offers digital platforms for government and businesses.
Harvey had facilitated the acquisition by the Xerox Corporation of LearnSomething, an online learning and knowledge management company that provided solutions to pharmacy and grocery operations. Roden established the company in 2004 and headed it for 13 years. He then worked until his "retirement" for Xerox and for Conduent, which was a divestiture from that parent.
Harvey had a Guy that she wanted Roden to meet — her brother-in-law and an internationally well-known artist, scientist and conservationist, as it happens.
As a product of that meeting, Roden said, "I failed at retirement." A Tallahassee resident, he is now the CEO of Guy Harvey Enterprises and the co-chairman of the Guy Harvey Ocean Foundation. He is working to establish a global movement aimed at saving marine habitats and the oceans of the world — one that will begin with the young.
"We have been working to build out a formal marine science curriculum for middle and high school students in Florida," Roden said. "That really is a response to the fact that environmental education instruction in the state doesn't cover the marine environment, even though Florida is surrounded by water."
On this day, he is fresh from a meeting with former state senator Bill Montford, the CEO at the Florida Association of District School Superintendents.
"We have made an investment to bring about a very fine marine science curriculum, and some school districts are already piloting it," Roden said. "People like Sen. Montford can help us with the next step, getting it into broad distribution throughout the state."
When Roden hooked up with Dr. Guy Harvey, he became familiar with the vast wealth of assets that Harvey possessed — videos, articles and papers resulting from decades of scientific research. He immediately recognized their potential as instructional materials.
Long before schools turned to online instruction as an alternative to classroom instruction, corporate America did. Large, far-flung entities had a hard time assembling employees in one place for onboarding, compliance training or other tutorials.
"So, corporate America moved to the virtual learning world, and I was in the dead center of that," Roden said. "I created companies that were some of the first to operate in that space."
With Guy Harvey, Roden has enthusiastically moved from the corporate environment to scholastic ones.
"I was advised a long time ago not to add anything to teachers' plates in Florida," he said. "They are already overflowing, so instead of building something new, we are taking assets from multiple sources and republishing them inside of Florida standards. We are taking marine science and environmental science and making it remarkably better and more engaging."
As a result, students will take virtual field trips with Dr. Guy Harvey's daughter Jessica as she goes diving with whale sharks. They will visit mangrove environments, witness sea turtles nesting and see the impacts of pollution, climate change and overfishing on the marine world.
"All of these things you hear about, but very few people ever get to experience them," Roden said. "We've captured these experiences virtually, and we're making them available to kids as part of their overall learning. This program would become the tip of the spear to get kids understanding and excited about the ocean and doing something about conservation and improving the future of mankind."
Roden anticipates that schools will supplement virtual lessons with hands-on fieldwork that may include water testing or even shark tagging.
"I was an Eagle Scout, and looking back, I think my mom and dad probably worked harder than I did in getting me that honor," Roden said. "If we have activities in the classroom that the students take home, and they are the kinds of things that mom and dad help them with, then we can advance our goal of spawning a movement of people committed to being good stewards of the marine environment."
Roden and the Guy Harvey Ocean Foundation are shrewdly going about bringing on strategic partners in that effort. In Northwest Florida, they include Florida State University, Bay County Public Schools, the Gulf World Marine Park in Panama City Beach and the St. Joe Company. Gary Ostrander, once the vice president of research at FSU, is joining Dr. Harvey as the science advisor for the marine education program.
"We are very proud of what we are trying to make happen in Florida, but we are also trying to make this thing go worldwide," Roden said.
To that end, the foundation has partnered with Discovery Education, an extension of the Discovery Channel.
"They are very large and private-equity backed," Roden said, calling Discovery Education the "800-pound gorilla in virtual learning with 50 million students and 5 million teachers across the world."
That relationship, Roden said, may provide for the dissemination of a full array of classroom assets throughout the Water Planet.
"I'm working with people from all over," said Roden, who described a Facebook live meeting that united him with participants from the California-based Schmidt Ocean Institute, which is doing deep-water coral research in Australia, and people from Greece, Grand Cayman, Boston and South Florida.
"We've got so much going on, and it is being driven from the 850 region," Roden said.
Roden is a longtime fly-fishing enthusiast who graduated from brown and rainbow trout in freshwater to saltwater bonefish and redfish. In Dubai, he caught queenfish — "They're like a jack crevalle on steroids," Roden said — on a fly. At this writing, he was looking forward to a trip to Panama with Dr. Guy Harvey and hoped to add a sailfish to the list.
Time spent on the water has given Roden a refined appreciation for what the world stands to lose.
He influenced Florida to get out of the shark fin trade. He is concerned about the activities of factory ships that are decimating fish populations to meet the demand for protein in China. He is acutely aware of the effects of nutrient pollution on Florida waters and is repulsed by the huge plastic garbage patches floating atop the Pacific.
"I am passionate about ocean conservation," Roden said.
His middle name is Lamar, which when separated into two words, means "the sea" in Spanish.
Get Involved
Discover volunteering opportunities and updates on Guy Harvey Research Institute scientific projects at ghof.org.
Photo courtesy of Steve Roden (Harvey and Roden) and Jessica Harvey Virtual Field Trip on Vimeo (Jessica Harvey)