Stand Down, Umbrella Drinks
Ciders take over watering holes in the fall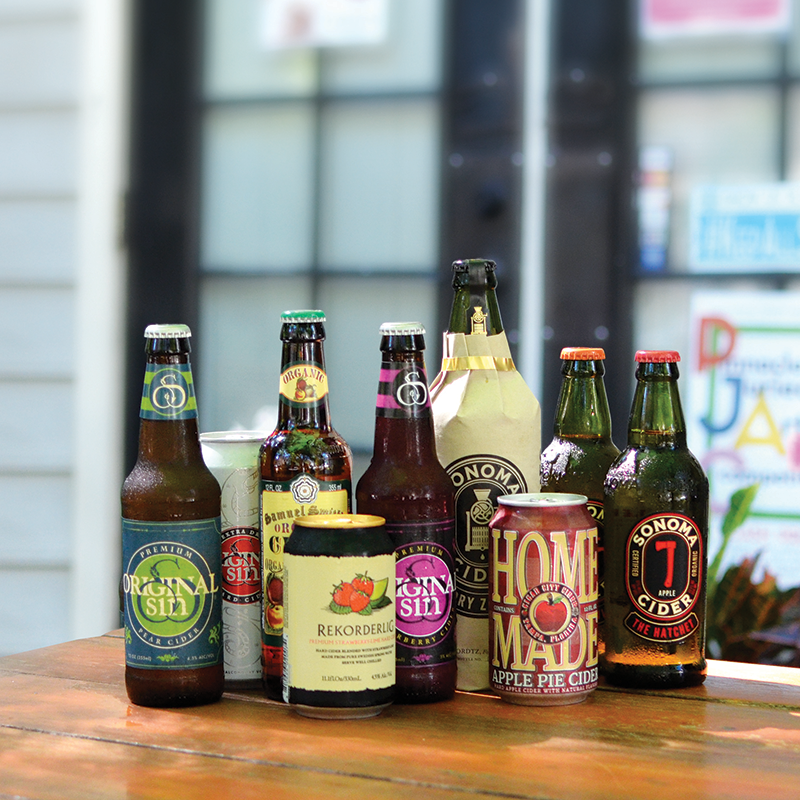 The fruity cocktails of summer have had their day in the sun, but that doesn't mean you have to resort to heavy dark beers and shots of whiskey. The crisp, invigorating flavor of fall's favorite fruit is enhanced and embraced through beer's distant cousin, the cider. Apple ciders — and pear ciders, known as perrys — possess piquant yet fresh tastes without the tropical sweetness of most fruits.
"For fall, I would say the spice adjuncts typically associated with the season — cinnamon, nutmeg, clove and all-spice — are all natural fits with the crisp apple flavor of ciders," explained Dennis Mason, director of operations at The Brass Tap Midtown.
Ciders are a welcome addition at an October tailgate party, pair nicely with Grandma's Thanksgiving pie and kindle conversations during a brisk night around a bonfire.
"Fall is a special time of year for ciders since it is the time of year that apples are harvested in America," said Robert Clark, co-owner of Fermentation Lounge. "In the fall, we also tend to see more spiced ciders or ciders made with seasonal flavors. Fall ciders are also in a special group because they can be spiced and often served warm."
Fermentation Lounge offers a whole host of ciders, and staffers there know the stuff. A few Fermentation employees have gluten allergies, making ciders an attractive option for them.
"Many people are moving away from products containing gluten," said Clark. "Cider offers a favorable alternative to beer that many people with gluten sensitivities can drink in social situations when a refreshing beverage is desired."
Ciders originated in Europe. The Romans invented the beverage and introduced it in England and France where apple trees are plentiful.
Although ciders are commonly ordered in pubs, they didn't really catch on in the United States until recent years when now well-known brands such as Woodchuck and Angry Orchard got hot.
"People are trying new things with ciders, and they are becoming increasingly popular," said Hal Berkelhammer a bartender at The Brass Tap Midtown. "They are beginning to taste even better. They are great for people with a sweet tooth, but there are also some deeper flavored ones that appeal to those who may have never considered a cider."
You may have previously dismissed ciders as apple juice laced with alcohol, but they are now receiving the attention they long deserved. Flavors have become more complex and fermentation processes more sophisticated, giving rise to cider connoisseurs. The apple has fallen far from the tree.
---
Six Ciders for All for Fall
Brass Tap
The Anvil from Sonoma Cidery: Lively and aromatic with a smoky finish brought out in a barrel-proof bourbon flavor.
Suffolk Cider from Imperial Vintage: Tantalizing flavor enhanced by bittersweet apples with notes of raisins, dates and prunes.
Ace Perry Cider: Refreshing and light pear cider with a unique blend of Madagascar vanilla.
The Fermentation Lounge
Homemade Apple Pie Cider from Cigar City Cider: Cinnamon, vanilla, a hint of baked crust and of course, apples; tastes like it came right out of the oven.
Original Sin Pear Cider: Light and clean with a dry finish; fermented with champagne yeast.
Dry Zider from Sonoma Cidery: Rosy in color with a soft Zinfandel aroma resulting from aging in Zinfandel wine barrels. The flavor profile includes wild berry and bramble with tart apple.
Want to try ciders out? The Brass Tap will be holding a Cider Takeover on Sept. 28 featuring various ciders and a glassware giveaway.