Southern Casseroles
From covered dishes comes timeless comfort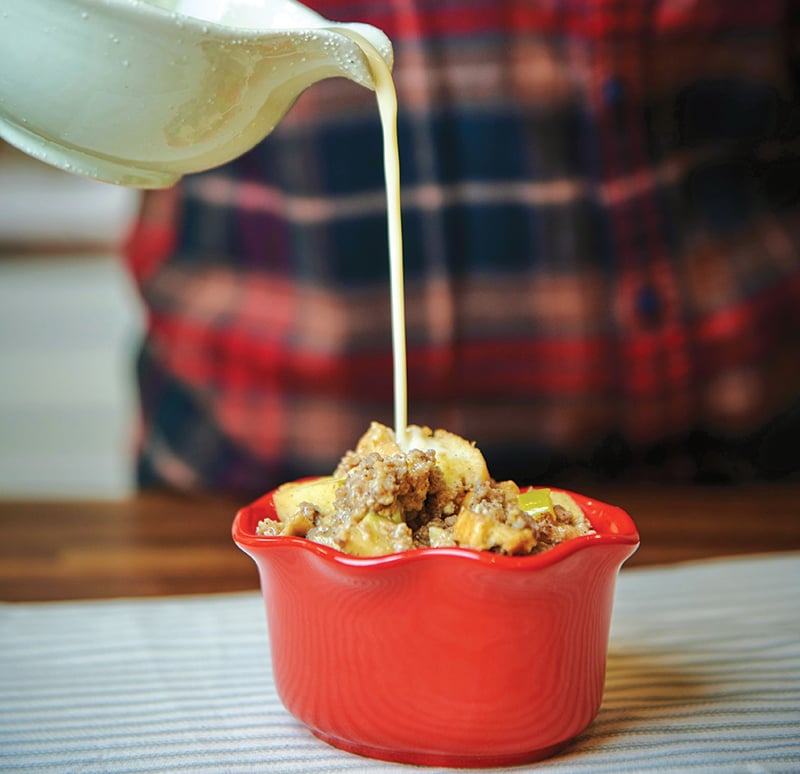 It is both familiar and fitting for special occasions. At a baby shower, a memorial service or a neighborhood covered-dish dinner, the casserole reliably pleases people as a classic comfort fare.
Casseroles like the indispensable tuna casserole have been a staple for generations. Mac and cheese may be the granddaddy of them all, having been written about in 1250.
In the 1950s, casseroles got a big boost from Campbell's soups. Supping on the green-bean variety made with cream of mushroom soup and served in a Pyrex dish became an experience about as universal as going to the store.
"What is it with Southern casseroles and Mama'n'em?" writes Valerie Fraser Luesse in Southern Living. "It's as if they've found a way to stir together love, concern, consolation, congratulations, comfort and joy — and then top it off with Ritz crackers and butter."
But you don't have to be a Southerner to love casseroles; they have global appeal.
"Casserole" is from a French word meaning "saucepan," a deep dish used for cooking and serving. It's derived from the French word "cassa" and the Latin word "cattia," both meaning "ladle."
Casseroles are a hit any time of year, but home cooks are even more motivated to find a crowd-pleasing dish during the holidays.
Aiming for a special casserole, Lauren Weekley Tiller concocted the "Sugar Hill Strata," made with her grandmother's recipe for cane syrup custard. She uses syrup from the Davis Family Farm in Cairo, Georgia.
"They've been making their own cane syrup for four generations," Tiller said.
Her dish is a French toast strata with a Southern twang and is both sweet and savory. And what better time is there than the holidays to indulge in rich, sweet and savory flavors that taste like home?
Tiller turns out Southern-style staples from her food truck, called Ida-Belle's Southern Kitchen, which operates in Havana and Tallahassee. The truck is named after Ida Belle Dassie, the housekeeper with whom Tiller grew up.
"She was family," said Tiller, who lives in her childhood home in Havana, where she has 15 animals sharing 15 acres of land.
Tiller's food truck meals include her fried chicken, pork chops, mac and cheese and pork stew. She also offers take-and-bake dishes that customers can reheat at home.
Katherine Quick, co-owner of Tallahassee's K&R Hidden Farms, said one of her favorite recipes for traditional holiday dishes comes from a friend. Even better, she can pluck the main ingredient right from her farm.
"We enjoy living off the land as much as possible," said Quick. "We use our fresh butternut squash for the casserole, and it's always a family favorite."
---
Sugar Hill Strata
from Lauren Weekley Tiller
Ingredients:
1 French baguette loaf, cubed

8 eggs

1½ cups buttermilk

¼ cup Davis Family Cane Syrup (or other cane syrup)

1 teaspoon vanilla extract

1 teaspoon cinnamon

½ teaspoon nutmeg

2 Granny Smith apples, cubed

1 pound of smoked bacon, cooked and crumbled or substitute cooked ground sausage

¼ cup brown sugar
Instructions:
Coat a 9×13-inch casserole dish with butter or cooking spray and set aside. Cut the baguette into ½-inch cubes and spread evenly along the bottom of the dish. In a large bowl, combine eggs, buttermilk, cane syrup, vanilla extract, cinnamon, nutmeg, apples and bacon (or sausage).
Mix well and pour over bread, covering with plastic wrap and pressing lightly to ensure the egg mixture is absorbed. Refrigerate for two hours or overnight before baking. Preheat the oven to 350 degrees.
Bake for 45 minutes or until eggs are no longer runny. Remove from the oven, sprinkle with brown sugar, and let stand for 15 minutes. Top with a drizzle of custard and serve immediately.
Ingredients for Custard Sauce:
2 eggs

1½ cups sugar

1 12-ounce can evaporated milk

1 can of whole milk (after pouring out the evaporated milk, fill the same can with whole milk)

1 tablespoon vanilla extract
Custard instructions:
Cook ingredients over low heat, constantly whisking to ensure even distribution of egg yolks until thickened. Chill in the refrigerator until ready to serve.
---
Butternut Squash Casserole
from Katherine Quick
Ingredients:
2 cups cooked, mashed butternut squash

3 eggs beaten

1 stick butter

1 cup milk

1 cup sugar

Ritz crackers crumbled
Instructions:
Combine all ingredients except the Ritz crackers. Pour into a flat baking dish. Bake at 350 degrees for 45–60 minutes. Sprinkle crackers on top of the dish and dot with butter. Continue baking until butter is melted.
---