SKINNY night out
With Good Choices, Happy Hour Doesn't Have to be a Resolution Buster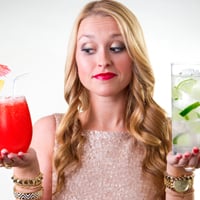 Photo by Scott Holstein
Photoillustration: Saige Roberts, Hair, Makeup, Dress and Jewelry: laVerSei.com, Model: Maggie Coogan
It's a couple of weeks after New Year's, and your healthy 2013 resolutions are going strong. I've got this, you tell yourself … and then you get the first invitation for happy hour in Midtown with the girls. Or maybe the fellas from work want to grab drinks and appetizers after hours.
Uh-oh. Buh-bye healthy resolution, hello happy hour, right? Not necessarily. Fortunately, committing to healthier eating and drinking habits does not relegate you to a boring, anti-social existence of evenings spent at home nibbling through a bag of carrots.
"It's not about one day or two days of eating; it's about consistency in your diet," says competitive bodybuilder and longtime executive chef Tim Durning, co-owner of Flex Foods, a healthy meal delivery and catering service in Tallahassee. "So if you're eating properly the rest of the week, one happy hour isn't going to kill you."
When you do indulge in happy hour, the key to walking away without resolution regret is to make the best choices in what you sip and what you nosh. That means learning to decode appetizer menus to avoid red flags ("breaded," "coated," "fried," "creamy," etc.) and keeping libations simple to minimize high-calorie, high-sugar mixers.
"Always go toward grilled or steamed and stay away from fried," Durning says. "I could eat shrimp cocktail all day long; it's so light. And don't be afraid to ask them to grill the chicken tenders instead of frying them. Know what you are eating."
At Wine Loft, that means choosing the Asian Filet Skewers — lean grilled filet with light sauce — over the Angus Sliders — mini burgers plus blue cheese and bread. At Bonefish, maybe you go for the edamame appetizer or Saucy Shrimp (not fried, and served with lime, feta and olives in a light garlic sauce) instead of the breaded Bang Bang Shrimp, which packs about 1,200 calories and 48 grams of fat into the appetizer bowl.
And when choosing what to order from the drink menu, moderation and simplicity are safe bets.
Shannon Moore is a registered dietitian and owner of F.U.E.L. (Food Upgrading Every Lifestyle), a Tallahassee wellness and weight loss consultation business.
She routinely has clients who lament, Does this mean I can't enjoy a drink anymore? Her answer: Of course you can.
"My big thing is that you have to always go back to the rule of moderation," Moore says. "You know, the dietary guidelines say it's OK to have one drink for women and two drinks for men — that's 12 ounces of beer, 5 ounces of wine, 1.5 ounces of liquor. But you know, when you do that, you have to be aware of the mixers and sugary things that add calories."
The typical 1.5-ounce serving of 80-proof alcohol in a cocktail has just under 100 calories.
"But you can rack up 500 calories in a margarita or a daiquiri," depending on the size, Moore says.
So choose things like soda water or a splash of juice instead of the typical half-glass serving, to keep the cocktail around 150 calories or less. For favorites like mojitos or martinis, ask the bartender to go light on the simple syrup, and you can save yourself an unwanted sugar rush — not to mention 50 to 100 empty calories. Increasingly, bars offer cocktails made with agave nectar instead of sugar syrup. Does yours? It never hurts to ask!
Moore recently advised a client who loves happy hour margaritas at her favorite restaurant to continue enjoying what she loves — just in smaller quantities.
"I told her, 'It just means you have one margarita instead of two, and you order the smaller one.' The main thing is keeping it real," Moore says. "Because who doesn't like a good happy hour?"