Skating Regains Speed
A rink operator bets on the future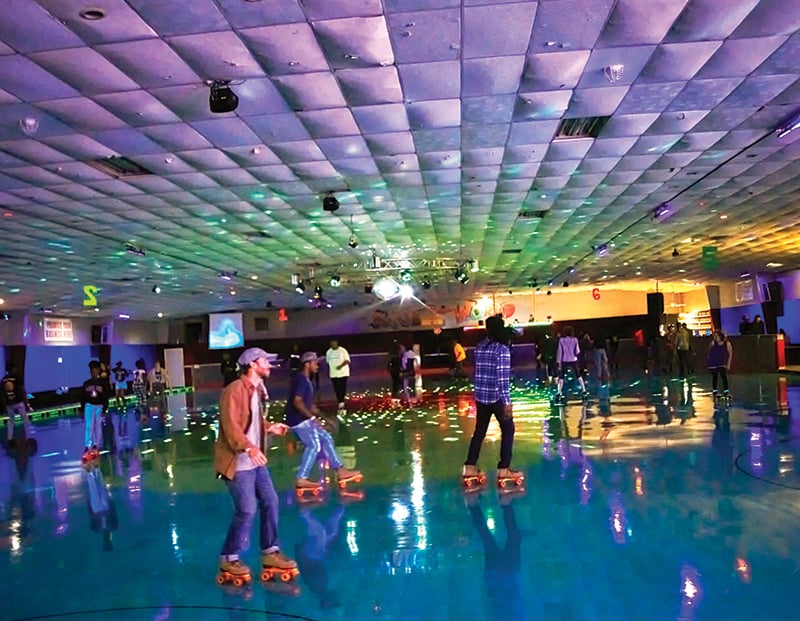 What is it about going round and round a roller rink on tiny wheels that triggers nostalgia for youth, a little bit of danger and showing off your stuff to whoever has also managed to stay upright?
Today, Skate World on Capital Circle is the sole roller rink in Tallahassee. Although Benny Chastain missed the so-called golden age of skating in the 1930s to 1950s, the original developer of what is now an 11,340-square-foot rink recalls that he wasn't even a skater when he'd bought an earlier rink, Skate-In West. He added Skate-In East, now Skate World, in 1973. Chastain's entrepreneurial spirit would take his interests elsewhere, but devoted manager Ron Hildebrand would, for the next 20 years, oversee Skate World's evolution in skates, music, games and parties as driving components of the sport's popularity.
"We were open seven days a week," Hildebrand said. "Over the years, we held not just open skate nights and school skating parties but added speed-skating teams and roller hockey." Hildebrand recalls Friday nights when, in a "safer" time, parents would "drop off their kids — 300 to 400 of them — and pick them up after the grown-ups had gone out for a nice dinner."
But trends expand and recede. While the disco beats of the 1970s may have driven "groovin'" roller enthusiasts to Skate World, by the late 1980s, the crowds that had earlier flocked in, now left Skate World open only on weekends. Inline skates may have seduced blade enthusiasts to outdoor venues and sidewalks, but by 1998, the rink was sold to a California real estate investor, Donald Hengstebeck and his wife, Barbara. His daughter, Nicole Bisping, who now, with her husband, runs the operation, said, "I think my father's timing was really great. It gave us an opportunity to make a lot of changes and turn Skate World into a real destination. For the last 20 years, it's become a family entertainment center!"
The rink floor, made of particle board and plywood with a smooth plastic coating, is slightly smaller than the original oval but is now surrounded by no fewer than 10 arcade games' blinking lights and ringing bells and their redemption center. An indoor playground of multicolored PVCs, bouncy platforms, swings and slides; an expansive dining area with 20 tables; and three private party rooms — and all of it wrapped in the fragrance of popcorn — give Skate World the sensation of being inside a bustling circus. But there's a lot of physicality involved, too. Bisping counts 428 pairs of rentable roller skates and 200 pairs of the inline variety available. There are even little plastic skates that fit over tiny shoes.
And what about the skaters? Passing two "first date" teenagers holding hands as they glide across the ice, Susan Polangin, an elegant woman in her 60s, floats artistically across the rink on one leg, arms in an arabesque. Behind her, small pyramids of downed skaters giggle as they haul themselves up for another try.
Seventy-five-year-old Dale Elrod comes "three or four times a week." "It's low impact — if you don't fall," he joked, adding, "You can't keep me away." An emerging star is 11-year-old Gavin Sparkman who says he'll be rinkside from "11 a.m. until 6 p.m." on Saturdays. He's on the speed skating team and hopes to one day be a coach. Meanwhile, dozens of neophytes haltingly make their way across the oval behind what look like roller walkers made of PVC. A good way to get the feel of a floor that isn't where you've left it.
Whether "jamming" in a kind of line dance to a hip hop beat, skating to a stopwatch, or simply propelling yourself magically round and round a crystal-smooth floor, Skate World is betting its next 50 years will be its best.
» Skate World
The facility offers events for children, adults, families, businesses and other groups. It offers lessons for beginners and is home to a speedskating club.
---
An Artful Skate Park
The 1840s-era inventors of roller skates likely never envisioned the acrobatic skill and daring that now take place at popular outdoor skate parks. And Tallahassee, through its Blueprint 2020 initiative, has recently created one of the finest. Along the perimeter of the Railroad Square Arts District, the $2.8 million FAMU Way Skateable Art Park provides a 200-meter "snake run" of polished concrete that finishes with a rearing Rattler head jutting above the rails and ledges upon which skateboarders careen.
Brothers Jon and Nick Virga, both in their 20s, swirl in and out of the "awesome flowing bowls."
"It's like surfing," Nick said. Another skater, Crosse Bearden, has come from Valdosta, Georgia, just to try the subtleties and challenges of a course designed by premier park designers, Team Pain Skate Parks. "I like the 'rhythm section' of the snake run," he said, pushing off.
And then the lanky young man seems to turn concrete into air or water, flying off metal, swirling into pits and remerging with blonde hair flying behind him, the constraints of gravity seemingly loosened and thrown away.
Of course, as with all sports involving revolving wheels, gravity likes to wait its chance. But for board enthusiasts from grade school to college kids to those with sit-down jobs, a silky-smooth run on FAMU Way's undulating cement may be well worth a big box of Band-Aids.
» Skateable Art Park
Adjacent to Cascades Trail, the new skate park is located on the northeast corner of FAMU Way. It includes the longest skate run in Florida, according to city officials. The Skateable Art Park is the second skate facility in Tallahassee, joining Mike Blankenship Skate Park on Jackson Bluff at Appleyard Drive.
---
---