SHINING ONWARD
Psychologist Sharon Ames-Dennard sparkles with entrepreneurism and Ethiopian style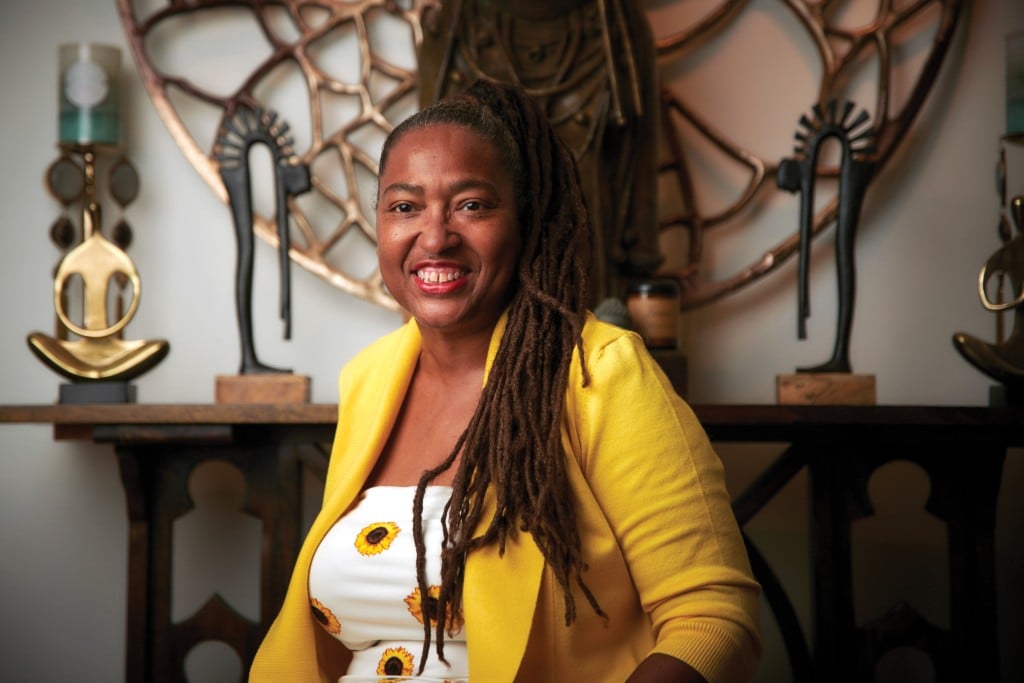 Sharon Ames-Dennard is a woman whose title is tough to nail down. The 50-something entrepreneur is a psychologist, visionary, emotional healer, business owner and educator. Similar to the sparks of fireworks, one never knows the inspiration that will flow from a chat with Dennard.
Between sips of coffee, an idea for a school could commence, and any dream could burst forth and drip down into her community. Dennard carries a joyful anticipation that the "universe is moving in the right direction," and she is helping it get there.
Dennard's energy and abundance of ideas arose from an unlikely place, she says. "I was born in Cheapside, Virginia," Dennard said during an interview. "My father was a waterman, pulling fish, crabs and lobster. Mother worked in a ketchup factory." There was no indoor plumbing or running water where she grew up. "Our town was a small, African American place of working farms," Dennard added. "From age 5 through high school, like tenant farmers, we spent hours in the fields planting and harvesting vegetables."
And yet, her father reminded Dennard and her siblings, "I'll always help you go forward, but I won't help you stand still or go back." Education was important to her family. And though Dennard was bullied by popular girls in school, by graduation, it was she who was awarded a scholarship to Virginia Commonwealth University. "I think that's why I've always identified with the downtrodden," said Dennard. "I know how it feels."
But soon, she was soaring. Switching from pre-med to psychology, even as she held down outside jobs, Dennard set her sights on a career in helping others. She finished her master's and doctorate at Florida State University and capped off another dream by marrying Dana Dennard, also a psychologist whose sensibilities for outreach matched her own.
Dana Dennard's family was also education-minded. His family-owned bookstores featured works by Black authors and subjects of interest to that demographic. And even as Sharon and Dana started their professional careers in counseling, they began the first of their entrepreneurial "fireworks" display that has been bursting forth ever since.
"We rented a space in a strip mall with our own bookstore in the front and our clinical practice in the back," Dennard said. It was a 'Black-interest' bookstore, and still, other ideas were sparking forth. A Black-interest bookstore was an innovation for Tallahassee at the time. But other ideas were simmering," says Dennard.
At about the same time, the couple came upon a vacant building in what is now the Railroad Square area. With its purchase, they were able to combine their bookstore with a school. A school! It was 2010, and Dennard and her husband had discussed what their community needed, and they landed on a place to celebrate its youth and enhance its talents. For over 17 years, even as they continued their counseling practice, the pair would run the school, educating hundreds of children from preschool through eighth grade. "There is nothing like seeing the light in a child's eyes when understanding occurs," Dennard said. In addition, they had added an internet cafe and an art gallery for the community to expand its possibilities.
But Sharon Dennard was far from "played out" when she eventually decided to close the school. In the same space, she opened the "ethno-spansive" restaurant, Nefetari's, which served Ethiopian injera, fresh seafood, glorious cheesecake, and featured music and poetry readings, all in an atmosphere conjured from a pharaoh's throne room. In addition, Dennard was doing morning cooking shows on WCTV and making culinary videos of her favorite recipes. Today, Nefetari's caters special events, even as Sharon Dennard sculpts new plans.
Continuing their psychology practice, the couple's newest ventures include podcasts and a micro-financial support program for entrepreneurs. And wait, there's still more to come.
Years before, the Dennards had purchased 10 rural acres. With a coy smile and a twinkle in her eye, Sharon says, "With its ponds and trees, it's the perfect place for…" and then she pauses, searches the ceiling and seems to imagine her to-be revealed project, yet leaves it unspoken.
The rest of us can only wait, holding our breath, and get ready to applaud following the reveal of the next firework display by Sharon Dennard.