Rock Climbing Helps Enthusiasts Grow Stronger Physically and Mentally
Reaching New Heights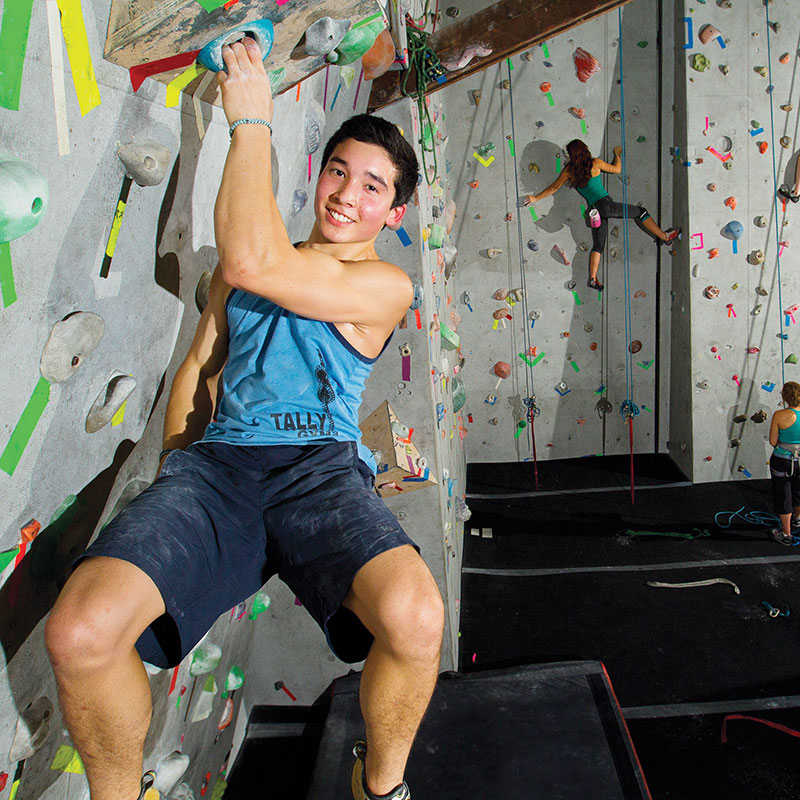 While much of Florida boasts theme parks and beaches, Tallahassee is known for its natural beauty exhibited by parks, hiking trails, lakes and hills. The only missing topography may be mountains for those who seek to take their activities upward.
Not to worry, Tallahassee's Rockies have been brought indoors, unsuspectingly tucked inside a colorfully painted warehouse in Railroad Square. Climbers geared up in harnesses and helmets scale the 35- to 40-foot walls while barely noticing they are inside despite the tunes emitted from speakers.
While the Southeast offers a variety of quality climbing options, Tallahassee presents little in the way of rocks unless you count the ice cubes in lobbyists' glasses. At the same time, Tallahassee has an active population that is constantly seeking innovative ways to exercise. Tallahassee Rock Gym has emerged to fill the void and rock the community.
"Rock climbing is becoming popular everywhere," said facilities manager Adrian Thompson. "In Tallahassee, we have enjoyed success because of the diverse range of people here. And the presence of college campuses really helps."
The appeal of rock climbing stems from the fact that it is considered an extreme sport, but one that is accessible to all. Participants choose a difficulty level and climb at their own pace.
Thompson pointed out that children, people with special needs and seniors all have successfully scaled walls. All that you need is the willingness to take yourself to new levels.
"The people you meet and the climbers at Tallahassee Rock Gym make climbing easy to love," explained member Marc Akbar.
First-timers watch a climbing tutorial and complete belay training to learn proper techniques and become familiar with the equipment. There are two ways to experience the rock gym: belaying and bouldering.
Belaying requires a buddy who assists in managing the ropes from the floor and also offers encouragement to the climber. Bouldering is for the more confident and balanced climber because it doesn't require a harness, just the strength of your hands and feet. Bouldering walls are not nearly as high, in case you were wondering.
"It allows you to accomplish and make goals and leaves you with a feeling of accomplishment each time," said Thompson. "It gives you total body awareness. You learn how your arms need to work in order to reach the next challenge and how your legs propel you upwards. You also become mentally aware because you are facing a challenge."
Climbing offers what for many is a welcome change away from weight racks and machines while providing a combined arms, legs and cardio workout. Memberships are available to both adrenaline junkies and people seeking a peaceful sanctuary.