Pre-season Testing Can Help Diagnose and Treat Sports-Related Concussions
When Your Bell Gets Rung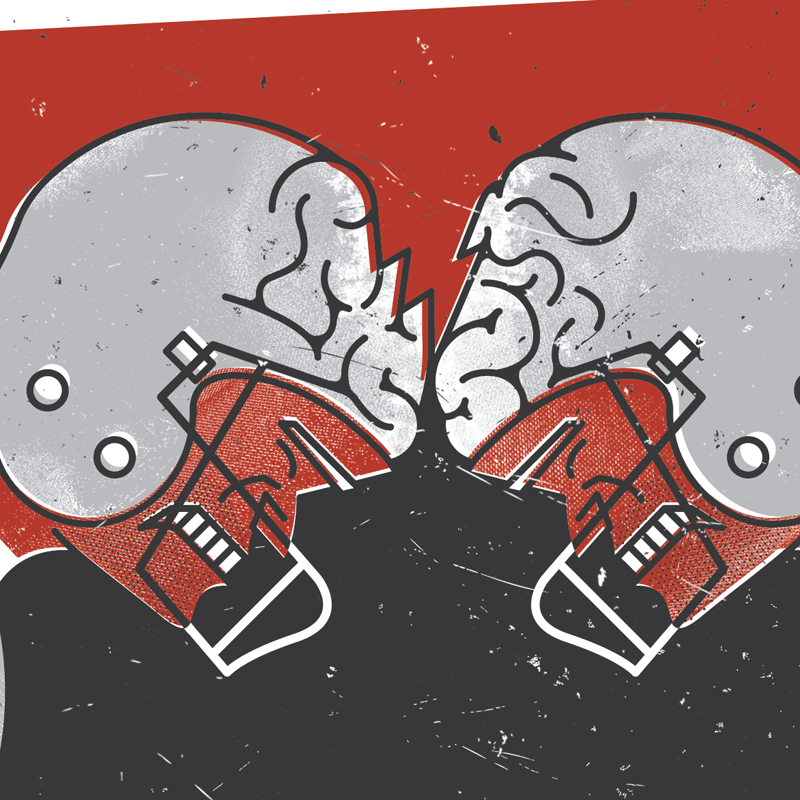 The 2013 Florida State football team made history with their undefeated championship season. The young players devoted their mind and body to the game with a passion that produced winners — but some paid a price.
"Will I be OK? Is this the way I am going to feel for a long time?" These are some of the thoughts former FSU safety Terrence Brooks experienced after suffering a concussion in the team's win over Miami last November. Nervousness is just one of the many emotions players experience after this head injury, but doctors are saying fear does not have to be one of them.
Once disguised as a "silent epidemic," concussions are now the hot topic in the sports community. Locally, Tallahassee Orthopedic Clinic (TOC) is ahead of the game with concussion experts and innovative testing at the Regional Concussion Center.
TOC developed the Concussion Management Program in 2009 and offered a pilot program at Florida High School using ImPACT (Immediate Post-Concussion Assessment and Cognitive Test). After success there, it was introduced to other county schools.
Drs. Mark Lovell and Joseph Maroon at the University of Pittsburgh developed ImPACT in the 1990s. In this computerized neurocognitive assessment, players take a preseason baseline test with results stored in a database. If an athlete suffers a concussion, the test is taken again and results are compared. The 20-minute test reflects cognitive changes and acts as an objective tool to help determine when an athlete is safe to return to play.
Dr. Hector Mejia, medical director for TOC, said Tallahassee is "second to none in Florida" with hopes of becoming a southeastern regional referral center. TOC and associates have performed more 9,000 baseline tests, over 3,000 of those in Leon County. "Tallahassee is miles ahead on awareness, treatment, recognition, prevention, everything as far as concussions," said Rick Williams, director for TOC's Sports Medicine Outreach.
In 2012, the center began its outreach program that now expands from Walton to Suwannee counties, and even into parts of South Georgia. "We're constantly expanding our boundaries, constantly being asked to expand them," explained Williams.
ImPACT is used in professional and collegiate sports, with hopes of reaching more middle schools and sports clubs. While they will test individuals outside of the sports community, they're "emphasizing baseline tests for athletes because they're voluntarily putting themselves in the way of harm and contact," said Dr. Scott Burkhart, neuropsychologist and clinical director for TOC.
Seen as a video game to younger kids, ImPACT is an easy, interactive computer test that allows for competitiveness and fun, according to Davy Young, head athletic trainer and testing coordinator. An athlete's competitiveness can also cause concern. Some athletes, including NFL all-star Peyton Manning, think that by purposely performing poorly on a baseline test, the post-test will show improvement and a faster return. Don't think you can sandbag the experts at TOC; they'll throw out your baseline and use the database for comparison.
Even worse is when athletes don't report their symptoms. "They don't want to let their team and coaches down," said Burkhart, "but it's better to miss a game than the whole season." With more awareness on the complications of premature return to play and untreated concussions, athletes will be more willing to share their symptoms. "If you don't treat concussions, then what you're experiencing becomes the new normal," explained Burkhart.
Untreated concussions can result in lingering symptoms, such as changes in sleep cycle, loss of concentration and recurring migraines. If a second concussion occurs without treatment of the first, it can result in permanent brain damage, according to Mejia.
TOC is able to make a customized return to play approach and treatment plan. "We cater it to the individual, depending on what we see and what ImPACT tells us," said Jenni Puhr, clinical assistant at TOC. Concussions are treated like other orthopedic injuries. "If you're out with a sprained ankle, you'll get back to normal; the problem is playing through those types of injuries," added Puhr. Every concussion is different, so each treatment is as well; most concussions can be treated with different medications and therapies, depending on the symptoms.
After putting pressure on himself to return to the game, Brooks, along with his trainer and coaches, was concerned about the future of his final season as a Seminole. "We all wanted to take the right actions to get me back on the field as soon as possible," said Brooks. His concussion was deemed mild after testing, but he still took the proper precautions by giving the injury time to heal. "I eased my mind and trusted in the younger guys to step up and take care of my spot while I was injured," he added.
After his college career, Brooks was signed by the Baltimore Ravens, who chose him in the NFL drafts's third round.
TOC also provides educational programs and ongoing support for coaches and athletic trainers, as well as seminars for family members. Even the medical community is continuing to learn about concussions. Years ago, it was believed that if you remained conscious, it wasn't a concussion. According to Williams, anything that presents concussion symptoms after a head injury is a concussion, and the severity of the injury is determined in retrospect. Another common misconception is that you can only have a certain number of concussions before you should quit your sport or activity. Concussions and severity vary, so there is no research to back up that three concussions are too many, explained Burkhart.
Concussed individuals are often taken to the ER to get MRIs and CT scans, but those tests won't necessarily show positive findings for concussions. When in doubt, get scanned to be sure there aren't more severe injuries like a skull fracture or bleeding, advised Burkhart. However, most concussions can be treated without doing so. "It takes knowing what to look for, knowing when to image somebody and when not to," he said.
Going to your primary care doctor is another option many seek, but seeing a specialist within the first week after a concussion may lead to recovering up to nine times faster, Burkhart added.
Concussions can occur in any sport or physical activity, but don't let the fear of injury prevent you or your child from participating. "The fear is not knowing it, not recognizing it and ignoring it," said Young.
---
Is It a Concussion?
A concussion is the collision of the brain against the skull that alters the way your brain normally works. It can be caused by a bump, blow or jolt to the head, as well as a fall or sudden acceleration/deceleration.
Symptoms include:
Chronic headaches

Fatigue

Sleep difficulties

Personality changes (increased irritability and  emotionality)

Depression

Deficits in short-term memory, problem solving and general academic functioning

Dizziness when standing quickly

Double vision

Sensitivity to light or noise
Seek emergency care if experiencing:
Prolonged loss of consciousness

Seizures

One enlarged pupil

Slurred speech

Deteriorating mental status

Repetitive or uncontrollable vomiting