Pinnacle Awards Program Honors Women of Distinction
Tallahassee was well represented among winners who model professional excellence and unselfish community service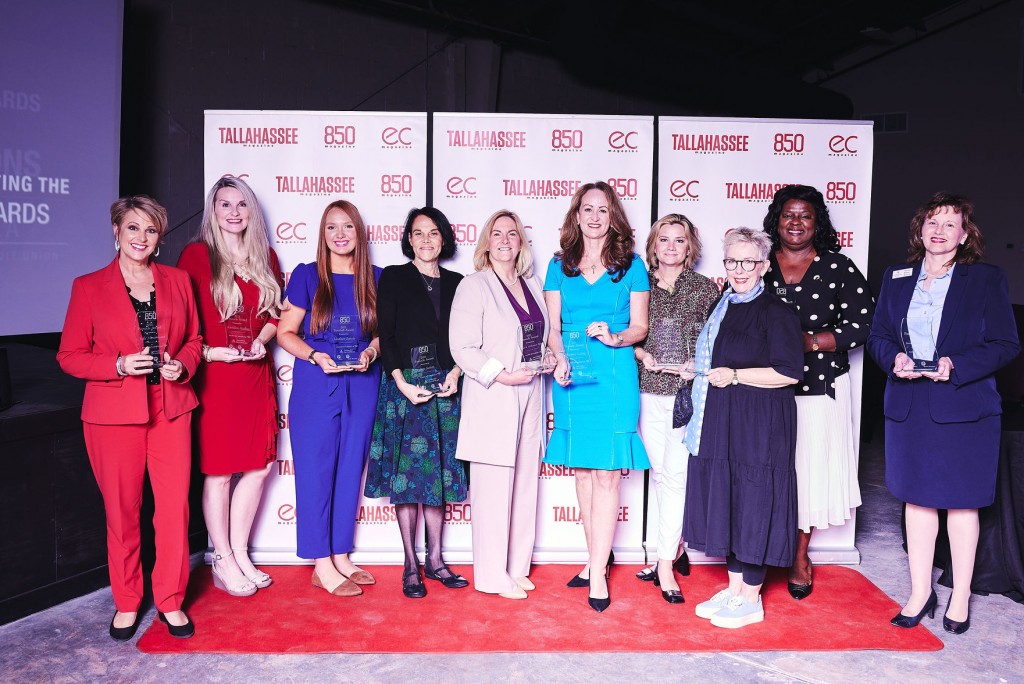 Rowland Publishing's Pinnacle Awards program has celebrated scores of women of influence and distinction in the years since it was established in 2014. Honorees unfailingly have excelled both professionally and as women unselfishly committed to community betterment. They are givers, not takers; optimists, not defeatists; visionary, not complacent. The Pinnacle Awards Class of 2021 includes eight Tallahassee-area women, the value of whose contributions is beyond measure. They are profiled here.
Beth Corum
A groomer of talent, she's a steward of her company's culture
Banking, among all of the career options that may have been available to Beth Corum upon her graduation from Florida State with a master's degree in communication, may have been the last one she would have chosen.
"It wasn't on my radar," she said. But Corum was hungry for work. "I needed to gain my footing and get in somewhere," she said.
She became aware of an opportunity at the Florida Bankers Association, applied and got the job. She would work for the association for 14 years and then move to Capital City Bank where today she is the chief operating officer.
At FBA, Corum visited with banks around the state, became familiar with issues affecting the banking industry and gained an appreciation for the role of community banks.
"The core mission of the banking industry is to help build communities and to help people, and I kinda fell in love with it," Corum said.
She likes Capital City Bank, she said, because it is not so large that she doesn't get to know its clients.
She interacts closely with both external and internal customers.
"A lot of what I do is work with our associates," Corum said. "While I may not know all 800 or so by name, I know many of them. I really enjoy working with our folks who are working with our clients on a daily basis."
Florida Trend and the ABA have recognized Capital City as a "best place to work." Corum has helped bring about those designations.
"I may lead those efforts, but it's a team effort," Corum said. "I like to believe we always put the associate first no matter the circumstances. Hurricanes, the pandemic, individual life crises — we have been right there to help our associates with whatever is put in front of them. I also like to think that we are providing associates with opportunities to develop professionally with our tuition assistance program, conferences and seminars and mentor/mentee programs managed within the company. We look for ways to help people to move up in the organization."
Corum has extended her passion for people and talent for leadership to community organizations including the Greater Tallahassee Chamber of Commerce, where she is the immediate past chair, and the United Way of the Big Bend, where she chaired its community fundraising campaign in 2015. Recently, she joined the Tallahassee Memorial HealthCare board of directors.
Too, she has a personal board of directors, people she turns to for advice or as sounding boards: her father, Bill Harding, a retired engineer; Capital City CEO Bill Smith; Tallahassee Community College president Jim Murdaugh; Tallahassee Chamber president/CEO Sue Dick; TMH president/CEO Mark O'Bryant; and Sachs Media founder and CEO Ron Sachs.
The work/life/community balance is something that Corum works continuously to manage. Her daughter, Stella, like all children, is growing up fast.
"I blinked once, and she was in the 5th grade," she said. "If I blink again, I'll be having people over to celebrate her high school graduation."
Susan S. Fiorito
Given a chance to start a college, she figured it out
Florida State University was in the process of trying to find a dean for the Jim Moran College of Entrepreneurship that it would soon be launching.
"They offered it to two men, and they both turned it down," Susan S. Fiorito said. "They said it was too big of a job for them, that they didn't know how to start a college from scratch. When the job was offered to me, I told the provost I didn't know either, but I would figure it out."
Dean Fiorito, once a high school home economics teacher, has a history of saying "yes" to opportunities. She was the first woman in the country to become a president of a retail association. She said "yes" to becoming FSU Faculty Senate president.
"When my daughter was born in 1992, I only had 10 days of sick leave," Fiorito recalled. "People said she was going to know her caregiver as her mother, not me. I said, 'No, she is going to have an additional person to love.' My children respect women who work. I advise young women to follow their passion. Don't let anyone limit you."
Under Fiorito's direction, the Jim Moran School has grown rapidly. It was begun in the fall of 2017 with seven faculty members, 70 students and two tracks of study: merchandising and product development. It now boasts 30 faculty members, 700 undergraduate students and 65 graduate students. It offers four master's degree programs and is working to add a fifth in creative arts and entrepreneurship.
Fiorito graduated from FSU with a bachelor's degree in 1973 and then taught home economics at Hialeah-Miami Lakes High School for three years before marrying and moving to Atlanta. The football team at the school once presented her with a trophy in appreciation for the time she spent mending practice uniforms.
Her husband owned clothing stores and a wholesale leather company that made tooled belts and visors. Fiorito gained experience in retailing and small business. She taught high school by day and worked in the stores at night, performing tasks that included sewing wallets and designing vests. If that weren't enough, she also compiled credits toward a master's degree.
After Fiorito and her husband divorced, she returned to Miami and taught at Florida International University for two years before departing for Oklahoma State where she earned a doctorate; her dissertation was on the financial performance of small businesses.
At OSU, she met a man she has now been married to for 39 years. He had accepted a job at the University of Iowa, and she joined him there, teaching in Iowa City for eight years.
When Fiorito lost her job in Iowa due to the closure of her department, she moved to Tallahassee and FSU, her professional home for the past 30 years. For 23 years, she taught classes in the retail program.
In Tallahassee, Fiorito is excited to be part of a growing entrepreneurial ecosystem.
"We are not Austin, Texas, yet, or the Silicon Valley or North Carolina's Research Triangle," Fiorito said. "Yet. We're getting some traction. And the potential is huge."
Patrice Floyd
A minister of music, she brings joy to the world
Martin Luther King Jr. once characterized 11 a.m. on Sundays as "the most segregated hour in Christian America."
But, said Patrice Floyd, Friday nights at 6:30, when the Javacya Elite Chamber Orchestra performs at St. Peter's Anglican Cathedral in Tallahassee, may be among the most integrated and diverse.
Church members are joined on those occasions by people from around the state with connections to the Javacya Arts Conservatory, founded by Floyd 41 years ago. The Javacya Elite Chamber Orchestra, based at the church, comprises both professional players and Floyd's most advanced students and plays music by black composers.
As a musical evangelist, Floyd travels the world. In Tallahassee, she trains students who will occupy chairs in the finest orchestras in the land.
Floyd began playing the violin at age 8 as a participant in the strings program offered by the Palm Beach County public school system. An early mentor and teacher was Leander Kirksey, who was the band director at FAMU from 1930–1945 before becoming a high school band director in West Palm Beach. As a girl, Floyd attended music camps at the University of Kansas. As a collegian, she studied music and psychology at FSU.
"Only 3.5% of players in symphonies in the United States are black," Floyd said. "Only three blacks have faculty positions at conservatories nationwide."
Floyd is doing her best to change those numbers. Her students are predominantly black.
At Javacya, she works with children beginning at age 3. At 11, they begin traveling to summer music camps at the Interlochen Center for the Arts in Michigan, in London and elsewhere.
"We are an independent institute of advanced learning that teaches students all that they need to know to go to a conservatory," Floyd said. She employs curriculum supplied by the Royal Conservatory of Music in Canada, where she is recognized as a founding member. She has established satellite schools in Orlando; Fitzgerald and Thomasville, Georgia; and North Augusta, South Carolina.
Floyd became interested in St. Peter's Anglican Cathedral when her physician, Dr. Stephen Haley, told her about plans for its construction. The church, she said, gives her students a chance to "experience what it's like to play in a great hall."
Javacya students' talents are not confined to music.
"Most of our students who do not go into music become doctors or engineers," said Floyd, noting that medical schools have begun to make music part of their curricula. "Einstein said he got the most joy in life out of music."
Floyd has established the Robotics Youth Orchestra at FAMU, so called because it is part of the robotics program in the developmental research school. But the music, she made clear, is played by humans, not robots.
"Even the king's heart is like water," said Floyd, an ordained minister. "The Lord turns it where he wants it to go. We are an example of what the world could be."
Julie Montanaro
Her approach to news is anchored by a big heart
When Julie Montanaro graduated from Syracuse University's highly regarded broadcast journalism program, she resolved to start her career in a place less arctic.
With no destination known, she pointed her Honda south intent upon exploring the Southeast. A native of the Washington, D.C., area, she would find work in what was, for her, a strange land as the Thomasville, Georgia, bureau reporter for WCTV in Tallahassee.
Soon, she would require a car equipped with air conditioning.
When she first arrived in Thomasville in 1989, she was dragging a U-Haul behind her Honda and stopped for gas. Across the street, a farmer's market was underway. She had never seen anything like it.
"I watched it for a very long time," Montanaro recalls. "It was like, 'Where am I?' Thomasville taught me to slow down a little bit and visit a little bit and build relationships instead of just getting the job done. As much as a culture shock as it was for me, it was also a very valuable experience."
Thomasville was a teacher, and back at the station, Carmen Cummings, a 6 o'clock anchor, and Anna Johnson, then the community service coordinator for WCTV, were mentors and inspirations.
"They were gritty, but they were graceful," Montanaro said. "I saw them treat people with dignity and compassion, but I also saw them ask really tough questions and do really tough stories. They made it clear that community service was a part of what we do, and I was expected to continue in that way. We were there to tell the stories, but we were also there to serve the community."
Over time, Montanaro would become a daily reporter, weekend anchor, evening anchor and a main anchor, "so it's been an ever-changing landscape and job description," she said.
If there was a moment when Montanaro first relayed stories about people to audiences, it may have been in 8th grade when she completed an oral history project.
"I interviewed a lady in my neighborhood about her time in the USO during World War II, and after that, she wasn't just another grandmother. I never looked at her the same way."
Montanaro had learned that everyone has a backstory, and to discover it, sometimes all you need to do is ask.
She has never stopped feeling rewarded by the experience of "using the incredible power of television to share information, raise awareness of issues and make the community a better place."
Montanaro is herself a humanitarian.
She has been a United Way of the Big Bend board member for several years and chaired its community campaign in 2016.
Five years ago, she launched an initiative, PBJ PLZ, in concert with the Second Harvest food bank and Leon County Schools.
"I was reporting a story at a school, and a girl ran down the hall very upset," Montanaro said "She was late that day and had missed breakfast and hadn't eaten since leaving school the day before. I asked the principal how unusual that situation was, and he told me it happens every day."
PBJ PLZ collects peanut butter and jelly during the spring for consumption by students in the summer when they don't have access to school meals.
"The thought of a kid not having enough to eat, I'm just not OK with that," Montanaro said. "I had to do something about that."
Susan Payne Turner
She climbed ladders and now she leads others
Susan Payne Turner has consulted a book, Half Time: Moving from Success to Significance, now and again.
The book, written by Bob Buford and first published in 1995, identifies halftime as a pivotal point in life when people transition from "getting and gaining, earning and learning" to assuming control of their lives, calling their own shots and using their God-given gifts in service to others.
For Turner, the executive vice president, chief risk officer and HR director at Prime Meridian Bank, that has meant discovering the joys and satisfactions of mentorship.
Turner favors a hands-on leadership style, she said, while encouraging colleagues in the first halves of their lives to grow professionally and personally.
As a teen, Turner worked at Wakulla Bank. Her mother, Irene C. Payne, had worked at Lewis State Bank in Tallahassee and wanted her daughter to have the experience of working in a bank. At Lewis State Bank, Irene Payne completed tasks in a pre-digital era. No one left at day's end until all the physical checks were filed.
Turner started at Wakulla Bank in Crawfordville as a loan operations assistant and eventually became chief financial officer. When Centennial Bank acquired Wakulla Bank, Turner managed its retail operations in a four-county area. She joined Prime Meridian Bank in 2013 as a senior vice president and chief risk officer.
Turner said Prime Meridian Bank's company values — passion, grace, integrity, tenacity and accountability — resonate with her.
"If you truly apply those things, it's impactful," she said. "At Prime Meridian, I've gained an appreciation for the importance of maintaining the culture and the brand. I tell people that we are the Chick-fil-A and Publix of banking. It's all about relationships. I love people, listening to them and being helpful. Every day we build our legacies. On some days, you maybe don't do as well as you could, but that's where grace comes in."
People who know her well, including members of the bank board at Prime Meridian, call Turner a true servant leader. She was instrumental in bringing about Prime Meridian's Crawfordville office.
As someone who beat breast cancer, Turner is "thankful every day that God blessed me to be a survivor," she said. She has served a long list of community organizations and nonprofits, always with an eye toward having an impact and putting in motion activities and initiatives that will endure over time.
At present, she is a director and the treasurer at the Community Foundation of North Florida and a director and current chair with the Florida Bankers Association Education Foundation. She has served on boards at the United Way, the Red Cross and the Wakulla County Chamber of Commerce and the county's Economic Development Council.
She is a past chair and director emeritus of the foundation at Tallahassee Community College, where she got to know Marjorie Turnbull, a woman whom she counts as a role model and inspiration along with her parents and grandmothers.
Turner's mother taught school at Shadeville Elementary in Wakulla County. Her father, Bill Payne, was once the county's superintendent of schools.
"My parents had and still have a very strong work ethic," Turner said. "They raised me to work half a day — 12 hours."
Turner grew up and still resides in Crawfordville. Her husband, Chuck Turner, is the deputy property appraiser at the Wakulla County Property Appraiser's Office.
Turner coaches bank employees to "fail fast and move on." And she keeps near the top of her mind a truth that her father impressed upon her: Things just don't happen; they are made to happen.
Let it be said about Susan Payne Turner that she makes things happen.
The Cyborg Jillian Weise
Disabled poet defines herself and challenges power hierarchy
The Cyborg Jillian Weise, a disabled poet and professor of English at Florida State University, believes that she should be able to choose her identity.
Weise is fortunate to have two legs. One of them cy (Weise's preferred pronoun) was born with. The other was manufactured.
"I am computer; I have a computerized leg," said Weise, who taught a senior seminar on cyborg theory and practice at FSU this fall in addition to a graduate poetry workshop. "It is part of my body. I vacuum seal into my leg so the distinction between where Jillian ends and the leg begins is a false distinction. I can't tell."
Operating with a basic, hinge-style prosthesis, Weise fell about four times a year. Cy falls no longer.
"I think about the ground and gravity 1,000 times a second," Weise said in detailing the capacities of her manmade leg. "I now make allowances for all kinds of gradient surfaces. If I am walking on ice, I make adjustments that are imperceptible to me. If I am going from concrete to loose gravel, I am not consciously thinking, 'OK, be careful.' Part of my body is making those adjustments."
Still, people scoff at or dismiss as a phase her decision to identify as a cyborg. In an interview, cy recalled speaking to a gathering of disabled scholars at the University of California, Berkeley.
"People there said it was a stage, that I'd grow out of it," Weise said. "Instead, I grew right into it."
Weise finds that people tend to view "cyborg" as a futuristic concept, the stuff of science fiction. Weise is made to feel like cy is forcing her cyborg identity.
"A disabled person is named; he never gets to be the namer," Weise said. "That's left to doctors and diagnosticians. For a disabled person to say that he is going to name himself is quite radical. It is about flipping an entire power hierarchy. But I am a poet; I am a namer."
Weise graduated from Rutherford High School in Springfield, Florida, in Bay County. Her first experience as a writer was gained as a newsroom intern at the Panama City News Herald. Cy completed undergraduate studies at FSU before earning an MFA at the University of North Carolina-Greensboro and a doctorate at the University of Cincinnati. Cy taught at Clemson University before joining the FSU English faculty for the 2021–22 school year.
Now, Barbara Hamby and David Kirby, once Weise's poetry professors, are colleagues.
Weise is an ambassador for disabled people, someone who articulates and champions accessibility causes. Cy has written four books and is at work on a fifth. Cy credits her FSU professors with liberating her as a writer by encouraging her to feel free to write about herself.
For Weise, efforts to soften "disabled" undermine efforts to destigmatize the term.
"I go by disabled person, disabled poet, disabled professor, disabled scholar," Weise said. "Some people are in favor of 'persons with' language, but for me that's like person with womanhood, person with an umbrella, person with a hat. I love identity-based language. In the same way that a person says I'm queer versus a person with queerness, I say I am disabled versus I am a person with a disability."
Madison Zabala
Marjorie Turnbull Award winner
The Marjorie Turnbull Award was made part of the Pinnacle Awards program in 2020. It is reserved for an ambitious young woman whose strivings are sure to make an important difference in her community.
Given all that she accomplished in her first 19 years, it seems a certainty that Madison Zabala's achievements to come will be big, bold and beneficial.
Accordingly, Rowland Publishing and 850 Business Magazine chose Zabala to receive the Marjorie Turnbull Award, which is part of RPI's Pinnacle Awards and is reserved for a young woman of extraordinary promise.
At the behest of her mother Cheryl Geiger, Zabala completed leadership training as a middle-schooler in mentor Samantha Vance's Ladies Learning to Lead program. It took.
Zabala is a homeowner and the co-owner of a business, Tallahassee Picnic, that she operates with her sister, Makenzie Geiger. She graduated from Leon High School with 30 college credits earned via dual enrollment at Tallahassee Community College and is now a junior majoring in communication science and disorders at Florida State.
She plans to earn a master's degree in speech/language pathology at FSU and to work as a speech pathologist for a public school system. As to that pursuit, she has two role models, both aunts. One works for the Liberty County School District and the other is a contractor who supplies services to schools around the country.
Zabala was further motivated by the experience of a cousin who was ostracized as a school child due to his speech difficulties.
Of late, Zabala has worked as a customer service representative at TC Federal Bank in Tallahassee.
She and her sister purchased Tallahassee Picnic from the former events coordinator at The Edison restaurant. The business has performed well, exceeding Zabala's expectations.
"We provide an elevated picnic experience," Zabala said, one in which a rug replaces the traditional blanket and a low-rise table, shaded by a large umbrella, is set with fine china. The business supplies charcuterie and dessert boards for clients, including couples and small groups.
"My mom is my hero," Zabala said. "She worked as a nanny, and I helped her with that and came by a desire to work with children. She taught me to serve others."
Zabala and her husband Isham love to hike, as time permits. And Zabala is a voracious reader of fiction when her nose is not buried in a textbook.
Susan Dunlap, 1961–2021
Her heart united her with people struggling to get by
Susan Dunlap dedicated her career to the United Way for 10 years in her birthplace of Tifton, Georgia, and for 26 at the United Way of the Big Bend in Tallahassee.
In Tallahassee, she started at the United Way in an entry-level position and earned promotions on her way to becoming vice president of community impact. In that role, she worked with UW-funded agencies and with initiatives, including Reading Pals, Math Pals and a Volunteer Income Tax Assistance Program.
She worked, too, with Women United, an affinity group within the United Way of the Big Bend that is made up of prominent women in leadership roles who are passionate and committed to the work of the organization. The group has grown to become an influential team of philanthropists who give, advocate and volunteer to improve the lives of women and children throughout the Big Bend.
Dunlap, a servant leader given to great humility, deserved a place among their number.
For a time, Dunlap worked as the interim CEO of the United Way of the Big Bend but was not interested in taking on that job permanently, said Berneice Cox, the agency's CEO currently.
"She loved what she was doing," Cox said. "She had the job she wanted. She wanted to be close to the people we worked with and served."
Dunlap died unexpectedly at her home on March 1, 2021, at age 59. She likely would have been content to work at the United Way for another 10 years.
Dunlap was no stranger to struggle, and she related closely to people living in poverty or just a paycheck away from landing there. She was a single parent who raised two sons.
"In our eight-county footprint (Franklin, Gadsden, Jefferson, Liberty, Leon, Madison, Taylor and Wakulla), between 49 and 54 percent of people are living in poverty or are near poverty," Cox said. "Many are homeless or living in substandard housing. Susan was very concerned about anyone who was financially challenged, anyone who needed food or access to health care."
In the year before she died, Dunlap saw needs grow greater and the cost of living spike due to the COVID pandemic.
"The people and agencies who connected with Susan always found her to be open, caring, patient, honest and transparent," Cox said. "People see our helping-hands logo and stop by our office looking for assistance. Invariably, regardless of what their need was, Susan would connect them with one of our funding program partners so they could pay for utilities or food. And she never failed to follow up with them by phone."
As the vice president of community impact, Dunlap oversaw the funding allocation process at UWBB, a key responsibility.
"Susan's years of institutional knowledge have been hard to try to replace," Cox said. "I loved her as a person and depended upon her input and advice. I was on the board for six years before I was made CEO, and she shaped how I became involved. The members of her staff, they all loved her."