Paddle Crazy
New Equipment Turns Age-Old Activity into the Hot New Sport for Adventurers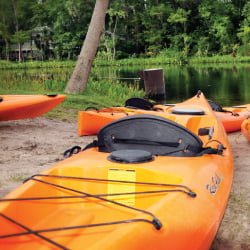 Scott Holstein
Close-up encounters with nature are not uncommon when taking a kayak out on the river or in the Gulf. Relax and enjoy the sounds of the wild.
The silence of the morning was only slightly interrupted by the sound of birds chattering behind a veil of marsh grass and the distant drone of an outboard motor. With each stroke of my paddle, the kayak I was sitting in glided silently across the water. Sunrise was just beyond the horizon. I was caught up in the peace and tranquility of being alone. With no particular destination in mind I paddled farther away from the sandy shore where I had launched only minutes earlier. Following Apalachee Bay's pristine shoreline, I headed for a shallow bay I was familiar with. The whole time thinking to myself how easy this kayaking thing is — no big boat, no trailer, no gas, no oil … just slide it out of the truck, launch and go. This was my first solo trip — not to fish, I do that professionally — but to kayak onto the waters where I have spent thousands of hours plying my trade as a light-tackle flats fishing guide.
On that particular morning I rapidly began to understand why so many of my friends were paddling around in small plastic boats.
Nationally, the sport of paddling has undergone a surge in popularity over the past decade. The Tallahassee area is no exception and, with plenty of unrestricted access to public water, it's understandable. Pretty much every day you'll see some type of kayak or stand-up paddleboard (sup board) secured to a vehicle.
In today's climate, paddling has given our health-conscious, environmentally aware population an economical way to venture out on the water. Whether you enjoy the benefits from the physical exertion involved, getting close to nature, spending quality time with family and friends, or wetting a line, you'll find paddling a worthwhile activity. The sport offers a peaceful escape from the rest of the world along with the benefit of being on the water.
Unlike a watercraft propelled by a combustion motor, which requires continual maintenance and overhead, a paddle propulsion watercraft requires a nominal upfront cost to get going — your vessel, personal flotation devices (required by law) and a paddle. Pretty basic! The rest of the outfitting is up to you. The sky is the limit in paddle sports when it comes to accessorizing, especially for gear-heads like myself. But, as a professional outdoors person, I will suggest that the lighter you travel, the better off you will be; less is more. Paddling is about simplicity.
New Age Designs from an Age-Old Concept
Manufacturers offer a variety of choices for those who want to begin paddling, but they probably won't be what we've been used to seeing in past decades. The traditional canoe is almost a relic and there aren't too many of the unstable whitewater kayaks in our region.
In the past, kayaks were used for many different purposes: transportation, exploration, hunting, fishing and by thrill and pleasure seekers. Now, they have evolved into sleek, specialized hybrid models. Processes like rotomolding — creating strong, seam-free molded plastic and plastic-composite products in a rotating mold — allow manufacturers to mass-produce lighter, tougher, more versatile craft designed with stability in mind, and at affordable prices.
Do you like to paddle or pedal? Do you want a single-person, tandem or touring kayak? The verdict is out on which is best — it's all up to your personal preference. Manufacturer offerings vary, but several companies offer the versatility to pick up a paddle or for the operator to propel the craft by pedal power. Most people using pedal-propelled crafts are those who fish because it allows the legs to do the work — leaving their hands free to focus on the important task of casting. Some kayaks are fitted with a mast and can be sailed. I guess the wind is the simplest way to go.
The Latest Rage
I can remember daydreaming a little about riding the waves off Hawaii. Today you see plenty of long boards but not the kind used to shoot the curl. The new version of the sport is called "stand up paddle boarding." The long board from days of old has a new design and is riding a tall wave of popularity, gliding silently down rivers, across lakes and hitting the ocean.
Unlike kayaking and other paddle sports where the majority of time is spent sitting on one's posterior, stand up paddleboards give you exactly what the name implies: an opportunity to stand up and paddle. A few models are designed to allow a person to either stand or sit, but for the most part paddleboarding is a stand-up sport.
Stand up paddleboards offer a different perspective for the paddle enthusiast. Instead of an eye-level, water surface view, the person on the long board can actually look across and down into the water. The mechanics of this sport have some phenomenal health benefits and provide a great total body workout. Paddle fitness exercise classes are starting to pop up all along our coastal regions. This type of exercise class is definitely taught in a unique setting. Can you imagine practicing your yoga poses while floating on the water?
The versatile paddleboard is impressive; glide silently across the water's surface, ride a wave in the surf, stalk fish on the shallow flats of the Gulf or view nature's wild and aquatic life in a way you've never seen it. The possibilities are endless; all you need is an adventurous spirit.
A host of companies manufacture a variety of stand up boards. Some boards are custom built and others are manufactured on a larger scale to keep up with the growing popularity of the sport. A board's design and the materials used in construction are what determine weight, stability, performance and durability.
You can get started with just a board and a paddle, or you can have it customized with additions such as a cooler and leaning rail. The choices are up to you. Do some research, attend a demonstration day; benefit from some professional advice before making a purchase. Most paddle sport shops will offer you a chance to "test paddle" a board before you purchase one. This is the advantage of shopping and buying from a locally owned business.
How Do I Get on the Water?
The Tallahassee area and North Florida are an outdoor person's wonderland, and for the adventure-minded who like to spend time on the water; it's a virtual Eden. Numerous public access points to lakes, ponds, rivers, beaches and the shallow bays of the Gulf of Mexico, give us miles of unlimited water to paddle on. Regardless of the paddle craft, there's water for all occasions and, due to our relatively mild climate, many people enjoy the sport year-round.
If you're unfamiliar with the area and interested in paddling, but you're not sure how to get started, visit one of the local paddle shops, or go with a tour operator. Locally, several shops provide sales and tours with guides who are certified, experienced and know the local waters well.
Local and regional specialty paddlesports shops allow customers the opportunity to benefit from their professional advice. Most of them sponsor demo days, giving people a chance to use different brands and styles firsthand before making a buying decision. I strongly suggest speaking with a dealer to determine your needs.
In Wakulla County just south of Tallahassee, two well-known area businesses cater to paddlers and are dedicated to paddle sports: The Wilderness Way and T-n-T Hide-A-Way, the latter located on the banks of the Wakulla River. Both businesses have been around for many years and specialize in sales, rentals and tours.
Georgia Ackerman, owner of The Wilderness Way for more than a decade, offers guided tours on many rivers in the region. She and her staff are experienced paddlers, hold certifications, are very knowledgeable, offer instruction and are able to assist you with choosing and purchasing the proper equipment for paddling. As a full service shop, The Wilderness Way carries multiple kayak lines and sup boards, along with all the necessary accessories.
On the banks of the Wakulla River, Jackie Youngstrand and her son, Robert Baker, operate T-n-T Hide-A-Way, a family business that has been in operation more than 30 years. T-n-T specializes in canoe and kayak rentals as well as sales and instruction. Their certified guides offer tours on many of the local rivers. Instructional classes are offered on a regular basis and you can book a kayak fishing trip with a Wilderness Systems-endorsed kayak-fishing guide. T-n-T has a launch onsite so there is no need for shuttle service. You can leave the premises and head up or down river.
Franklin County is a paddle craft paradise. Island Outfitters, located on St. George Island, is owned and operated by Capt. Larry Troy and his wife, Angela. He has been fishing the area for more than 40 years and he and Angela are both very knowledgeable paddlers. Island Outfitters handles kayaks suited especially for fishing and paddleboards. They provide sales, demos, rentals and instruction. St. George Island presents the perfect place to paddle on the gulf, bay or surfside, and Capt. Larry will be more than happy to tell you where the fish are biting.
Paddlin' Around offers stand up paddling to the Tallahassee and surrounding areas. Ann Hudgins teaches basic lessons on "How to Paddle" at Lake Hall along with fitness classes on the boards focusing on your core muscles. The company also offers hourly rentals of boards as well as arranging outings to different local watering holes such as the Wakulla River, Alligator Point, St. Teresa Beach and more. Plans for SUP races are also in the works. Search "paddlin around" to find their Facebook page.
So, if you have ever wondered about those little boats and boards secured to a vehicle and thought you might like to give it a try, now's the time to get out and go paddle crazy.