Garnet and Golden Years
Osher Lifelong Learning Institute proves that curiosity never retires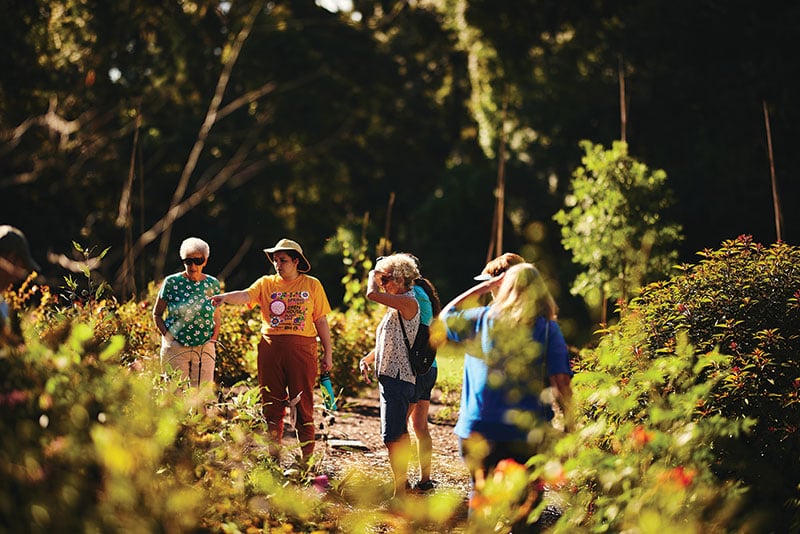 Have you ever wondered what happened to the once thriving shade tobacco industry in the Red Hills region? Or how your favorite movies were made? Maybe you are curious about quantum reality and our place in the universe?
There is a wealth of knowledge out there that — whether due to work, personal struggles or the simple desire to graduate college as quickly as possible — we never get around to learning. Thanks to the dedicated staff, instructors and volunteers at the Osher Lifelong Learning Institute, Tallahassee seniors have a second chance to broaden their horizons and form meaningful relationships with their peers in the community.
The Osher Lifelong Learning Institute, or OLLI, as it's known around town, is a membership-based program that offers dozens of classes, unique excursions, engaging club activities and international travel geared toward people ages 50 and up. OLLI Program Coordinator Terry Aaronson states that there are no age restrictions on membership.
"The average age of our members is around 70, but we have people in their 40s and younger," Aaronson said. "On our previous study abroad trip to Greece, we had a 30-year-old. People love intergenerational interaction. We've had classes where graduates and undergraduates participated."
Annual membership fees for OLLI are $95, while a semester membership costs $60. In-person OLLI classes are held either on Florida State University's (FSU) campus at the Claude Pepper Center or at off-campus facilities like Westminster Oaks, Red Hills Village Retirement Resort and Allegro. According to OLLI Executive Director Debra Herman, history, science and the arts are among the most popular topics selected by the member-run curriculum board, but ultimately, the course catalog is as diverse as the members themselves.
These courses are taught by subject matter experts, retired deans and professors from FSU, Tallahassee Community College and Florida Agricultural & Mechanical University, among others. With the advent of virtual classes during the COVID-19 pandemic, the OLLI curriculum board has had the opportunity to involve international instructors from England's Cambridge University, as well.
Much like a typical college schedule, OLLI courses are broken up into fall, spring and summer semesters. Unlike a typical university experience, OLLI classes have no homework, no tests and no grades, allowing members to engross themselves in the material that is of interest to them without the stress of a red pen.
"Still, (the members) love it when the professor gives them a booklist," Herman said. "They get the books and read them and ask all kinds of questions. The professors often say, 'This is why I chose the teaching profession. These are people who really are interested.' They aren't on their phones. They want to be in class."
Herman often says, "They come for the classes but stay for the friendship." OLLI's various clubs and social events are an opportunity to make friends and stay active, something that can become increasingly difficult with age.
"We send out evaluations at the end of every semester," Aaronson said. "We had one member who said that OLLI saved her life. It really means so much to know you helped someone go on if they lost their husband and didn't know what to do or retired, and then they found OLLI and made all new friends. That's what amazes me. Their whole friendship circle is people they meet here."
While COVID-19 and the transition to online learning led to a minor drop in enrollment, Herman said, virtual classes have allowed members from outlying communities to participate like never before. Before the pandemic, there were about 1,200 members enrolled in the OLLI program. Today, that number sits around 850, but now that in-person classes are up and running again, Herman and Aaronson are seeing a resurgence in participation.
"We have a lot of benefits of membership," Herman said. "It's not just paying a fee and taking classes. You can join in all these field trips. Some have a cost; some don't. They just need to sign up online. Same with the socials. People really find their comfort zone with the book club, for instance, and then they meet on the outside and do things and have birthday parties. It just blossoms."
This is not the first time OLLI has worked to grow its membership. Today, the program is run through an endowment from the Osher Foundation, a national organization that supports 124 membership-driven senior education programs around the country. At its inception in 1992, the program consisted of just nine founding members and a vision.
"When we started, there was no Osher," Aaronson said. "We were low, low on any kind of FSU radar. We were just a small little program."
Over time, the program grew. By 2011, membership reached its goal of 500, enough to qualify for the Osher Foundation's $1 million grant, but they did not stop there. Five years later, membership had doubled to 1,000, and OLLI accepted a second $1 million grant to continue its vision.
"Word of mouth is everything," Aaronson continued. "When I first started, people would have no idea what OLLI was. There is still some of that, but now when I go places and say I work for OLLI, so many people will say, 'Oh, I love OLLI!' It has really gotten around."
---
"We had one member who said that OLLI saved her life. It really means so much to know you helped someone go on if they lost their husband and didn't know what to do or retired, and then they found OLLI and made all new friends. That's what amazes me. Their whole friendship circle is people they meet here." — Terry Aaronson, OLLI Program Coordinator
---