Osher Lifelong Learning Institute at Florida State University
Love Learning, but Hate the Tests? OLLI is the One for You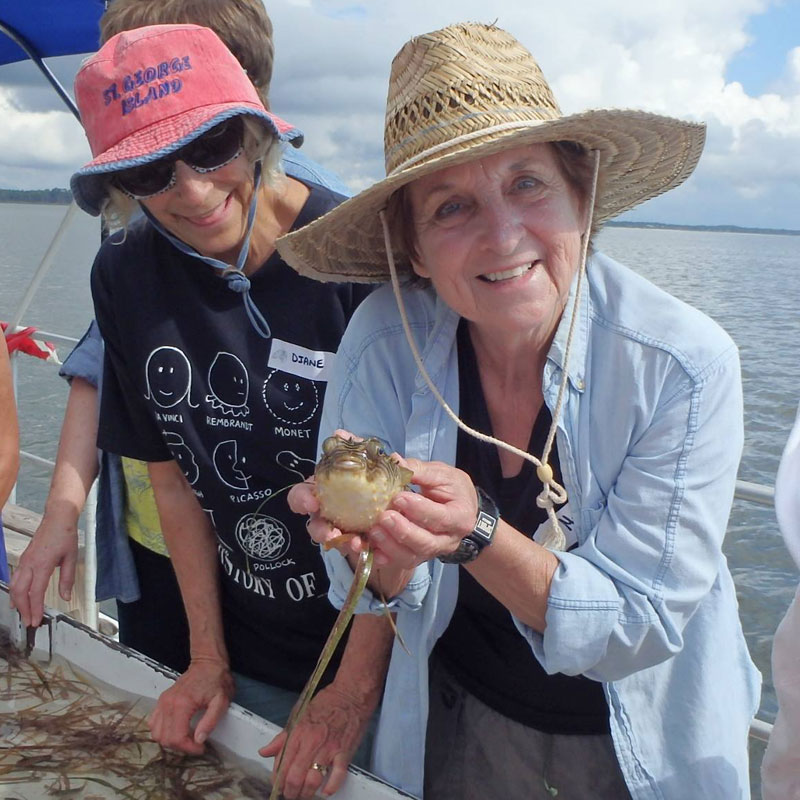 Courtesy Osher Lifelong Learning Institute
Students can take field trips (above) in classes like "The Sea Around You" and get hands-on experiences (below) in classes like "Uncovering Florida's Past: From Paleo Man to Seminoles."
"What's an OLLI?"
That's the question on garnet and gold badges sported by hundreds of folks all around Tallahassee.
And those badge wearers are ready with the answer, because they want their friends and neighbors to join them as students at OLLI — the Osher Lifelong Learning Institute at Florida State University. 
Aiming for 1,000 members by September — a target leading to a $1 million endowment — OLLI volunteers are working hard to spread the word: for adults over 50 who love learning, OLLI offers an extraordinary variety of academic courses and stimulating cultural and social events, field trips and travel opportunities. 
Enjoying gifted faculty from area universities, including current and retired professors as well as community experts, without the hassle of tests, grades or homework requirements, OLLI's involved, highly engaged students have found that learning in the senior years is fulfilling, enriching and may also help fight some of the negative effects of aging.
Recent courses (about 40 are offered per semester) cover a wide variety of topics, including "The Arab Spring and the Legacy of Decolonization," "Diet and Nutrition for Healthy Aging," "Bones: Tales from the Dead," "Tallahassee in the Gilded Age: from the End of the Civil War to the Beginning of the 20th Century," "Passion Through the Ages and Between the Pages: Feminist Theory and Romance Novels," "The Evolution of Organized Crime" and "The History of Civil Rights." That's just for starters. In its nearly 25 years of existence, OLLI has offered an extraordinary variety of classes, all tailored to adults who love learning in a stress-free environment.
During Fall, Spring and May semesters, OLLI members can dip into current events (national and international), history, writing, science, music, literature, the arts, technology, science, the environment, genealogy, gardening, nutrition and aging, and more.
There are no entry requirements to explore this wealth of information. 
Members don't have to be college graduates. Membership President Eileen Sperl-Hawkins has always loved learning and took college courses when she could. "But life got in the way," she said, "and I never was able to earn a degree." Since joining OLLI in 2002 she has explored numerous courses. Her favorites: literature and writing, which, along with the OLLI Writers' Group, led to the flowering of her own writing skills. Now a published poet, she encourages others to develop their talents and further their education through OLLI.
OLLI members also don't have to have prior connections to FSU to join. In fact, only about 25 percent of members are FSU alumni. Many, like veteran Miami Herald reporter Martin Merzer and his wife, Marion, a higher-education administrator and policy expert, moved to Tallahassee later in life and found that OLLI helped them become involved in the community. 
The Merzers aren't alone. Member Marjorie Turnbull, former state legislator and member of the Choose Tallahassee Executive Committee, noted that the presence of OLLI helps attract new residents. "OLLI is vital to the life of our community," Turnbull said. "When Choose Tallahassee researched why retirees select a place to spend the rest of their life, we learned that the availability of lifelong learning opportunities was among the top five reasons."
Members range from 50-year-olds who are still working and can choose from lunchtime, evening or Saturday classes to still vibrant 80-plus-year-olds who are determined to stay active and involved.
At 58, local attorney Claire Duchemin works full time and has two college-age children. She asked for OLLI membership as a 2013 Christmas present. Having completed her first course — learning all about blogging — Duchemin says, "OLLI is the only time in the week that's completely and totally for me." 
Past President Don Alford, a retired ear, nose and throat physician, is one of the group's longest-term members, with 19 years of classes under his belt. He has witnessed tremendous growth in OLLI, originally known as The Academy. The FSU alumnus and benefactor, along with his late wife, June, created a promotional fund that helps build course offerings and membership. 
Courtesy Osher Lifelong Learning Institute
Member Jack Brigham gives a visual shout-out to OLLI from Iceland. In addition to classes, OLLI also sponsors trips abroad.
OLLI is a real treat for retirees, says Past President Susan Yelton, who joined OLLI when she returned to Tallahassee after 15 years away. "Retirement can present challenges but also opportunities," she says. "All the classes I never took because of my career responsibilities in service to families are now available to me through the OLLI program. And I have made a new circle of friends. I still love the ones I made years ago, but my new friends open another window to life."
Instructors appreciate the enthusiasm and wisdom of OLLI members. Longtime FSU Professor Elwood Carlson, who teaches a demography course, "The Lucky Few: Between the Greatest Generation and the Baby Boom," says he enjoys the kind of critical, integrated thinking that OLLI students bring to class. "OLLI students grasp concepts that I have had to spoon-feed undergraduates," he said. 
Matt DelCiampo, an FSU graduate student in ethnomusicology, has taught three courses in the history of popular music, giving OLLI members a chance to "rock out" with the music of their lives. DelCiampo, the winner of a $2,000 OLLI scholarship, says, "My work as an OLLI instructor has been truly one of the most rewarding experiences I've had at Florida State. One of the best parts about teaching this material to OLLI members is that they often contribute to our discussions with firsthand accounts and personal experiences, which in turn contribute to my understanding of the subject. OLLI participants consistently invigorate me as I, like them, continue to learn." 
Gerald Lewis, who served as state representative and Florida controller and continues to practice law, joined OLLI in 2013. "I have enjoyed all the courses I have attended, but perhaps the most fascinating — because I was learning something entirely new, and the instructor was the brilliant and entertaining Dr. Bruce Bickley — was Nabokov's 'Lolita,'" he says.
"I cannot recommend OLLI too highly," Lewis says, "both for the learning experience and for the friendships — not to mention that my doctor says that, although there is no guarantee that anything can forestall dementia, statistically, dementia can be delayed by exercising the mind."
Extracurricular OLLI activities include field trips, culture and arts events, socials, a writers' group, book group, Spanish club, travel club, a walking group, art club, lectures and much more.
Last summer, OLLI members travelled to FSU's London Campus and Cambridge University for courses in literature. This summer, an OLLI group is heading to Florence, Italy, where they'll enjoy museum visits and art lectures, as well as architectural tours in nearby Italian cities. Another group of members will head to Oregon for touring and wine tasting. Educational cruises are also popular.
OLLI is managed by a staff of three professionals led by Director Debra Herman and supported by hundreds of member volunteers. OLLI receives logistical support but no direct funding from FSU. Expenses are covered through affordable membership fees, course charges and fundraising efforts. 
Courses are offered on campus, mostly at the Claude Pepper Center, Westminster Oaks and other locations in the community. Most classes meet for six weekly two-hour sessions per semester. 
OLLI's Showcase of Classes for fall semester 2014 is scheduled for Tuesday, Sept. 9, 2014. Membership is open throughout the year. For more information, visit olli.fsu.edu.
---
ALL ABOUT OLLI
OLLI at FSU is affiliated with the Bernard Osher Foundation, which provides funding to 116 lifelong learning programs at universities and colleges all over the country. Several years ago Osher challenged OLLI at FSU to grow to 500 members. Meeting that challenge, the organization won a $1 million Osher Foundation endowment. 
This year the organization is in line for another $1 million Osher endowment if membership grows to more than 1,000, along with meeting other criteria. That is why membership growth has been top priority for 2013–14 President John Van Gieson. Van Gieson, a veteran journalist and public relations professional, notes that a second Osher endowment will underpin the organization's sustainability and affordability. Deadline for the membership goal is September 2014.