Order Spirits and Pizza at Warhorse Whiskey Bar
There is nothing like sipping a Tallahassee version of the refreshing mint julep in this summer heat.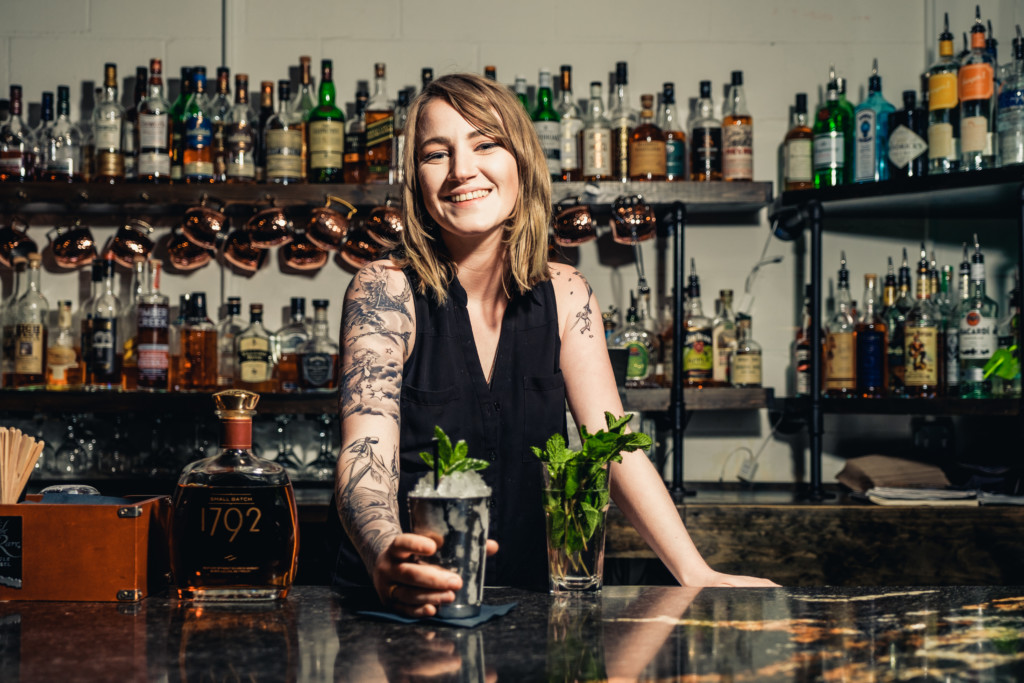 While there's not a specific boundary, there's definitely a demarcation on Gaines Street between party-hearty CollegeTown and the more artsy All Saints district directly to the east.
And although it's located between Florida State University and Florida A&M University, the Warhorse Whiskey Bar in the Garages on Gaines most definitely identifies with the All Saints crowd.
"We're not trying to attract the freshly 21 business," asserts manager Brian Jones.
"A fair number of our clientele are local to the neighborhood. And several of the graduate school students frequent our location."
As the name implies, whiskey is the star of this bar, with 170 varieties lining the shelves. Whiskey — and its subsets, bourbon, scotch and rye — has had a longstanding popularity that has grown in recent years.
"It has a great history," says head bartender Kate Hudson.
"There's so much you can learn, and there are so many stories you can share. It's a very social beverage that brings people together."
In addition to whiskey aficionados, Warhorse also welcomes those who want to learn about or expand their knowledge of "America's favorite spirit."
Every variety is available in a half-ounce pour so one can sample a particular brand or create a flight to compare flavors.
If you have a favorite popular whiskey, the bartending staff also can suggest more esoteric brands with a similar flavor profile.
And if whiskey isn't your thing, the bar also stocks a variety of other spirits creatively mixed into cocktails by Hudson and the other bartenders, such as Pickle Martinis and Tequila Gimlets.
Warhorse — the name honors FSU's mascot — is literally connected to Gaines Street Pies, and their entire menu of apps, pizza, calzones, sandwiches, salads and desserts is available to bar patrons.
Happy hour happens every weekday from 4 to 7 p.m., with a menu of drinks priced between $2 and $5.
While the atmosphere is usually laid back, things get to hopping on Thursdays during trivia night hosted by Hank Saints.
The bar opened on July 17, 2015, and every year Warhorse celebrates its anniversary near that date with a special flight of Pappy Van Winkle bourbons from the Buffalo Trace distillery.
"It's rare. Probably a dozen or two bottles make it to the local area every year. It's not terribly expensive, but it's hard to get ahold of," explains Jones. The festivities, set this year for Sunday, July 30, also include a drawing where one person wins a taste of every whiskey on the shelf.
Leading into the hot summer months, Warhorse's head bartender, Kate Hudson, has concocted a Tallahassee version of the refreshing mint julep, using locally sourced mint and tupelo honey combined with 1792 bourbon. Made in Kentucky, 1792 "is a great bourbon for blending; it has a nice honey flavor on its own," Hudson says
The cocktail, served in a frosty, stainless steel julep cup, is dusted on top with powdered sugar. "As you drink it, the powdered sugar sinks into the drink and gives it an extra level of sweetness," she says.
In a mixing glass, add:
Ice
2 oz. 1792 bourbon
1 oz. ounce Honey Julep Syrup
Shake or stir. Strain into a glass filled with crushed ice. Garnish with mint and dust with powdered sugar.
Honey Julep Syrup
½ cup tupelo honey
½ cup water
Mint leaves
Place honey and water in a small saucepan and add a generous amount of mint. Bring to a simmer.
Stir and remove from heat. Let it rest for one hour, then strain. The syrup can be made ahead of time and stored in the refrigerator.
War Horse Whiskey Bar
603 W. Gaines St., @WarhorseWhiskey, (850) 765-9275
Monday–Sunday 11 a.m.–2 a.m.