Partners in icy relationship enjoy Olympic speed skating success
A coach from Tallahassee helps lead his Italian wife to the medals stand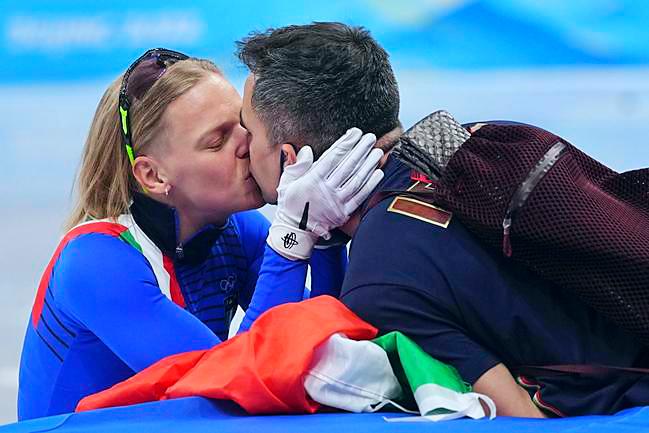 How does a Florida boy become an Olympic ice skater? How does collaboration between that product of the subtropics and his speed skater wife lead to her becoming the most decorated Italian Olympic speed skater in history?
Their paths have been winding, but husband/coach Anthony Lobello of Tallahassee and his wife, Italian-born Arianna Fontana, have woven a kind of shared career that has wowed the world of Olympic speed skating.
Lobello loved in-line skating as a child and aspired to compete in the Olympic Games. But to do that, the Maclay School grad would need to switch from wheels and trails to blades and ice. A gifted athlete, Lobello, following just 36 months of intensive training, qualified for the U.S. Olympic Speed skating team. Four years later, he was ranked the fifth fastest skater in the world at 500 meters — ahead of the then reigning Olympic gold medalist.
Meanwhile, in Italy, a petite blonde dynamo was claiming a dozen European skating championships. Arianna Fontana had begun to skate at age 4. By the time she was 15, she had won a bronze medal in the Torino Olympics. She would win silver four years later in Sochi. Lobello saw her as a "blonde angel," a very fast one.
Due to ill health, Lobello didn't make the 2010 U.S. Olympic Team. He intensified his system of training and with his dual Italian/American citizenship permitting a switch to the Italian team, Lobello competed in the Sochi Olympics in 2014. It was then that his partnership with Fontana, on and off the ice, solidified. They would soon marry and Fontana committed herself, too, to Lobello's grueling training regimen. Four years later in South Korea, it paid off. Arianna Fontana won three medals, including gold.
Training on her own away from the Italian team and with Lobello as her coach, Fontana prepared for the Winter Olympics in Beijing. There, she medaled in five events and became the most decorated female Italian Olympian in history with two gold, four silvers, and five bronze medals.
Then, as what Fontana calls "ciliegina sul torta"— frosting on the cake — Thomas Bach, the president of the International Olympic Committee, asked her to represent European athletes during the 2022 closing ceremonies.
Lobello and Fontana, who have homes in Italy and Tallahassee and train in Hungary, were heading to Dubai for a little rest and relaxation, post Olympics. Though their plans for the future aren't finalized yet, Tallahassee is in them.
"Time to get back and sip some sweet tea," Lobello said. "We love the place, and will be back soon."